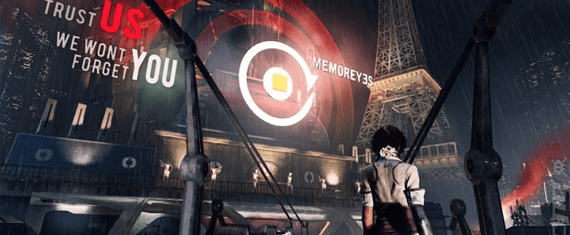 Protagonists with wiped memories are apparently in vogue again, with the big screen getting Oblivion and a Total Recall reboot, and video gamers getting an original IP from Capcom called Remember Me. It was bold of Capcom to release a new franchise on the eve of a new console generation, but it was even more bold for Capcom to test as many interesting concepts as it does in Remember Me. Sometimes, though, a concept should remain just that — an idea — because the actual implementation of several ideas here falls flat, resulting in a disappointingly low score in this Remember Me review.
The base of Remember Me follows the wiped-memory playbook to the tee, from the near-future setting in Neo-Paris to the protagonist trying to disrupt the dystopian society's ruling class. In this case, the game follows Nilin, a "memory hunter" whose own memory has been partially wiped, as she tries to take down the evil corporation Memorize. Memorize has been using hunters like Nilin to take people's memories, which in Neo-Paris in 2084 can be played back, recorded, bought, sold and traded as currency. Memorize has been using memory hunters to corrupt the system, creating a world where the haves and have-nots are distanced not by money, but by their very identity and memories.
The backdrop is surprisingly fresh for the wiped-memory genre, although things are a bit more paint-by-numbers for the majority of the game. Feared by Memorize, Nilin is about to undergo a memory wiping when she's rescued mid-wipe by Edge, an apparent member of the underground Errorists. Grateful (and pissed), Nilin joins in the fight against Memorize and its corrupt ruling class.
Remember Me is heavily influenced by platformers and parkour-style navigation. With a female protagonist, Remember Me actually feels like Tomb Raider, with combat elements that feel much more akin to Warner Bros.' recent Batman games. Depending on your mood, this makes Remember Me either stand on its own or feel like an unoriginal amalgam. I thought the hybrid was fine, although certain parts of the game fall short.
Two of the more unique elements are the ability to create your own combo and the concept of memory remixing. On the combo side, Remember Me lets players custom build their own combat chains based on attacks that you unlock as you progress through the game. So, rather than mash your way through a level using pre-determined combos, you can create your own combos based on moves you've unlocked and even complement them with a finishing move of your choosing.
Memory remixing is essentially a minigame that supplements many boss battles, which means you encounter them many times. Since Nilin is a memory hunter, once she makes her way to a target she must find the desired memory and alter it so she's literally rewriting history from the inside. The actual remixing involves rewinding and fast-forwarding scenes to move certain props around, thus manipulating people's recollection and in some cases causing them to kill (or be killed) as a result.
That's not to say my Remember Me review is all peaches and cream. The game definitely suffers some missteps, including in these unique concepts. The custom combos, for instance, are pretty slick on the surface, but eventually it all devolves into either button mashing or relying on the same two or three combos you'd have used if the developers dictated them in the first place. And the memory remixing, while interesting the first few times, become a trial-and-error chore plagued by full-level resets due to an annoying "pause" mechanic that's far too strict in its timing. Then there are the platforming elements, which are unforgiving at times and suffer from loose controls.
Every time Nilin dies due to one of those errant jumps, it does give you another opportunity to bask in the outstanding environment Capcom created, but that's not much solace when you're spiking your controller. Remember Me is truly a tale of highs and lows, a game with an original backdrop and some cool gameplay concepts that suffers through some frustrating linearity and gameplay mechanics that miss the mark in execution. The game is entertaining for a time, and Capcom deserves kudos for launching a fresh concept at the tail end of a console generation. But I find it hard to use this Remember Me review to recommend buying the game rather than renting it.
Score: 6 — A few of the game's concepts and its overall backdrop may be compelling, but they can't overcome some core miscues in the gameplay department.
Platform reviewed: Xbox 360