With all the talk of smartphone thefts running rampant, it's easy to forget that laptops and tablets are high-profile targets as well. Anything small in form and high in price, for that matter — the kinds of things you'd put in a backpack to easily take from place to place — is a prime target for ne'er-do-well folks creeping around campus, mass transit and other busy locations. For the longest time, people toting their high-value items simply hoped nobody would walk off with their stuff when it was unattended, or worse yet, would yank the bag right off their back.
Recently, the folks at iSafe Bags released a product that solves some of those security fears, and perhaps a few others. Called the Urban Crew Campus Backpack, this armored accoutrement isn't your grandpa's backpack, nor is it your father's. This thing has a built-in alarm with both LED visual alerts and an eardrum-blasting audio screamer, a souped-up security satchel that happens to look great, too.
The backpack's technology is pretty straightforward, but it's unique enough that iSafe was able to patent it. On the very front of the backpack sits a vertical strip of four LED lights. About four inches to either side of the LED strip is a small speaker that emits literally the loudest alarm I've heard on any personal security device. There's actually a warning on the package that you shouldn't test the alarm indoors for more than seven seconds due to the chance of damaging your hearing. Yes, it's that loud. Outside tests are equally deafening, both due to the decibel level and the frequency at which the speakers alarm. The speakers face out and away from the wearer, so if you're ever in a situation where you need to sound the alarm, it's safe to say the people behind and around you will go deaf (and/or run away) before you do. But I still wouldn't want to get this thing going unless absolutely necessary.
From the outside, the Urban Crew Campus backpack looks indiscriminately different from non-secured bags, so it doesn't look like you're wearing a tank. Other than the LED strip down the middle and the smallish speakers on either side, it just looks like a great backpack. From the front, the only indicator that you're wearing something special is a subtle flap on the right-side strap that hides the "rip cord" that sounds the alarm. If you ever feel endangered, or if your bag is ever being stolen, simply move the flap and pull down on the cord hidden underneath it, thus removing the grenade-like pin and sounding the alarm.
If you're being jostled about, the pin can actually come undone without you proactively moving the flap first, but it takes some serious jostling to accidentally pull the cord. Turning off the alarm is a matter of plugging the pin back into the little box. This sounds simple enough (and it is), but unless a thief has seen the backpack before or is paying attention to its form factor, he wouldn't have enough of his wits about him amid all that alarming to think about how to silence the thing. Fortunately for the wearer, silencing a false alarm is quick and easy.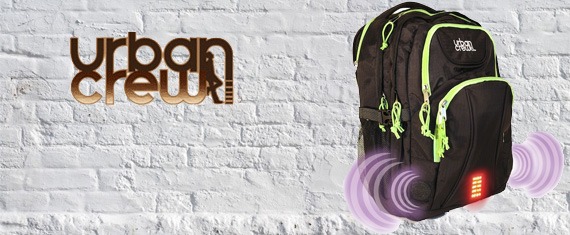 Powered by two 9-volt batteries, the backpack keeps a charge for weeks, and according to the folks at iSafe, it can sound and blink its alarm for two straight hours with fresh batteries installed. Whenever the batteries get low, unobtrusive indicators let you know it's time to change them, thus making sure you're always secure (as long as you heed the change-battery advice). Changing the batteries is surprisingly challenging, as the battery compartment is tucked tightly into the front pocket and held in place with what seems to be a hermetically sealed Velcro strip. Aside from those pull/push logistics in such a tight space, the compartment has the backpack's LED-light strip and two speakers plugged into it, so the cords from those security elements pose a fingertip hurdle as well. But, you won't be changing the batteries often, so the extra peace of mind with that added security is probably worth the hassle.
Durability won't be an issue either, as many of the bag's zippers are reinforced and the whole thing is solidly constructed. There are two mesh side pockets for drinks, which is a nice feature too, although my 40-ounce Kleen Kanteen doesn't fit — 12-ounce Dasani bottles or 20-ounce Kanteens only. The bag is a bit heavier than I'm used to, probably by about half a pound or more, but that's to be expected with the additional electronics and batteries inside. It's not unbearable, by any stretch, particularly since the bag is really designed for adults who should be able to lift it easily, but it's worth pointing out.
In terms of capacity, the backpack expands much more than the Targus bag I've used for years, and it has pockets sized for everything from wallets and audio players to a 15.6-inch laptop. I had expected the battery compartment and other electronics to really eat into the available space for "stuff," but I can actually fit more into this iSafe bag than my Targus bag. Not that my back necessarily wants me to….
Whether you're looking for more security for your stuff or an all-encompassing personal-safety tool for late-night treks, the iSafe Urban Crew Campus Backpack is potentially a great solution. I wouldn't recommend it for kids, since the temptation to sound the alarm just for fun is likely too great. But anyone in high school or above looking for security of this type should look into strapping an iSafe Urban Crew Campus Backpack over their shoulders. Your insurance company and stress level may both thank you often for doing so.
Check Amazon's pricing here: iSafe Urban Crew Laptop Backpack with Built-in Alarm
. iSafe offers several different color schemes from which to choose.