As much as CES 2012 has been about TVs and the Cloud, there's been a remarkably loud gaming presence as well, and not just from the tables and slot machines. Games on Smart TVs. Games on consoles. Games on PCs and Smartphones. And yes, games on tablets. Perhaps the most unique tablet gaming experience this year has been on Sony's Tablet P, which folds like a Nintendo DS and looks more like an overweight checkbook than a normal tablet. Its size is reminiscent of a fat checkbook too, which makes playing games on the Tablet P reminiscent of playing a DS. But make no mistake: checkbook or DS this is not; the Tablet P is a tablet through and through, one that just happens to be powerful enough to play full PlayStation games.
The dual-screen setup is a bit odd at first, but it was done for functionality's sake, not just to be different. The folding allows users to easily fit the tablet into a jacket pocket, something you certainly wouldn't do with an iPad or Galaxy Tab, making it more feasible to take just about everywhere. The hinges would seem to be a weak point, particularly with all the opening/closing you'll invariably do while commuting or waiting in line, but the hardware seems surprisingly durable. Logic would also say the hinges would prevent the two screens from opening into a truly seamless interface, but although there's a slight gap between screens when the Tablet P is fully open, the screens are close enough that you can easily slide and scroll between the two without feeling interrupted or awkward.
This almost-continuous feeling is important, because like Sony's Xperia phones, the Tablet P is PlayStation certified. So, because it supports games with console-like controls and appearances, the Tablet P had better perform like a seamless gaming device. Once you're in a game, it does.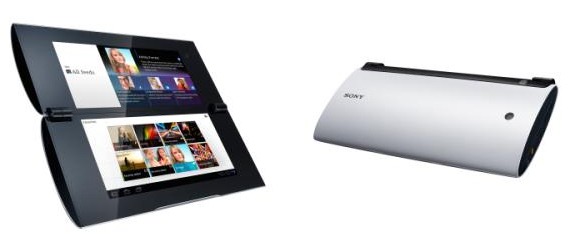 During our time in Sony's CES booth, we moved through the Tablet P interface to find the games section, where we promptly fired-up Crash Bandicoot. The game took a while to load, which was surprising considering the age of the game and the power of the hardware. To be fair, though, the Tablet P was running four additional apps in the background, not to mention the OS itself. Once Crash Bandicoot loaded, the game performed with no lag, no stutter and no issues other than my horrible ability to jump over a bottomless pit. If only I could blame that on the system.
Where the Xperia phones slide up to reveal PlayStation-like controls, the Tablet P's control interface was by far the coolest aspect of our time playing with it. Right after the loading screen faded to black, a virtual D-pad and virtual face buttons appeared on the touchscreen, as did virtual shoulder buttons. There was pretty much no fat-thumbing them, which was surprising because they're slightly smaller than their PlayStation corollaries, and they were impressively responsive. The only thing we missed from the device was tactile feedback, since you're just moving your fingers over a touchscreen. Fortunately, the sensitivity of the controls wasn't so spastic that we killed Crash due to the lack of feedback. Again, it was purely user error.
In terms of graphics, Crash Bandicoot on the Tablet P looks just as it did all those years ago. That's a good thing and a bad thing. It was nice for nostalgia, but with those two gorgeous screens we would've liked to see some higher-resolution games rather than a years-old title. Still, the overall Tablet P interface is crisp, vibrant and clear, so we're confident the screens can pull-off the same thing for games. In this case it seemed to be more of a function of the content we chose, not a system limitation.
That's not to say the Tablet P is a replacement for the PlayStation Vita, which comes out in February. The Vita has by far the most gorgeous handheld display ever created, and the controls and touch capabilities are unparalleled. The games themselves look great too (hello, Uncharted), and everything seems to move and respond faster. But again, the Tablet P was running nearly a half-dozen apps in the background, and it's not a dedicated gaming machine. Yes, it plays games, and yes, it's PlayStation-certified, but treat its gaming functions as gravy, not a core capability. I enjoyed playing Crash Bandicoot on the Tablet P, but seeing the PS Vita right across the booth reinforced one thing. The Tablet P, in spite of its form factor, is a tablet through and through. If you're going to be playing lots of games, stick with a dedicated machine.