The Sports Illustrated Swimsuit Issue has become more of a holiday than a retail magazine release. So what could Sports Illustrated possibly do to increase its impact? Create a 3D Blu-ray documentary, of course. I'll admit some trepidation upon hearing that Sports Illustrated Swimsuit 2011: The 3D Experience was coming to Blu-ray 3D. I figured it would be full of cheap "gotcha" effects involving appendages and breasts. Having now watched the 30-minute special, it's clear that Sports Illustrated's intent was to instead present a multimedia documentary of three of its most celebrated models.
It's obvious from the beginning that Sports Illustrated wasn't just trying to capitalize on guys' desire to see bikinis in three dimensions. The opening scenes focus not on the models, but on the incredible beauty of Maui. From flowers on Haleakala and pristine waterfalls to picturesque coves and white-sand beaches, Maui shows incredibly well on Blu-ray 3D. I'll even go so far as to say the 1080p 3D presentation looks more vibrant than real life.
After those opening minutes, things do focus a bit more predictably on three models: Irina Shayk, the 2011 Swimsuit Issue cover girl; Julie Henderson; and Alyssa Miller. Yet rather than just focus on their appearance, which the video rightfully and expectedly does do for a while, the documentary takes several minutes of each vignette to interview the models about their experience with the photo shoot and how they got into modeling. Yes, it sounds cheesy and fake — the stuff of total stereotype — but it actually comes off as completely sincere. And believe it or not, the vignettes each manage to show the girls' unique personalities.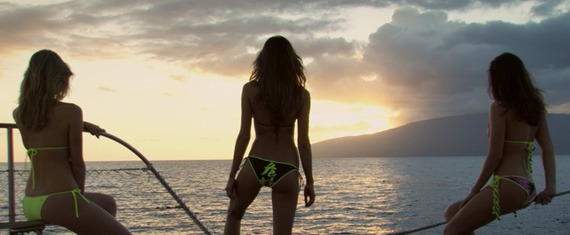 Shayk's sequence, clocking-in at nine minutes, opens with her sitting in a chair talking to the camera, then pans to her walking near the camera in a bikini — an activity that's continued for the next eight minutes. Shayk's personality, which is all tease and seduction, comes through loud and clear as she plays to the camera while walking around. There's nothing overt or "gotcha" about anything here, but the 3D is very well done and completely tasteful.
Henderson's interview and photo shoot, which lasts seven minutes, is presented in much the same structure, but her interviews are conducted on the beach rather than in a chair. Because the 2011 Swimsuit Issue represents Henderson's fourth issue, she's also much more comfortable in front of the camera, both from a photographic and interview standpoint. The camera does zoom-in on her a bit more, which presents more close-up 3D effects than he macro shots of Shayk's sequence, and Henderson's poses are much more suggestive in composition than Shayk's, although her personality's not quite as playful.
The third vignette, a six-minute featurette with Alyssa Miller, is clearly the best of the three, as it has the most lifelike 3D effects I've seen in any Blu-ray 3D to date. The lighting and video clarity are just phenomenal, and the environmental setups are drop-dead gorgeous. One scene's clarity in particular pops out, when Miller stands in the elephantine branches of a banyan tree. Miller's poses and personality may be much more reserved than the other two, but the video quality and shot composition are second to none.
Finishing-up the Sports Illustrated Swimsuit 2011: The 3D Experience is a two-minute sequence featuring all three models on a boat. This scene doubles as a recap of all three interviews and serves as a literal and figurative journey into the sunset. In many respects, the entire experience is over too quickly, almost as though Sony Pictures Home Entertainment and Sports Illustrated were testing the waters with this 3D Blu-ray to see if it could expand the Swimsuit Issue's sphere of influence. Considering it turned me from a skeptic to a believer, I've got to say their test was a success.
This behind-the-scenes documentary could have easily descended into pure male pandering. Instead, it tactfully portrays the models' individual personalities and showcases the setting as much as the skin. I wouldn't go so far as to say Sports Illustrated Swimsuit 2011: The 3D Experience is a must-own for nature lovers, but it's certainly more than a cheap excuse to see bikini-clad models in 3D. I'm honestly curious to see what SI can conjure up for the 2012 Swimsuit Issue.
Click here to buy Sports Illustrated Swimsuit 2011: The 3D Experience on Blu-ray 3D
from Amazon.com.
Score: 8 — Joke if you will about scantily clad models in 3D, but this documentary is surprisingly tasteful and the perfect complement to the print version of the Swimsuit Issue.