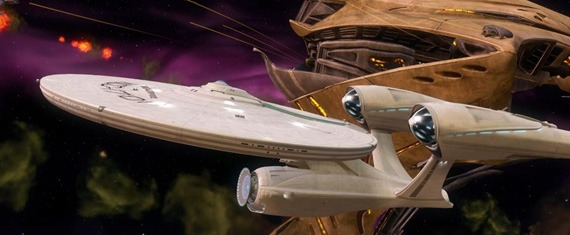 I first saw Star Trek: The Video Game two E3s ago, when a 30-miunte demo packed every session in the behind-closed-doors meeting room. Two years ago it was a graphical powerhouse, showed compelling cooperative gameplay between Kirk and Spock, and seemed utterly epic in its scale. Twenty-four months later, the only way to explain the final product is to borrow a page from JJ Abrams' first Star Trek movie: a crazy wormhole changed the course of history. What should have been a can't-miss complement to Star Trek: Into Darkness inexplicably evolved into a tedious, finicky and buggy experience whose best qualities have nothing to do with the interactive medium.
In its defense, Star Trek: The Video Game ran through several publishers and development influences on its way to retail, not to mention an inflexible deadline of the unrelated-but-not-really theatrical release of Star Trek: Into Darkness. But that's where the defense ends. From its E3 debut two years ago to its final release, the game touted its reliance on co-op action, the ability to play as Kirk and Spock for the first time ever, and a gripping experience that spanned the universe. Unfortunately, it hits all three only by technicality.
The plot takes place between JJ Abrams' first Star Trek and his latest outing, with the Enterprise crew running around space stations and multiple planets trying to keep the Gorn from destroying the universe via an energy weapon stolen from New Vulcan. The Gorn, as you may recall, is the race of lizard people made famous by the mano-a-mano battle against William Shatner's version of James T. Kirk. In this version of the Star Trek universe, the Gorn have various enemy classes and are completely 'roided out, making them more worthy adversaries in hand-to-hand combat but still "stupid lizards" when it comes to shootouts. But, you do travel the universe as you carve through their species — if you can stomach the gameplay that long.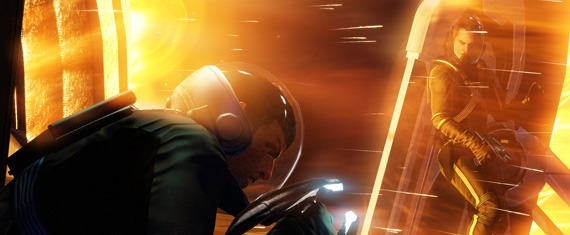 Co-op is supposedly the name of the game here, with Kirk and Spock tag-teaming the battle against the Gorn every step of the way. For most missions they get some NPC support, but rather than "non-playable" the NP should really stand for "non-productive," because they really serve no purpose other than window dressing and dialogue. For that matter, if you're in a single-player game rather than blasting through with a friend, whichever character you don't play as is equally useless due to the friendly AI in Star Trek: The Video Game being more "Absent of Intelligence" than artificially so. Whether you're waiting for Kirk or Spock to flip a switch (he won't), kill an enemy that's got you pinned down (he won't) or activate a checkpoint (he won't), the game forces the player to do absolutely everything. The fact that you can't switch between Kirk and Spock between missions just adds insult to lack-of-choice injury. I suppose it's because the characters play no differently, so there's no real reason to switch, but you must be completely at peace with your character decision before starting a game, because you're stuck with it until everything's (mercifully) over. But, on technicality, the missions do feature cooperative play.
The game's bugs, though, keep even two-person co-op from saving the day. Going through a game with a friend can often eradicate the frustration of bad AI, which is technically true here, but the constant glitches in this title make it nearly unplayable in parts. Whether it's a rally point that doesn't register your appearance, a cover point that still doesn't protect you from incoming fire, characters moving in the wrong direction no matter how hard you press the analog stick, avoiding debris that somehow still "hits you" from across the screen, or a "how to achieve the objective" dialogue box not appearing and leading to repeated deaths, Star Trek: The Video Game is a frustrating pile of buggy parts that never coalesce. The primary action you'll experience here is spiking your controller in disgust, not anything related to the gameplay itself.
If there is some saving grace, it comes in the plot, voice acting and Kirk's hair, which is about the most realistic-looking hair ever to appear in videogames. The story itself is surprisingly interesting, and it's a shame that it has to be tied to such a frustrating and mashed-up game. I would've much rather watched the entire thing play out via cutscenes like a straight-up movie rather than be asked to play through the thing, to be honest. This is partially due to the movie's voice actors reprising their roles for the game, each of whom does a solid job and plays-up his or her character dynamics and interactions with other members of the Enterprise crew. Again, had this been a movie, I think this element would've been more pronounced, but since it's sandwiched and crammed between disappointing gameplay it's going to be overlooked by most folks. Unlike Kirk's hair, which on visual integrity alone is probably going to pad some developer's resume.
Other than the plot, voice acting and Kirk's hair, there's nothing at all I would recommend about Star Trek: The Video Game. It's a buggy mess broken up by unnecessary cutscenes only to be rewarded by more glitchy gameplay. Apparently the publisher set its phasers to stun, because "stunned" is the only way to describe how I felt about the difference between E3 debut and this final boxed product.
Score: 4
Platform reviewed: Xbox 360
– Jonas Allen