Tales of Xillia is a Japanese RPG in every possible way, from its anime style and focus on characters to its progression system and occasional quirkiness. It also happens to have been played in Japan for more than two years, as the game is only now releasing in America. But while calling Tales of Xillia "new" may be a slight misstatement, it's not inaccurate to call the game entertaining, if not a bit derivative.
The game follows two primary protagonists, a med-student-turned-warrior named Jude Mathis and a more-spiritual woman named Milla Maxwell. Gamers can play as either character, since the major plot points in each one's story are near identical, but there are some character-specific twists, turns, vignettes and quests. Playing as both is a serious venture; the game comes in at about 40 hours with one play-through, so if you want to see the cutscenes for Jude and Milla, you'll be sitting in front of the TV for quite some time.
The plot itself is pretty standard fare: bad guys are trying to harness the power of an incredible weapon, and only your party can save the day. But while the paint-by-numbers story may not stand out, the character development is great. Jude is an unassuming hero, while Milla is the physical incarnation of the spirit whose job is to help humanity when things get a bit intense. Jude is struggling with his mighty task to save humanity, and Milla is struggling to regain her ability to summon four powerful spirits to help. These backgrounds alone give plenty of fodder for intriguing personalities, and Tales of Xillia delivers.
The characters' interactions are even more compelling, though, as there's just enough dialogue and tension to keep you wondering whether the terrestrial and spiritual heroes will eventually hook up. Tales of Xillia presents some pretty crazy circumstances, but even amid the madness, the characters and their conversations somehow seem genuine. The dialogue may not be voiced over particularly well, but it delivers some compelling themes and great one-liners that really help flesh out-both characters.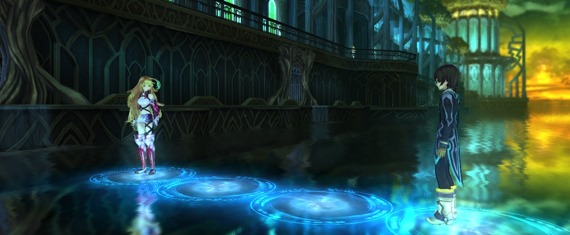 The combat system in Tales of Xillia is also well executed, though it does feel pretty familiar at times. It's tempting to label the combat nothing more than button mashing, but that would be a discredit to the combos and other nuances of the game's fast-paced action. A linking system is one of the best aspects, as it lets you "link" with one other character to tag-team enemies, attacking them from various angles and leveraging their unique support abilities, special attacks (called artes) and super moves.
Between enemies, Tales of Xillia lets you explore the game world as well as its pretty deep upgrade and progression system. Upgrades are achieved using the Lillium Orb, which feels a lot like the Sphere Grid from Final Fantasy. A deep upgrade chain exists with dozens of skills to attain by following specific upgrade paths. Players can augment their skills and abilities that best accommodate their play style by using the orbs unlocked with each new level. There's a lot of planning to go into this if you really wish, or you can choose the paths that just seem the most fun. The game's upgrade system is as deep as you want it to be.
Now, since it's a two-year-old game, any Tales of Xillia review has to call out its definite quirks. And no, I'm not just talking about the ones inherent in most JRPGs. For instance, the pretty artwork is presented using a graphics engine that definitely shows its two-year age. Likewise, you'll wander the world seeing characters just pop into view rather than smoothly transition from distant to close-in entities. And the great soundtrack starts things off great but eventually gives way to a preponderance of bad voice acting.
Still, this 40-plus-hour adventure plenty of intriguing moments. Its deep upgrade chains are balanced by fast-paced combat, and its character development shines in spite of the plot. You definitely have to be a fan of JRPGs to enjoy Tales of Xillia, but if you are, it's nice to see this game finally make its way to American PlayStation 3s.
Click here to buy Tales of Xillia from Amazon
.
Score: 7.8
Platform reviewed: PlayStation 3