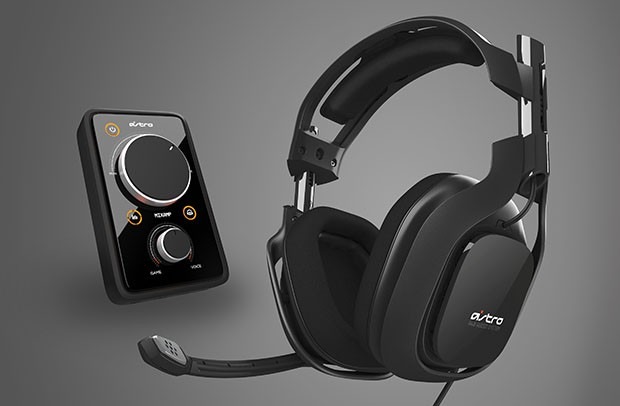 Without a doubt, wireless headsets have become very popular in the gaming world. There is a buzz amongst gamers and audiophiles who are looking for the best headsets that are reasonably priced but give great quality sound. It's about the Astro A40 With Mixamp system, which lives up to the reputation of Astro as manufacturers of quality gaming accessories. Though it is expensive, sometimes you have to compromise on the price if you are looking for the best gaming headset in the market.
Design and Features
These headphones are lightweight and do not take a toll on your heads like the painfully heavy ones available out there. Its lightweight design is a bit surprising considering the fact that it is made out of tough but malleable high density plastic that has a very squishy feel to the touch. Overall, the Astro A40 looks a touch jaded compared to your ordinary jazzed-up laptop or PC gaming headset and has a mechanical feel that says function is important than style and is padded for superior comfort.
The system also has an a removable swappable mic, which can be attached to either the left or the right ear cup. The Astro A40 With Mixamp 5.8 system has a base transmitter and a receiver wired to the A40 headsets. The base transmitter makes digital audio to your home system possible, so you don't have to keep plugging and unplugging the system. There are two USB ports that can be used for game chat.
At $250, this over the ear headset is still a bit pricy but the system is worth every dollar you pay for it if you are a serious gamer who cares about sound quality.
Pros and Cons
The Astro A40 Wireless system is easy to set up, premium headset with an amazing sound quality! The Dolby 7.1 plus a whole new host of ports bring a new dimension to gaming and watching movies.
Setting up the A40 system is easy once you plug in the optical audio cable into the MixAmp transmitter, the next step is a simple sync operation to connect the receiver. You can also use a rechargeable battery, which can also be charged by using a USB cable. A fully charged battery should get you about 15 hours of game play. For a wireless system, there are a couple of wires that still need to be attached to the headset system but what's important is that the audio is designed to travel wirelessly.
The dial right at the bottom makes it easy for you to adjust the voice level outputs, obviously when you make the MixAmp as the main audio device.
The ear cups of the headphones may not be as lavish as they come but are comfortable though. Audio transmission is wireless. It is however a little bit pricey and it is not completely wireless (as one would expect).
There might be issues with connecting multiple consoles. It is compatible with PS4 but if you are using Xbox, you might have to purchase additional cables and adapters.
Verdict
It's a fantastic headset with a sturdy design, premium audio quality and comfortable padding- well suited to long gaming sessions.
You can also check out the other best gaming headset in the market.