I like to think I'm a positive person. I try to find the good in every game I play, even if it's just a shred. But with Thor: God of Thunder, the only good I could find came after turning off the Xbox 360 and knowing I was done. Winning an award for "worst game so far in 2011"? That's not really something you use to pad the resume. I was sincerely hoping that Thor: God of Thunder would follow in the footsteps of The Chronicles of Riddick for its movie tie-in quality and success. Instead, more Thor disks will likely head toward that magical E.T. landfill in the sky than they will into the consoles of gamers who like decent games. If Uwe Boll gives game-based movies a bad name, then Thor: God of Thunder reinforces and strengthens the perception that all movie tie-in games are garbage.
In actuality, Thor: God of Thunder is a movie tie-in by name alone, because the game follows the comic-book adventures of Thor rather than those of his theatrical hit. This means there are no truly epic battles to be found, nor any semblance of quality settings in general. The levels, all elemental in nature, look and feel remarkably bland — and in some cases identical except for their color — and their structure is so linear, even for a hack-and-slash game, that maneuvering Thor through the game worlds is an exercise is tedium.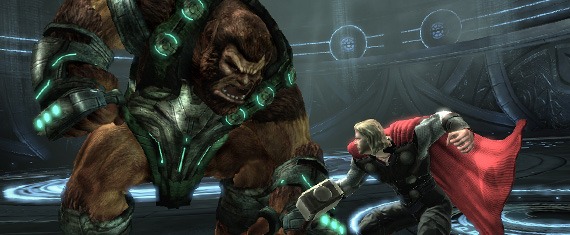 The combat doesn't fare any better, even though the developers tried to ape as best they could the general gameplay mechanics of the Spider-Man games and God of War. Thor's base weapon is his hammer, Mjolnir, which he can use in both quick attacks and power attacks and, if you so choose, can be tossed in the direction of a dimwitted foe. Players can also use several thunder-, lightning- or wind-based magic attacks until their mana runs out, with additional mana earned by either smashing pieces of the environment or defeating enemies via specific grapple moves. There's the ability to use combo moves as well, although they really amount to nothing more than "press X two to five times, then press Y to see if Thor actually responds with a big thunder fart before he's knocked cold."
Chances are, he won't.
The camera doesn't exactly help matters, as it's nigh impossible to maneuver in combat and zooms-in far too close to do anything other than get in the way. Boss battles are the worst in this regard, as players can think they've got the proper angle on an enemy only to be smashed to blonde bits because of a previously indecipherable foot. Or maybe it was the camera not presenting an accurate angle at all, which can completely undo that carefully timed (and positioned) power move required to break through several powerful foes' armor. (This kills the platforming elements as well.) It's clear that the developers were thinking about ways to get creative and strategic in battle, but the execution of those concepts, combined with an atrocious camera, make the game incredibly hard to play. And that's before you get eight to 10 Ice Trolls coming after you.
Thor: God of Thunder lets players use Valor Points to upgrade the hero's skills via a skill tree, but honestly, you won't make it far enough in the game to even care about them. The game also provides more than 12 hours of gameplay, but playing Thor for one hour is about 70 minutes too many. I don't mean to belittle the game, but that's really all I can do with a straight face. Sega can, has and will do better than this, and the developers at Liquid Entertainment can as well. They sure as heck can't do much worse.
Score: 2 – The movie tie-in curse rears its ugly head again, producing what's possibly the worst game of the first half of 2011.
Platform reviewed: Xbox 360