Having seen Transformers: Dark of the Moon release on Blu-ray Disc, it occurred to me that I never reviewed its video game tie-in. Call me skeptical of a movie-based game. Call me callous for taking this long to get to it. Or, just call me forgetful. Regardless, one thing you can definitely call me is impressed, because although Transformers: Dark of the Moon does get tedious after a bit, it still pulls off being one of the more enjoyable Transformers game I've played, and makes it seem like Michael Bay knows what he is doing with the franchise.
The Transformers titles have traditionally been beat-em-up affairs with a fancy robot skin, nothing really setting them apart from any other run-of-the-mill action game aside from the voice of Optimus Prime. With Transformers: Dark of the Moon, the developers conceived a game whose first priority was to feel like a Transformers experience. Not like a tie-in, not like a skinned melee-combat game, but a Transformers game. To achieve that, they focused on the element that makes Transformers unique: they transform.
There are three modes that your Transformer can take: the standard upright robot mode; the standard Vehicle mode; and a Stealth Force mode that's similar to the vehicle form but lets you maneuver on a swivel and carry more-powerful weapons. Stealth Force mode is a cool additional and spices up the gameplay, but it also acts as a crutch that eventually saps some creativity out of the experience.
Stealth Force has hardened armor and powerful guns, which is great when you're under attack and in a bind. The problem arises when you realize just how powerful the Stealth Force mode really is, to the point that you find yourself playing in that mode the entire time because you're damn near indestructible. Generally speaking, you simply need to switch to Stealth Force, unload your grenades, and you're good to go.
For instance, cover is vital to survival in Transformers: Dark of the Moon — unless you're in Stealth Force mode. When in that form, you can strafe around and blast everyone to Hell. You also have a lock-on ability that makes it easy to nuke everything in sight. Switching to Stealth Force mode also refills the ammo of both weapons from Robot mode, so transforming back and forth is a crutch to quickly and blast away at baddies. Couple that with the feeling that every level is the same basic hallway and switchbacks with a different veneer (jungle, underground facility, Detroit streets, etc.), and the game gets a bit tiring.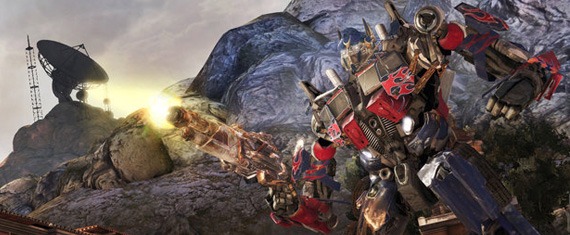 Not that the developers didn't try to inject some variety. You don't play as the same character twice, and in Chapter 4 you get to hop into the metallic shoes of the Decepticons rather than Autobots. Even in terms of the mission types, some levels require you to play with a cloaking mechanism and no guns, and there are a handful of protection/escort segments — even if each of the divergent levels does seem like the same basic hallway.
Transformers: Dark of the Moon does include nice surround-sound environmental audio aspects, but only when the developers choose to implement them. In a few cases, such as bats flying around a cave or hummingbirds flitting around the jungle, the effects are phenomenal, but there aren't really that many instances. The soundtrack is also a bit pedestrian, and most of the guns sound the same from one Transformer to the next. The biggest audio highlight is hearing Optimus Prime speak. But isn't that always the way?
Graphically the game fares OK, but often there are too many things on screen at once, making it hard to focus on any one thing. In most games you run into this phenomenon when everything's the color of concrete (hello, Unreal Engine), but in Transformers: Dark of the Moon it happens even when the environments are full of lush vegetation or mountainous terrain. I'm all for environmental detail, don't get me wrong; but "detail" and "stuff" aren't always the same thing, and these environments just have too many textures getting in the way of the imagery you're supposed to focus on. In the second half of the game you also get some incessant mid-mission load times and texture pop-in, both of which are surprising considering the hallway-like structure of every single level.
Reading all this, you'd think I didn't enjoy myself. On the contrary, I enjoyed it enough to play through the second half of the game, which for a tie-in is a modern miracle. Transformers: Dark of the Moon may suffer from some derivative level design, and its introduction of the cool Stealth Force form does have some repetitive gameplay consequences. But kudos to the developers for injecting something new into the formula.
Score: 7.8
Platform reviewed: Xbox 360