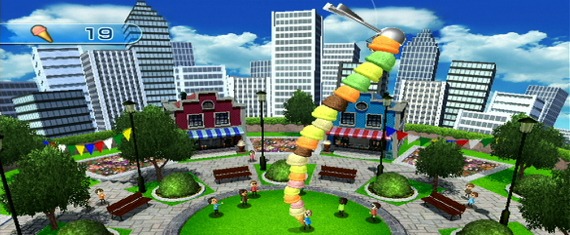 Nintendo loves to keep the mini game collections coming don't they? I mean, they sell like hotcakes and help keep non-hardcore gamers playing their Wii systems, so why not? Similar to Wii Play, Wii Play Motion is a title that comes bundled with a brand new Wii Remote and a disc containing twelve minigames. The big change this time is the Wii Motion+ add-on has  been integrated into the controller making for a standard length remote preventing you from having to use the small add on which throws off the balance of the controller, in my opinion.
Seeing as it's a minigame collection, there's obviously no story and the title makes no attempt at shoehorning one in. So rather than a bunch of useless preamble, the game places you at a menu where the series of minigames for between one and four players can be selected. Unfortunately not all of the games are unlocked from the onset, but it'll only take roughly 30 minutes to unlock all available games; depending on how much you play each one.
Out of the twelve games included, there are definitely a few standouts that I found myself getting really sucked into, sadly not all of the games are this engaging but gather a group of friends and who knows what will happen. Some person favorites were Teeter Targets,  and Jump Park. Teeter Targets has you hold the controller horizontally, flipping it to help coax a ball to break targets, collect time and score bonus points. It's oddly addictive, and there's always that thought that you can do better, which is exactly what a minigame is supposed to do. Jump Park puts you in control of your Mii who bounces around levels that are lined with trampolines and gems. This mode reminded me of the bonus levels from the 2D Sonic titles where you have to spin around an area collecting rings. It's not terribly difficult but it's oddly compelling.
One other game that caught my eye but not as completely as the two mentioned was the Spooky Search. You take the reigns as a ghost buster of sorts, standing in a haunted room while other Miis stand around and offer some guidance as to where you need to 'look' for a ghost. By look I mean move your Wii Remote around the room until you hear it chime and vibrate which indicates you've caught a ghost. All you need to do then is whip the ghost to the front of the screen as if on a rope and force it into the ghost trap. This mode while not particularly challenging made a great use of all the features of the remote, from the speaker to vibration as well as the Wii Motion+ contained within.
Other games included are not quite as fun, but again get a group of people together be it younger kids or alcohol consuming adults and the tides of joy can change on a whim. Cone Zone has you balance a giant ice cream cone with the remote and Skip Skimmer is a stone skipping simulation with some touchy controls. Veggie Guardin'  is a modern take on whack-a-mole and Trigger Twist uses close to 270 degrees of the game world and transforms it into a shooting gallery. Pose Mii Plus is exactly like the Hole in a Wall contests where you have to contort the Mii to fit through a hole using the remote – poses are changed with the button on the controller, and Treasure Twirl has you in control of a diver who'd working his way to the bottom of the ocean to collect treasure on the floor.  Obviously there are still a couple more modes, and more often than not each game features an unlockable mode within it to change something up. For example Trigger Twist changes up the duck and UFO targets to Ninjas as you keep playing it.
Given the price point for Wii Play Motion, $49.99 it's tough to recommend the title if you're not in the market for another Wii Remote. But if you don't have the Wii Motion+ adapter, just need another remote or are getting the hankering to try out some newer minigames to help flesh out your next Wii party, then this is a solid acquisition, as long as you know what you're getting.
7.5/10
Platform reviewed: Nintendo Wii