The middle of summer means a variety of things: good weather, vacations, big movies and a dearth of new games and electronics. There's been a certain degree of radio silence and feature articles lately, for various reasons that I won't bore you with, but that doesn't mean we've been sitting on our laurels. The gaming doldrums is in full swing, so we've been pacing our reviews and features to help get us through. Consider it a content rationing, if you will.
At any rate, some cool things slide across my inbox and desk from time to time, even in this mid-summer quiet period, that are just too cool not to discuss. A few of those gems have hit recently, so below is a quick recap of some of my favorites.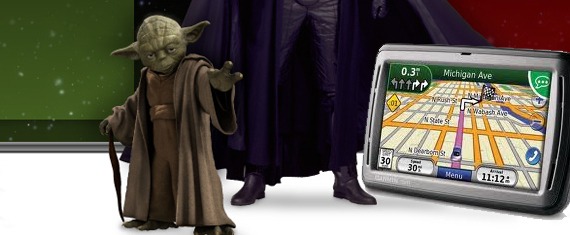 Master Yoda and Darth Vader Garmin GPS Voices
I've reviewed a few GPS devices like those made by Garmin, but I don't own one myself. Having heard about this new little add-on, though, I might have to go buy one just to ride co-pilot with Jedi Master Yoda and Darth Vader on a regular basis. The turn-by-turn directions from a Garmin GPS
device are often voiced by a British female or some overly mechanized guy, which sounds good at first but by the time you reach your destination has gotten incredibly old. Now, LucasFilms and Locutio Voice Technologies have unveiled a couple of $12.99 downloads that makes Jedi Master Yoda and Darth Vader the default voices for your Garmin GPS
system.
The voice of Yoda features the Jedi Master's characteristic speech patterns paired with occasional dialogue from Obi-Wan Kenobi taken straight from the classic films. Instructing drivers and passengers alike in the ways of the Force, Yoda offers sage guidance with phrases like "Right you should turn, then sharp left…control, control, if a Jedi, you wish to be," and "After 200 yards turn right…then bear left…but not to the dark side."
Darth Vader's commentary is equally funny, with navigation guidance such as: "Proceed to the highlighted route. Your destiny lies with me. Obi-wan knew this to be true," and "Traffic ahead. The Emperor has foreseen it."
"In addition to the signature breathing and menacing navigation commentary, the inclusion of original Star Wars sound effects — including TIE fighters and lightsabers — as well as John Williams' unforgettable Imperial March music, will make every journey with Darth Vader a truly thrilling experience," said Chris Hilton, CEO of voice-developer Locutio.
I have to agree — at least as much as I can without having gotten "ears-on" with the new voices. Check out the Yoda snippet below.
The Warrior's Way Blu-ray Disc
Plain and simple, The Warrior's Way
could very well be the best movie you've never heard of. Starring an unlikely assembly of Geoffrey Rush, Kate Bosworth, Danny Huston and martial-arts sensation Jang Dong Gun, The Warrior's Way is an odd mashup of Old West and ninja film, but the result is an absolute keeper of a film. Best described as a "Spaghetti Samurai," The Warrior's Way
balances traditional Western cliches and modern martial-arts sequences with outstanding art direction and a story about a loner hero that shows how much the Western and martial-arts genres have in common. I was super skeptical about this film when I first popped it into the Blu-ray player, and I expected little more than a nice ninja flick. Immediately after finishing it, I moved it to my permanent Blu-ray Disc collection, which is a place most films I watch and/or review never see. The Warrior's Way is outstanding, and although it seems random and somewhat odd on the surface, I absolutely recommend it. Consider The Warrior's Way
the undiscovered gem of the 2011 Blu-ray release calendar.
The Elder Scrolls IV: Oblivion 5th Anniversary Edition
I know this is an "old" game, but Oblivion is my all-time favorite title — I dropped 134 hours into it before even reaching the 50% completion mark — and this compilation includes the two Oblivion expansions — the Knights of the Nine and Shivering Isles — plus the main game, for the super-low price of $29.99. I can not wait for the release of The Elder Scrolls V: Skyrim later this year, and Oblivion is the sole reason why. If you've not yet played this beauty of an open-world RPG, you owe it to yourself to do so before Skyrim hits stores. Heck, the Oblivion Anniversary Edition even includes a $10 mail-in rebate offer for the purchase of Skyrim and a Skyrim strategy guide, which (if you're planning to buy those) will take the net cost of this SKU down to $19.99. Pound for pound, you will never find a more valuable game release. Ever.
– Jonas Allen