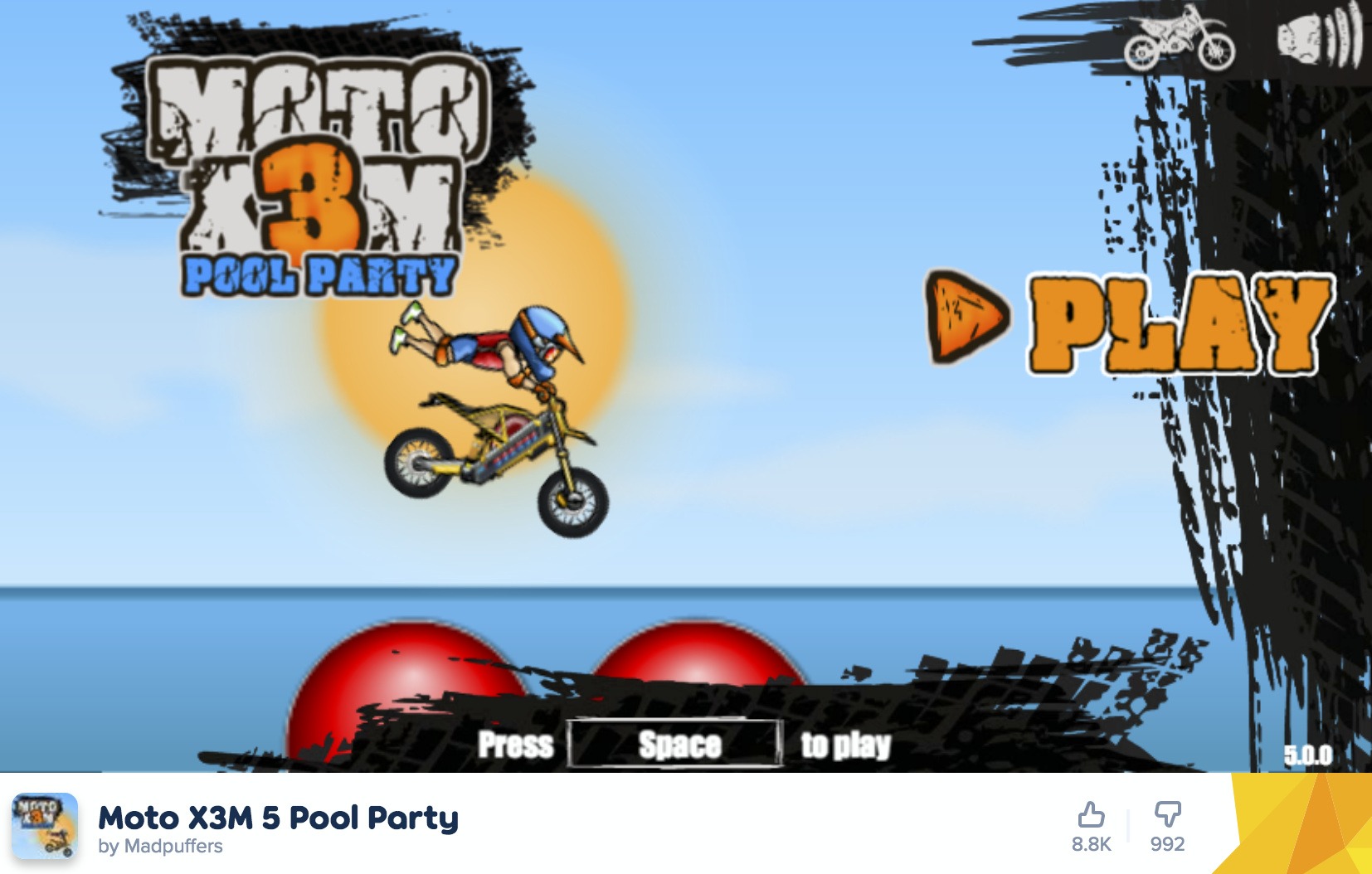 Imagine for a moment, if you will, what your perfect party would look like. What would the decorations be like? Would you rent out a venue or would you just hold the party at your house and deal with the cleanup afterwards? How about the music? These are all considerations you'd need to think about if you were to plan the ideal get-together, and that's not even mentioning which friends or colleagues from work you'd want to invite (between you and me – don't invite Greg, he's a bit weird).
Perhaps one of the most important things about a party, though, is the entertainment. It's all very well having the perfect guest list and the ideal venue, but these are nothing without the right centerpiece for everyone to gather around. Everything from DJs to live bands to foam parties has been tried, so if you are in the early stages of planning a party then make sure you get the right entertainment. You might, for example, want a daredevil motorcycle rider to perform some seriously crazy stunts for your beach party.
If you do, you're in stiff competition with Ukrainian studio Madpuffers, who have created the Moto X3M series for this very reason. The latest title in this franchise, Moto X3M 5 Pool Party, sees players moving to the sunny locales of…erm…somewhere, and performing the series' signature death-defying acrobatic bike stunts against a backdrop of beaches, deckchairs and sun-kissed oceans. Yes indeed, there's never been a better way to watch your rider faceplant after a botched stunt than to do so as the sun sets on a Bahamian paradise.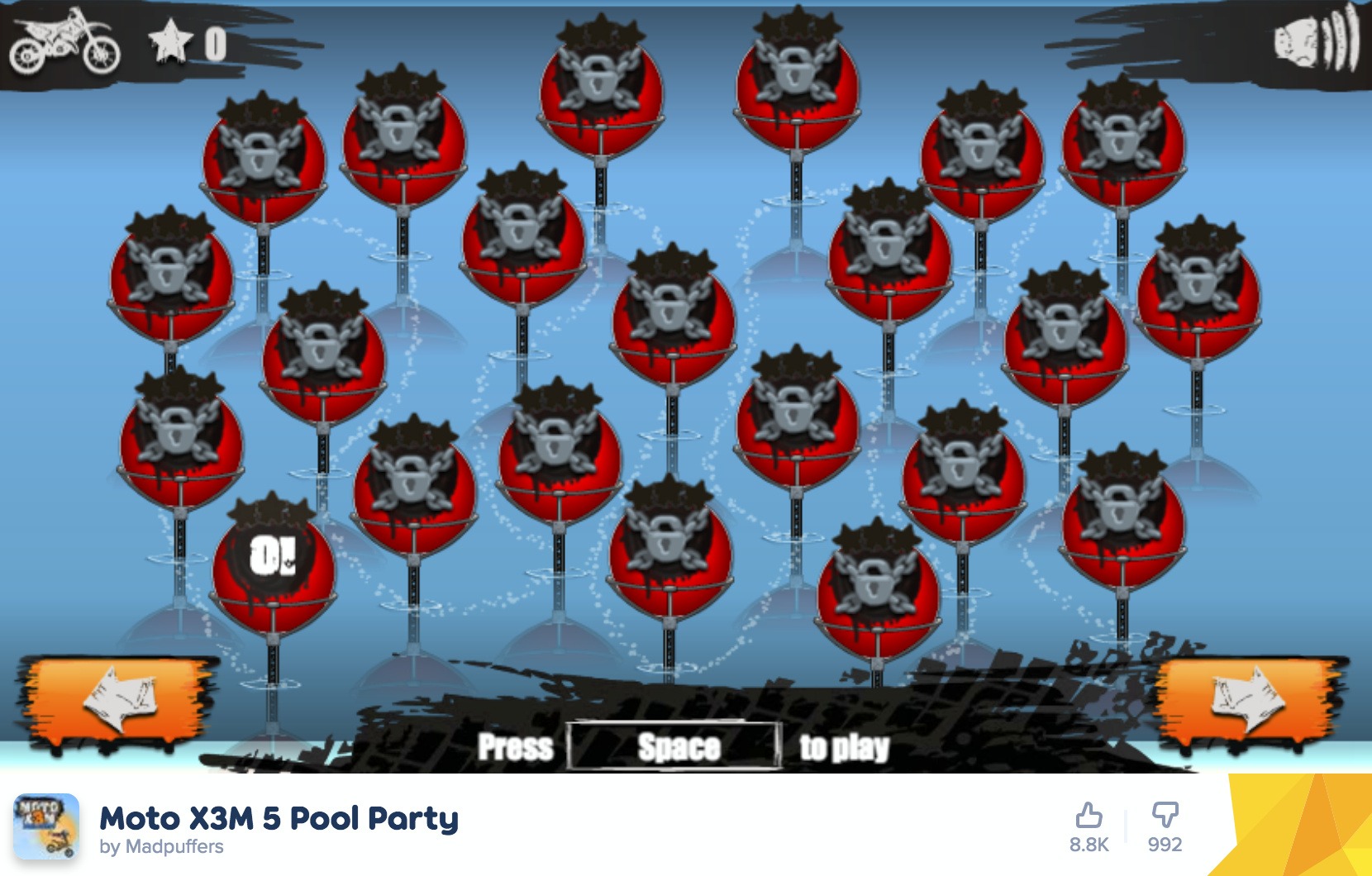 Of course, if you're skilled enough, you'll never faceplant, and that's always been the deceptively simple beauty of the Moto X3M franchise. These games have always exhibited a wonderful balance between skill and sheer luck, between gradually improving by learning mechanics and simply getting by on an insane jump that really shouldn't have worked. The Moto X3M franchise has always combined a refreshingly simple premise – ride a bike, win a race – with a couple of nicely implemented mechanics that reward skill and patience.
Moto X3M 5 is no slouch in this department, either. Just like previous games in the series, you control a nameless, (mostly) faceless rider whose identity you can ascribe yourself. If you're looking to punish someone in your life for some transgression, why not imagine it's them? Each failed stunt will feel all the sweeter if you're imagining someone you hate faceplanting onto the concrete. Whoever it may be, it's your task to guide them through a series of increasingly difficult physics-based challenge tracks (22, in this instance) and try to get the lowest time on each course.
To aid you in doing so, you have precisely four keys at your disposal (well, five, if we're being picky). The arrow keys will constitute the entirety of your interaction with Moto X3M 5, with a quick jaunt to the R key if you need to restart a level for whatever reason. Up arrow key accelerates your bike, down arrow brakes, left and right arrow keys lean back and forward. It's a nicely simple system that will be familiar to anyone who's played the Trials series, or the Joe Danger games.
That's not to say Moto X3M is derivative, of course. These games carry signature features all their own, not least an increased emphasis on seat-of-the-pants difficulty. Trials derives most of its challenge from impossible physics stunts, but Moto X3M doesn't pull its punches right from the off. Stage one in Pool Party has you facing off against high-velocity objects as they're hurled at you from off-screen, as well as Sonic the Hedgehog-style vertiginous pipe arrangements that set the tone for what will become a gravity-defying adventure through some of the toughest and most gruelling level design the Moto X3M series has ever seen.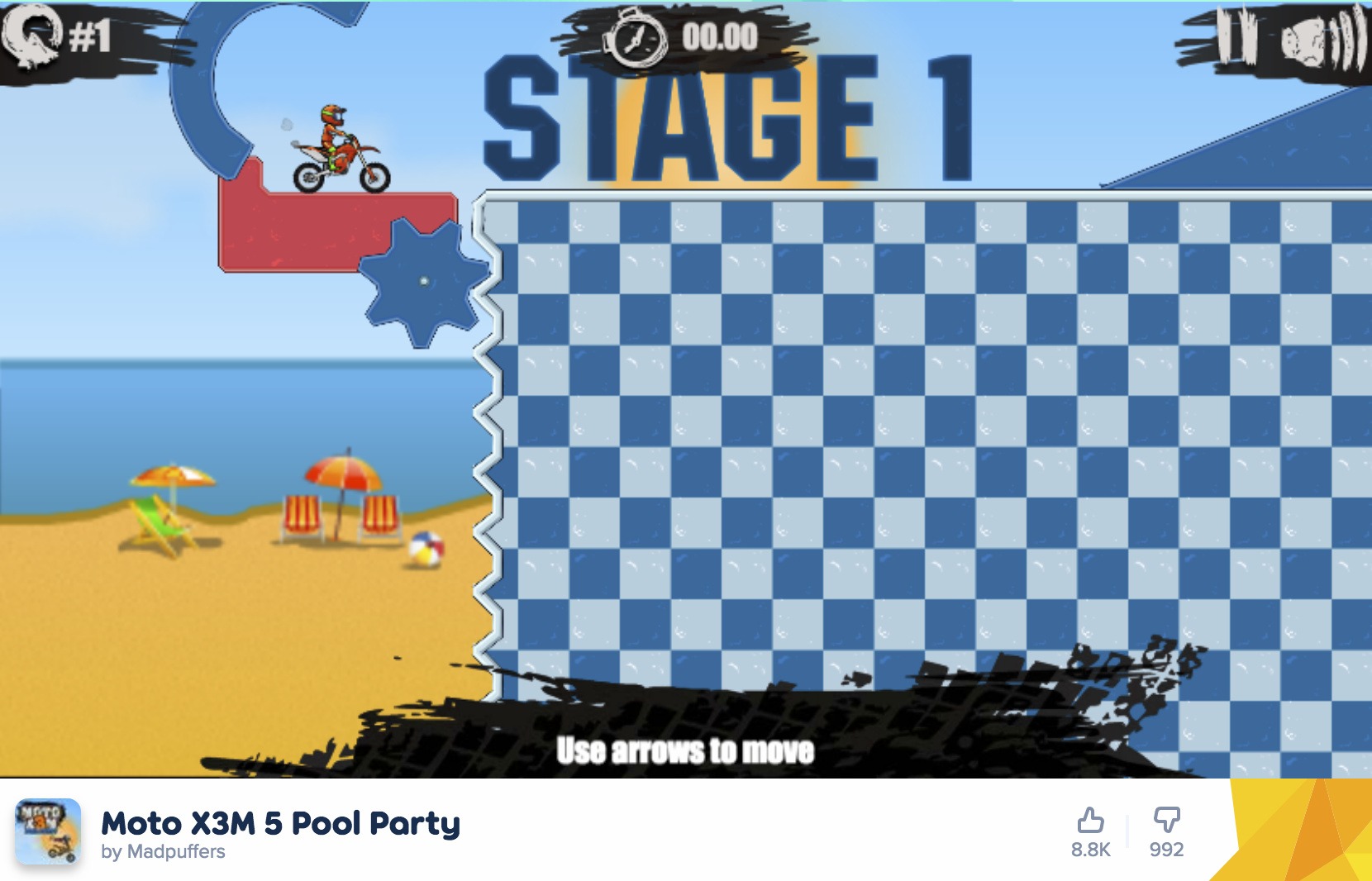 Being gluttons for punishment, we love that aspect of Pool Party, but if you're not someone who likes difficult games then you may want to apply elsewhere for this one. Moto X3M 5 Pool Party doesn't want you if you're not willing to put in the necessary work to master its varied and intricate level design, and it's not interested in tutorializing for you, either. You'll learn the controls by trial and error or you'll not learn them at all, darn you. We're big fans of this approach – we often think modern gaming is a little too hand-holdy when it comes to teaching – but we also understand that it's not something that will work for everyone.
Moto X3M 5 Pool Party is very probably the best of what is already an excellent series. This isn't a game that emphasizes its ancillary unlocks and other features. Instead, the focus is squarely on the core gameplay loop of navigating increasingly tricky physics challenges with only your bike to keep you company. There are a couple of extra unlocks, but they're nothing special (although they are quite diverting), and they won't distract you from the gameplay too much.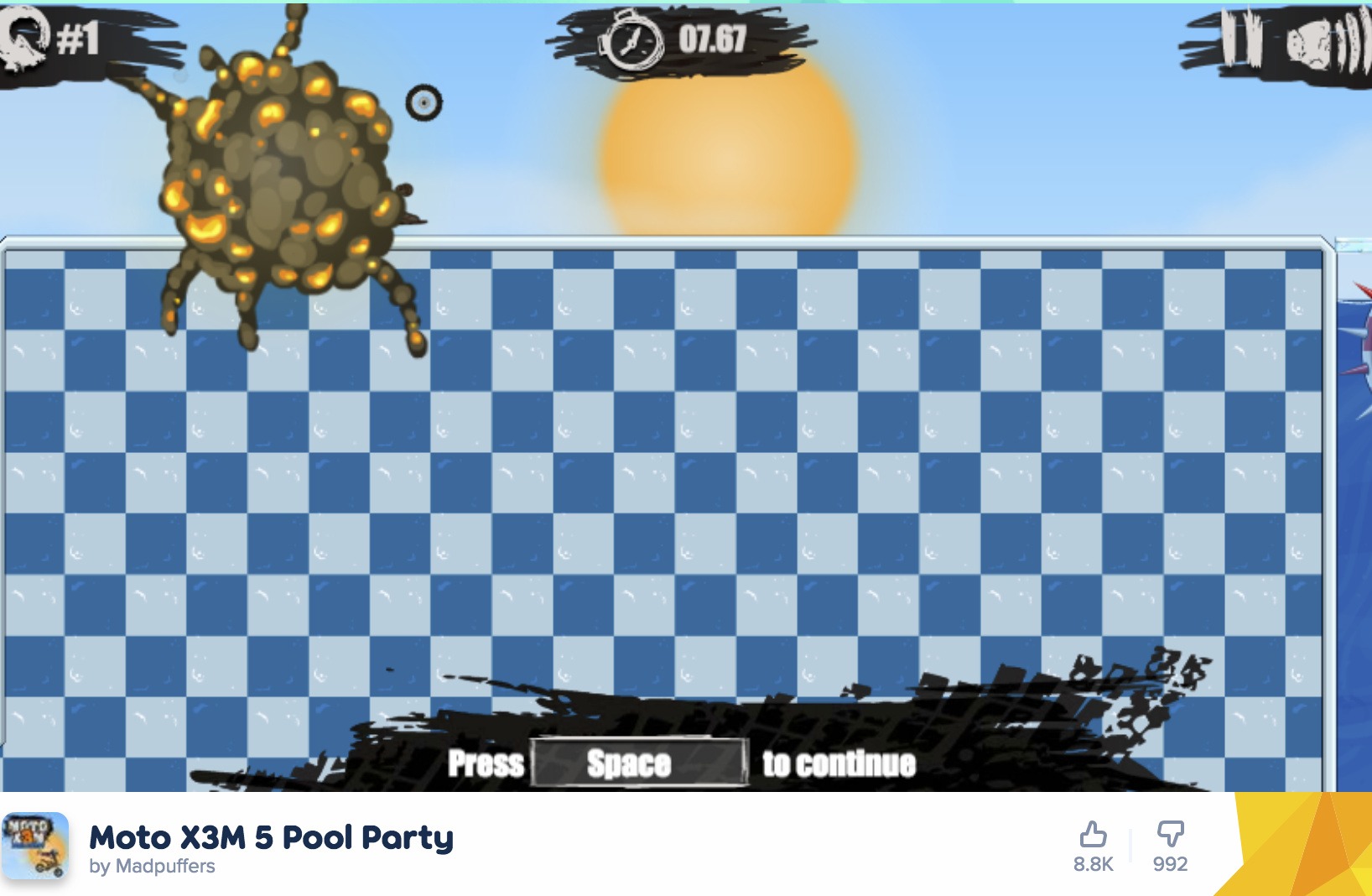 All in all, it's not hard to throw a recommendation out for Moto X3M 5 Pool Party. If you've played the previous games in the series, this one is effectively more of the same, albeit with a stronger emphasis on brighter aesthetics and a better implementation of the central physics engine. If you're starting anew, it might be better to go back to one of the earlier games in the series to see if this sort of thing is your bag first. If it is, come back and gorge yourself on Moto X3M 5's many and varied challenges.