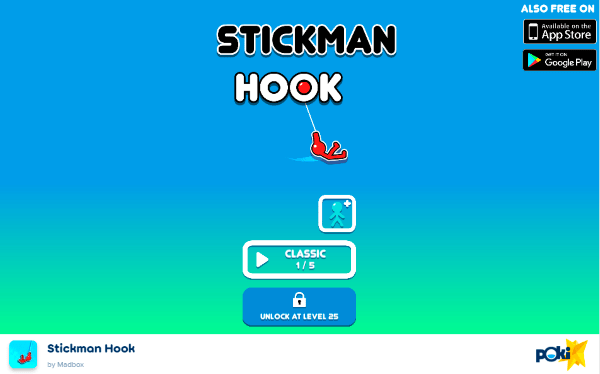 Ah, the humble stick man. When those of us with absolutely no artistic talent or merit whatsoever seek to represent the human form, it's the first method we turn to. A stick figure is the most basic possible way to depict a human being, with its incredibly simplified arms, legs and head. If you're feeling particularly daring, you might add a smile and a pair of dot eyes to your stick figure, but that's advanced stuff and we dare not meddle ourselves.
Stick figures are usually used when a simplified instruction is needed. Examples might be bathrooms, where the intended gender is depicted using stick figures, or safety signs, where safety instructions are imparted with stick figures ("don't walk here" and the like). When we need to boil things down to their simplest common form, when we need to show people what something or someone is about without adornment, we use stick figures.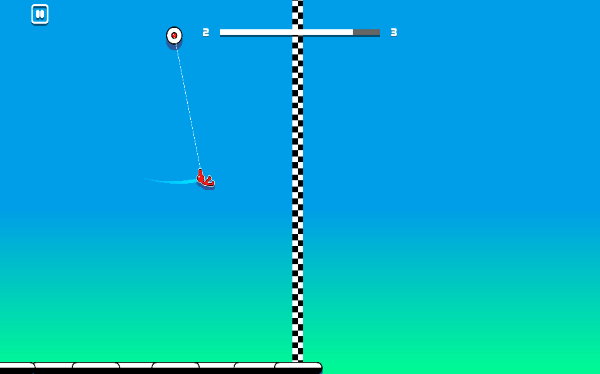 This is appropriate when we consider Stickman Hook, a stick figure game brought to us by French studio Madbox. Madbox's previous titles include wonderfully calming puzzle-platformer Dash Valley, explosive piloting adventure Monster Copter and cutesy multiplayer tribal battler Tribs.io. Stickman Hook is a particularly appealing success story for the company, with over 20 million downloads on mobile platforms and consistent Top 3 placement in app charts.
What we have here isn't a mobile build, though. Instead, we've got a build created and optimized exclusively for web platforms and browsers. If you're a veteran of Stickman Hook, don't worry; you're still very much playing the Stickman Hook game you know and love on browser. For our money, though, the mouse is a much more precise tool for controlling the game than touch interfaces, especially if yours is a particularly old or dated smartphone or tablet.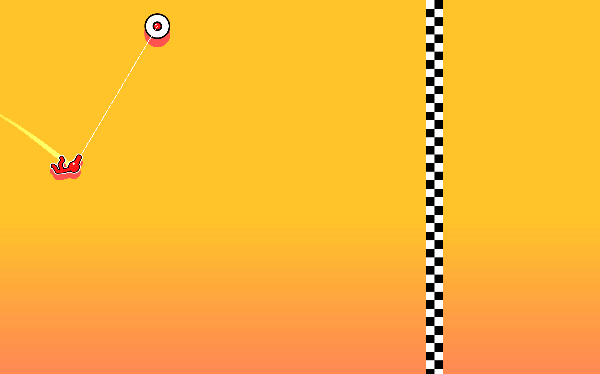 For those who haven't played the game before, here's a quick introduction. Stickman Hook has a premise that's remarkably easy to explain: you are a stick man armed with a grappling hook, and you must grapple your way to the end of each stage using only hooks strategically placed throughout. The only control available to you is to grapple onto these hooks. You cannot jump, move independently, or fire any weapons. All you are is a stick man with a hook, making this perhaps one of the most appropriately-named games we've ever played.
Perhaps the most significant touch stone for Stickman Hook, surprisingly enough, is Spider-Man. The way this game controls and feels isn't massively dissimilar to one of the web-swinger's big-budget console outings. The feeling of catching a hook and swinging effortlessly to the next one is markedly reminiscent of Spider-Man games, and although the level geometry is nowhere near as complex or intricate, the hallmarks are all there. Madbox has done a remarkable job of replicating Spider-Man's vertiginous swinging with very little in the way of resources.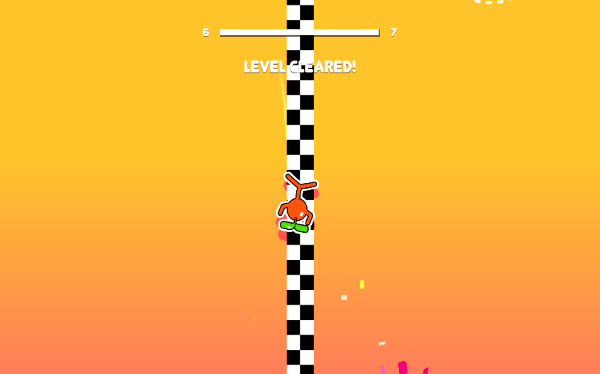 That's not to say Stickman Hook is derivative. Unlike Spider-Man, which often bloats its core mechanics with unnecessary adornments like quick-time events and excessive sandbox activities, Stickman Hook is simplicity itself. The game consists of over 100 levels (in fact, the total is closer to 150, a staggering number), and each feels like a perfect iteration on the last. The only control which is ever available to you is a single mouse button, used to latch on to hook points, but the game never feels boring or tired despite its limited control range.
This is due in large part to the game's excellent visual presentation. True to its name, Stickman Hook has opted for a minimalist aesthetic, although the stick figure is quite boldly outlined. Animation is fluid and smooth, with the protagonist swinging from hook to hook and flailing for his life in a very visually compelling way. The animations have been markedly improved since the mobile version, which is welcome; although the mobile edition is by no means bad, this exclusive web build has clearly had a huge amount of attention lavished on it by Madbox.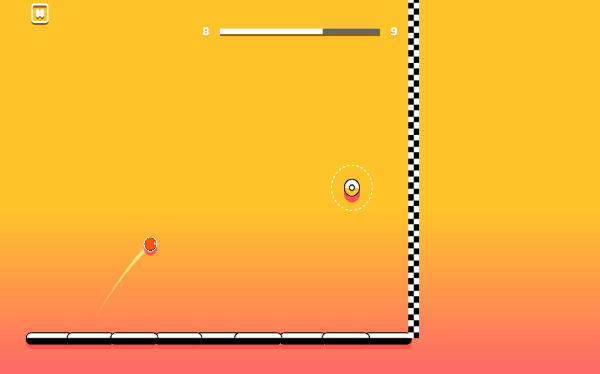 The rest of the work in making the game as excellent as it feels is done by the physics engine. Stickman Hook contains a surprisingly robust and well-implemented physics system around which many of its levels are constructed, and the physics allows the game to iterate on its core mechanics in interesting ways. An early example involves a hook being used not to gain momentum to swing across a gap, but to swing the protagonist over a vertical wall upwards (it's easier to play than to describe, honest). Another prominent case involves using multiple hooks to avoid rolling down a ramp.
The final ingredient in Stickman Hook's brilliance comes as a result of its expertly-tuned difficulty curve. Things start out easily enough (although you will need a rudimentary knowledge of the mechanics of momentum), but before long you'll be swinging for your life across ridiculous combinations of hazards and hooks.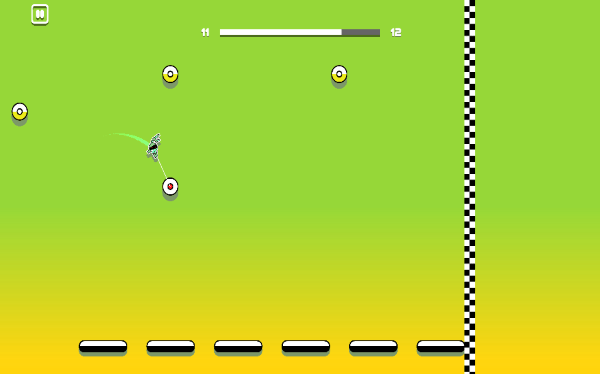 There's nothing here that's overtly violent or murderous; no spikes, turrets or death pits gunning for your plucky stick hero. Instead, the hazards consist of otherwise-harmless bouncy walls, massive death drops and sometimes even other hooks. Many times, hooks are placed throughout the levels as both a safety net in case you're floundering and a hazard to teach you not to rely too much on simply clicking the mouse left and right.
If you're a fan of switching things up from time to time, Stickman Hook also comes complete with a series of unlockable skins to change up the appearance of your protagonist. They don't do anything other than change the character's aesthetic; there are no statistical differences between avatars, so if you're partial to the hamburger, you can play as said food item to your heart's content without worrying about whether you're getting an insubstantial gameplay experience.
In short, Stickman Hook is an unforgettable game. Its simple yet compelling core mechanics, incredible level design, massive replayability and generous amount of content mean it should be a staple in your gaming life.