Even though slot machines and table games are usually the stars at online gaming sites, there are certain non traditional casino games that certainly deserve players' attention. Such types of games are, for example, scratch cards; they are easy to understand, simple to play and offer great prizes considering their low purchase price. Since lots of players enjoy these casual games, as some people tend to call them, leading providers such as Playtech, Microgaming and NetEnt have come up with lots of unique and exciting solutions. Therefore, the offer is huge as well as confusing. In order to help, we tested lots of scratches and selected only the top 5 ones so our readers can easily pick a game and try their luck on it in no time.
Granny Prix (Microgaming)
This simple, yet amazing, game is possibly the closest you'll get to standard scratch cards. Microgaming invested lots of time and creativity in order to come up with an entertaining theme of crazy grannies in Formula 1 cars. Each of them offers a different prize or, more precisely, a bet multiplier. Therefore, depending on which granny you get on three separate fields you can win x2, x3, x5, x12, x100 and x2,500 your initial bet amount. The layout of the game consists of three rows and three columns i.e. nine scratching fields. Before players start scratching, they're given the option to choose their bet size and/or to request a new card.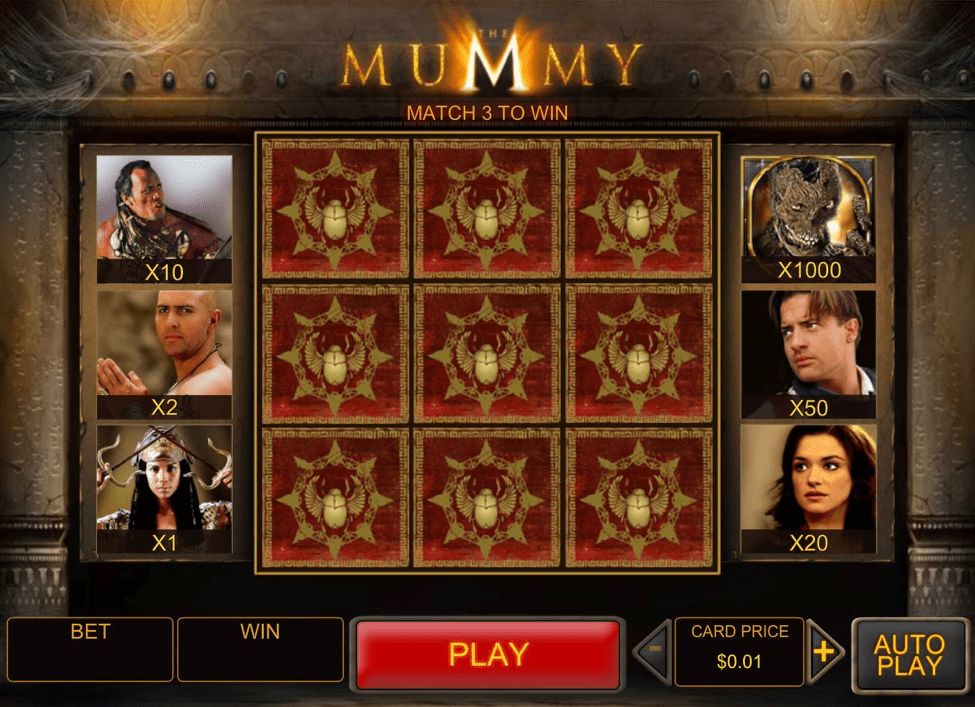 The Mummy (Playtech)
If you loved the 1999 box office hit The Mummy, you'll most certainly enjoy playing Playtech's scratch card under the same name. The provider tried to make this game as authentic as possible by developing an appropriate background and using characters from the movie as symbols. In order to win a prize players have to have three identical symbols after they scratch the nine 3×3 fields covered with the Mummy's recognisable sigil. The prizes offered on The Mummy are as it follows: x1 for Anck-Su-Namun, x2 for Imhotep, x10 for Ardeth Bay, x20 for Evie, x50 for Rick and x1,000 for the Mummy. Setting a bet size is easy, plus players can even activate auto play and simply enjoy the sessions without lifting a finger.
Zodiac (NetEnt)
Whenever someone mentions innovative scratch cards experienced players always think of NetEnt's Zodiac. This game is everything but your usual scratch with several fields and fixed prizes. The operator had the stars in its favour when Zodiac was launched since the game quickly conquered thousands of players' hearts right after it went live. So, what makes it special? Well, first it lets you choose a horoscope sign. Second, the layout is unique and it features one main round field in the centre and five smaller ones around it. Players should first open the big field and check out the prize they're playing for and then open the smaller ones in order to possibly multiply the profit by 2, 4 or 10 times.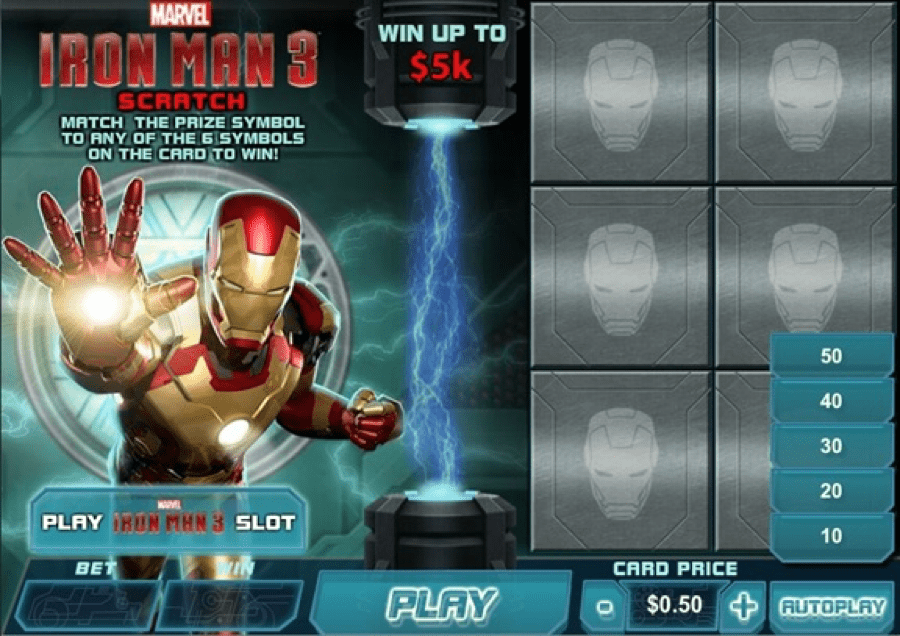 Iron Man 3 (Playtech)
Playtech is a well-established game provider that has an exclusive deal with Marvel to develop Marvel superhero themed titles. The company has a wide range of such scratch cards, but in terms of uniqueness and innovation, we believe that Iron Man 3 is by far the best option. The game has amazing graphic effects and a top prize of up to one million in the chosen currency if you play with the max bet of 100 coins. The game-play is like nothing you've ever seen before since in the middle of the screen there are two electrical generators that reveal the prize symbol and then you get to scratch the six fields on the right in order to find out whether and how much you've won. The objective is to match the prize symbol at least once.
Lucky Numbers (Microgaming)
Lucky Numbers by Microgaming is yet another extraordinary scratch with a Chinese theme. This title has a pretty high payout percentage of 96.57% and lets you play not one, but two games per session. The first game is the scratching part which reveals a possible win if you manage to match three identical symbols. The second is hitting a gong and hoping to get the number 8 underneath in order to scoop an even better prize. Cool, right?
Sources: