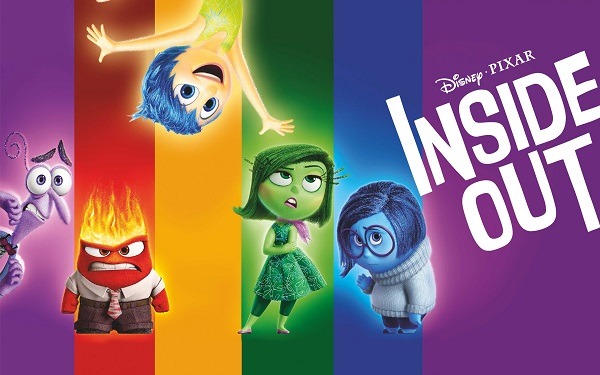 Inside Out is undoubtedly one of Pixar's greatest achievements to date. From stellar casting to mind-blowing animation, it has all the ingredients of any classic Pixar film. But what really makes it stand out is how mature and thought-provoking the contents of the movie are. Pixar doesn't underestimate its audience with mind numbing expositions about events unfolding throughout the movie nor does it go into the sordid details lurking around in the plot. This is a movie that entertains children and appeals to adults as well.
The animation truly leaves a mark. The care and attention paid to every detail shines through the screen as we keep track of the protagonist's emotions.
Plot Summary
The movie follows the journey of a young girl named Riley and what happens in her head as she tries to adjust to some abrupt changes in her life out of her control and the ups and downs of growing up. There are five central emotions that are the focal points of the story – Joy, Disgust, Anger, Fear and Sadness. Each of these emotions evokes different feelings in Riley's mind and they all have their separate functions to perform throughout the movie. We could say that the message of the movie is to understand that every emotion, even the negative ones, has an important role to play in our lives but that would be oversimplifying the motive of the movie.
Cast
Of all the things that make the movie work, the cast is probably the most important factor. Headed by comedy veterans like Amy Poehler as Joy and Mindy Kaling as Disgust, there's never a dull moment in the film.
Blu-ray and DVD Special Features:
Blu-ray Exclusive Special Features:
Short Film – Riley's First Date
Story of the Story – Join Pete Docter & The Story Crew As They Walk You Through The Process Of Finding This Story
Paths To Pixar: The Women Of INSIDE OUT – Wonderful Stories From The Female Cast & Crew
Mixed Emotions – Follow The Filmmakers As They Personify The Emotions
Mapping The Mind – Explore The Fascinating Workings Of Our Minds
Our Dads, The Filmmakers – The Making Of The Film From Their Daughters' Point Of View
Into The Unknown: The Sound Of Inside Out
The Misunderstood Art Of Animation Film Editing