The rapid growth of the eSports industry is amazing in every possible aspect. Viewership and the revenue it generates skyrocketed! But there is more to viewership than that: brands realized the potential of this market and huge investments began pouring into the eSports world. Of course, the growth we are about to analyze now regards several other aspects as well, which are more or less related to each other.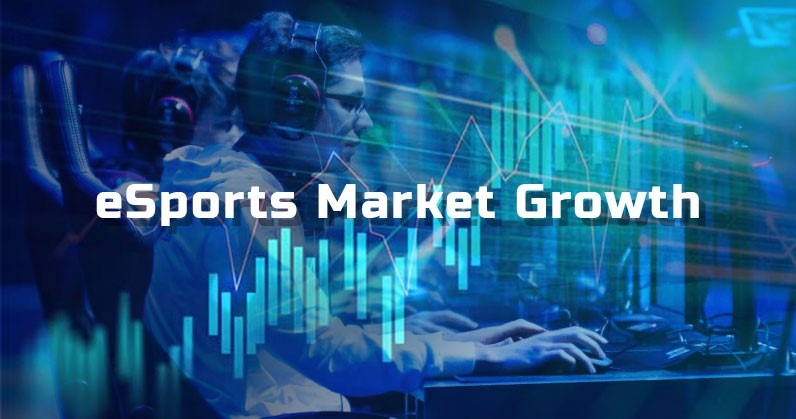 The Increase in Awareness and Viewership
Viewership increased a whole lot, and it continues to do so at an increasing rate. The total eSports audience grew from 335 million in 2017 to 380 million the following year. It is expected for that number to reach the staggering 557 million people in 2021! The audience includes both hardcore fans and new-fangled enthusiasts who show some interest in the field, meaning that awareness increases as well. YouTube and Twitch certainly help for that to happen.
More and more people understand what eSports are all about, resulting in a rise in the viewership rate. Less than a million people had heard of this market in 2015, and the numbers now are crazy! More than 1.43 billion people had already heard about eSports in 2018, and this number is expected to exceed 1.57 billion this year. Brands are particularly happy about this as the market provides them with gigantic opportunities to not only target people but also reach them, thus increasing their sales significantly.
The Variety of eSports Broadcasting Platforms
The majority of people use online platforms to enjoy eSports because it is a super easy way to do it. Streaming live action is the way to go. As a result, many platforms offering live broadcast emerged. More viewers mean more platforms, of course! The numbers speak for themselves: just YouTube and Twitch have a shared number of streamers, amounting to over 1.13 billion people! The numbers have almost doubled in comparison with 2016.
Another curious piece of statistics is the rate in which the average broadcasters grew, considering their activity on a monthly basis – TwitchTracker reported a whopping 70% increase last year. The current 2019 statistics suggest another increase of approximately 36%. There has been a rise in the number of channels broadcasting simultaneously as well. They are more than 56,000 in 2019 so far, compared to 41,100 in 2018. You can see just how active people using these platforms are!
The Time People Spend Watching eSports
When it comes to shocking differences, this one is definitely worth mentioning. As the number of people involved in eSports grew, so did the amount of time they spent watching different events. The total numbers of hours spent was 1.3 billion in 2012, but it quickly grew to a staggering 6.6 billion in 2018! You can see that the increase measures in about a billion on an annual basis. Of course, brands couldn't be happier about that, and all their marketing techniques and tactics were put into action!
The Brands' Contribution to the eSports Industry's Revenue
The eSports industry is enjoying a steady increase in revenue, which measures at 30% on an annual basis. We are talking about $493 million in 2016, most of which came from brands. The revenue number grew to $655 million in 2017., followed by $906 million in 2018, where the total amount of brand investments was $694 million – a whopping 46% increase compared to 2017. The industry revenue predicted for 2021 is the mind-boggling $1.6 billion!
Brand investments are mostly in the form of sponsorships (which takes about 40% of all the money companies pour into eSports), advertising, rights, and licenses. The eSports industry also generates a hefty income from merchandising, game publisher fees, and ticket sales. A key note to make here is that media rights are the one investment that results in the highest revenue, and it is expected to increase even more.
The Rise in the Number of eSports Events
The investments, the revenue, and the viewership grow as we speak, so it is only natural for the number of eSports events and tournaments to become bigger as well. There was a total of 4,166 events in 2017 with a summed-up prize pool of $1,1 billion. The number of events dropped to 3,489 in 2018, but the prize money grew to $1.5 billion! It is expected that the increase in 2019 will be even bigger!
One curious fact is that the best team in eSports won a little over $24 million from more than 1,400 tournaments they participated in. This is probably more than enough to give you an idea about the money involved into the industry.
No Signs of Slowing Down
The mind-blowing numbers speak for themselves and the continuous growth of the eSports industry shows no signs of slowing down. Many brands still have the chance to invest in this market by advertising or becoming a sponsor. The opportunities are endless, and if you want to join the industry and become more than a viewer, you could also make money from eSports by placing a bet. On BUFF.bet, you can find the latest markets and the best odds for eSports betting according to the most authoritative catalog for online bookies – allbookmakers.com.