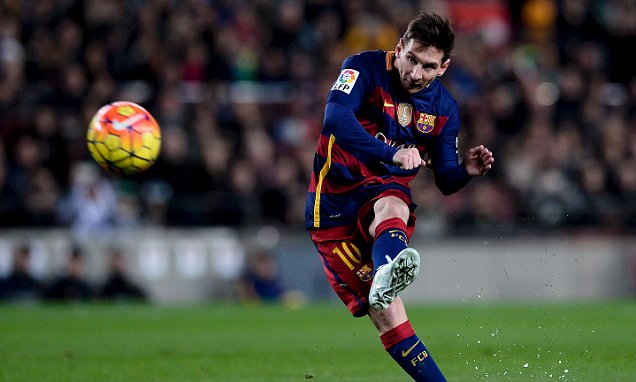 Eventually we'll stop running out of superlatives for Lionel Messi, the mercurial Argentine genius who simply can't stop breaking new records for FC Barcelona. Already the greatest goal-scorer in Spanish league history, this past February say Messi become the first player to score 300 goals in the top flight of Spanish soccer.
Messi bagged his triple century goal in the victory over Sporting Gijon on the 17th February, yet another milestone in an astonishing ten-year career thus far for the 28-year-old. And, if one magical record in a match wasn't enough, Messi then helped himself to a second goal on the night, which just happened to be the club's 10,000th goal of all time.
Since breaking into the team as a teenager back in the Frank Rijkaard days, Messi has been destined for greatness. But few could have envisioned, as he scored his first ever goal in a league encounter with Albacete, that he would have had such an astonishing impact on the game, both in Spain and the world over.
His goals against Gijon may have been taken him over the 300 barrier in La Liga, but it took his career tally in all matches to an astonishing 439 for the giants of Catalonia who once again look to be on course to claim yet another league title.
Which has been the story of Messi's career at Camp Nou. In his first full year with the first team, Leo helped the team to a Champions League Final with Arsenal, winning their 2nd European Crown with a 2-1 victory. And, although he didn't play in the final due to injury issues, the standard was set for the decade to come.
In the past ten years, Messi has been the talisman for unbridled glory, with personal acclaim following along the way. More European success came in 2009, 2011 and again in 2015 while in Spain it has been a litany of league titles and cup successes throughout; his goals, his vision and his extraordinary genius helping Barcelona become the greatest club side in the world. The team everyone wants to see play; a chance to see Messi in action in the flesh.
And of course, this has led to his becoming nothing short of a modern legend, already spoken about in the same revered tones as past greats: Puskas, Pele, Cruyff and Maradona. A five-time winner of the World Player of the Year Award, his record is near unparalleled in the modern game. Fuelled by the rivalry of fellow great Cristiano Ronaldo at Real Madrid, Messi (and indeed Ronaldo) have scaled almost unassailable heights in the Spanish game; their achievements the stuff of legend.
The Sporting Gijon match saw Barcelona extend their long unbeaten run and put them ever nearer another league crown. For Messi himself, it was a continuation of a recent run of typically explosive form; 14 goals from 12 matches, as well as the devastating team play alongside Neymar and Suarez that has torn defences across Europe apart over the past year.
If he stopped playing today, Messi's career would already be considered one of the greatest of all time. But the Argentinian is showing little sign of abating his ambition for more success. Already perhaps eyeing up the day he reaches 400 league goals (and who'd bet against it?) in the short term there's the small matter of trying to defend the three trophies they claimed last season (La Liga, Copa Del Rey and Champions League), which would be one of the more remarkable achievements in living memory.
But with Messi on board, and continuing to deliver such breath-taking moments, there's no reason to suspect that they won't.