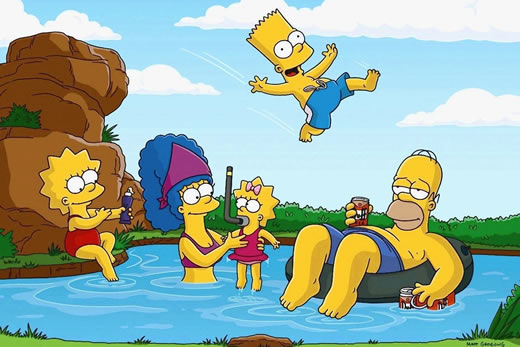 There's a common misconception that animated series are solely meant for kids. However, if you're at all familiar with the genre you'd know that that's crap. Since the 1970s animated shows geared towards a mature audience have been around.
Of course a major portion of animation entertainment is for kids as they are colorful and frankly at times downright mesmerizing to look at when done right. But over the years, mature animated content has become mainstream with major league networks like FOX dedicating prime time slots to this kind of shows.
There are a whole lot of amazing animated shows out there. If you're someone who is not familiar with it, we've prepared a nice little list to start you off in this path.
The Simpsons
"The satiric adventures of a working-class family in the misfit city of Springfield." – IMDb (8.9/10)
You can't have a long list of animated shows to recommend without having The Simpsons at the top spot. With more than 20 seasons under its belt, it's seen (and influenced) the advancement of comedy as we know it for far longer than anything else. The fact that it has had a run of over 25 years tells you all you need to know about how good it is at capturing and keeping the interest of its audience. Definitely a classic, and surely a genius, The Simpsons is a must-watch.
Rick and Morty
"An animated series that follows the exploits of a super scientist and his not so bright grandson." – IMDb (9.3/10)
 Although it is a newbie in this genre (premiered only in 2013), Rick and Morty is already considered one of the best works in animated comedy. With Community's creator Dan Harmon as one of its creators and show-runners, it's not hard to guess why it gets the good name. It contains a lot of mature themes whilst being extremely funny and very sharp-witted.
Bojack Horseman
"Meet the most beloved sitcom horse of the '90s – 20 years later. BoJack Horseman was the star of the hit TV show "Horsin' Around," but today he's washed up, living in Hollywood, complaining about everything, and wearing colorful sweaters." – IMDb (8.3/10)
 Though a little slow in the beginning, by the time its second season rolls around Bojack Horseman manages to mix laugh-out-loud wacky humor with dark comedy in a way that's both entertaining and thought-provoking.
Bob's Burgers
"Bob Belcher, along with his wife and three children, try to run their last hope of holding the family together, which is running Bob's dream restaurant." – IMDb (8.1/10)
 Ranked as one of the 60 greatest cartoons of all time by TVLine, Bob's Burgers manages to be a successfully entertaining situational comedy for the whole family. The purposefully crude animation mixed with its mature but easily digestible voice makes it a must-watch.
Archer
"At International Secret Intelligence Service no one ever shuts up. Covert black ops and espionage take a back seat to zany personalities and intricate relationships between the ISIS agents and drones." – IMDb (8.8/10)
 If you're looking for an animated series that is sexy and brilliant, Archer is the one for you. It's violent, smart and has a protagonist that is outrageously hilarious along with a supporting cast that is much the same. It's downright raunchy at times and definitely one that's not for the kids.
Special Mention – One-Punch Man
"The story of Saitama, a hero who can defeat his enemies with a single punch." – IMDb (9.4/10)
Anime deserves a list of its own because of how diverse and complex the industry is but we believe One-Punch Man has earned a special mention in this list as well. With a protagonist who is "a hero for fun" and sidekick who is as intense and capable as he is Mr. Fanservice for the ladies, OPM pokes fun at popular animes and does it so brilliantly it's impossible not to be impressed by it. The artwork is amazing, switching between different styles without a moment's notice and anyone looking to break into this genre should get a taste of it. There's a reason this is the highest rated show in this l