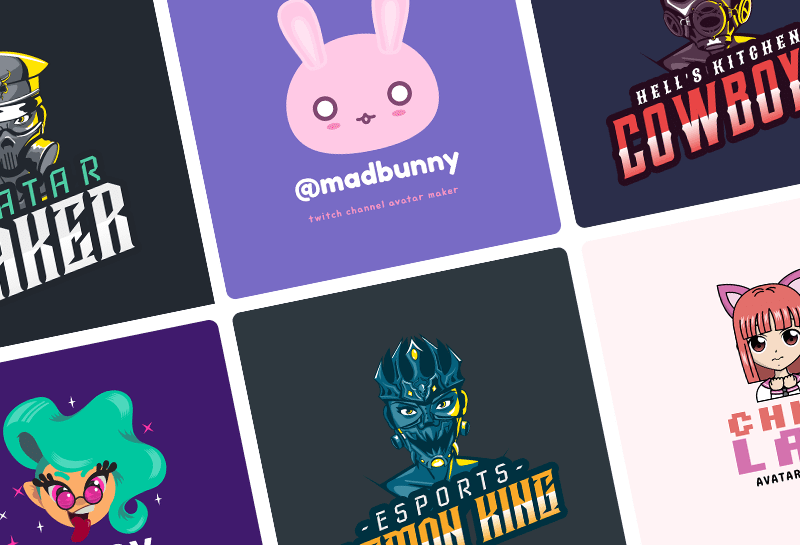 If you're a gamer, your avatar design isn't something you can take too lightly. While it should be something fun, don't forget that it's also what will represent you in the gaming world. Because of this, you'll definitely want an avatar design that you can stick with for a long time and that is reflective of your personality as a gamer.
To get it just right, use these design tips that will make it easy to develop a perfect avatar and base for your personal brand to grow from.
It's Your Personal Brand
This may not sound like a design tip, but it may actually be one of the most important ones you'll have to keep in mind while designing your avatar. As you brainstorm ideas, remember that your avatar isn't just an image, it also becomes an identifier of you and your personal brand in the gaming universe.
When designing it, think beyond the image you're creating. This means you should consider what it will look like in a multitude of spaces. Of course, you'll want it to look good on Twitch, YouTube, and any other platform where you plan to stream or post content. As your brand develops, you may even open an Instagram account or a Facebook page, so your avatar should also be appropriate and eye-catching for these platforms.
Since this is a big part of your identity, you should identify with it for a long time. To ensure this happens, your avatar should reflect your personality as a gamer accurately and not just be a trendy design you'll want to change as soon as the trends change.
Think about it this way, you identify plenty of brands by their logo, their color palette, or their overall aesthetic without having to read their name. The same should work for your avatar. By looking at your avatar they should be able to identify your brand, so it makes sense to design an avatar you can stick with for a while.
Personal branding tips may seem like something you won't need until later on, but they are definitely something to take into account as you start your brand because even if you think it's just an avatar if your account takes off, your avatar is how people will get to know you.
Select an Avatar Style That Makes Sense
Before you get to work on your design, it's a good idea to brainstorm some ideas. To kick off your brainstorming session, first, think about what type of avatar makes sense for you and your brand. Since there are a bunch of avatar styles to choose from, you can definitely come up with a style that fits your personality and gaming style perfectly.
If you feel overwhelmed while trying to solidify your idea because there are too many possibilities, take it one step at a time. You can start narrowing down your ideas by first focusing on the main game you play or the types of games you're interested in. Develop your avatar design ideas around the aesthetics most linked to these sorts of games.
For example, shooters are more likely to use darker tones and include weapons in their visuals whereas team sports games may use ball motifs and brighter tones in their aesthetic. If your avatar clearly communicates what games you're focused on, this will make it easier for viewers interested in those games to find you and follow you.
Once you have a better idea of where to take your avatar design based on the games you play, you can then focus on letting your personality shine through. A great option is to make an avatar that looks like you, but this isn't a must. You can also design an avatar that represents the personality you take on while playing. Think of it like an alter ego or a character you will be playing. Use personality traits and other details that make you stand out to create your avatar design.
Choose Your Colors Wisely
Once you know what style you want for your avatar design, you also have to pick the right colors for it. You can use the tips above to start choosing what sort of color palette makes sense. For example, since shooters have a darker aesthetic, it makes sense to stick to darker tones. Similarly, if you're going for something cute and quirky, then bright and vibrant colors will work best.
You can also take a look at other streamers and their avatars for inspiration. Take note of how they use color to set a mood and to give their avatar life. In general, it makes sense to stick to just a couple of colors so that there isn't too much going on. Select the main color and at least one complementary color that will give it more dimension.
If choosing colors that look good together isn't quite your area of expertise, this process can certainly be simplified with an avatar creator or a logo designer. These will present you with premade options that allow you to customize them to fit the vision you have.
Since they come with presets and color combinations that look good together, you can create your own avatar in a matter of minutes. On top of that, you'll get professional results without worrying that the colors clash or the image is too small.
Keep It Simple
You may be eager to go all out and inject a bunch of fun things into your avatar, but do your best to keep it simple. Just like we mentioned above, it's best to stick to three colors in your avatar design in order to avoid creating a design that looks all over the place. This aim for simplicity should also be applied to the rest of the elements included in your avatar.
Keep in mind that your avatar can and will be used for much more than just your Twitch or YouTube channel. Beyond your online presence, you also want to ensure your avatar will look good on printed material. Think of it this way, if you start to gain a following, you may end up designing merch to sell to your loyal followers. Since your avatar is your image, then you need to ensure it will also look good on apparel.
If you do plan to sell merchandise online, a good way to start visualizing if your avatar will look good on it is by putting it on a t-shirt mockup. Not only will this give you a better idea of what your merch will look like, but t-shirt mockups are also a great tool when you start promoting your line. You can save the time and money needed for a photoshoot by simply putting your avatar on different mockups.
These realistic images can be used to create promotional images of your t-shirts, hoodies, stickers, and anything else you decide to sell your avatar on.
Consider Animation
Finally, if you're looking for something with a bit of movement, an animated avatar or gaming logo is a great option. You may think that designing a static avatar is hard enough, let alone an animated one. The reality is that even if you're not a designer, you can achieve professional results for both thanks to premade template designs.
Just like you can use an avatar template to create your image, you can use an animated logo maker to create really impressive moving images that represent your gaming brand perfectly. Your moving avatar will be eye-catching thanks to the subtle animation while still keeping your design simple and easy to remember. With an animated logo generator and a couple of minutes, you can come up with a really great design and wow your followers.
Get to Work on Your Avatar
With these tips and tools, you're more than ready to get to work on your avatar. Just have a clear idea in your mind and then hop onto an avatar generator to get the final image you want.
What other tips have worked for you when designing an avatar?
Also Read- 5 Ridiculously Cheap Wonderkids – Football Manager 2020