It's a rare thing for me to be blown away by a video game, it just doesn't happen often. Recently when it happens, it's likely do to some story element that happens at a single particular moment which then has an effect on my perception of the entire game. Playing through El Shaddai: Ascension of the Metatron is the first time I've been blown away by the experience of the game more so than the game itself.  Personally, I don't care who is the creative director of a game, and for the most part I don't really consider the development studio when I play games – it helps keep opinions from forming too early, and opens up the mind to new experiences. That being said, I do sometimes gravitate to some titles with great expectations (Double Fine, I'm looking at you) – but I still approach things openly.
As you've likely already read in other review, gameplay is relatively basic. A single button is used for all attacks, save for the option to modify the attack slightly by holding down another button at the same time. It's easy to think this is going to be a button masher, but the depth of attacks that are tied to various timing tweaks and button depression duration make it such that even towards the end of the game you'll be perfecting attacks for each of the three weapons.  As you also know, the story is based on the Book of Enoch, of Dead Sea Scroll fame – and quite honestly since I've not read the  text in question but I feel that there was a fair amount of creative license taken with the texts, and only the overarching story of Fallen Angels and Enoch's Redemption were part of the story – but in all honestly the story to me only drove what made this game such an amazing experience – the Art. Yes, Art with a capital A. People have, and will continue going back and forth with the argument of games as art, but for those doubters I'd present this game as exhibit A then rest my case.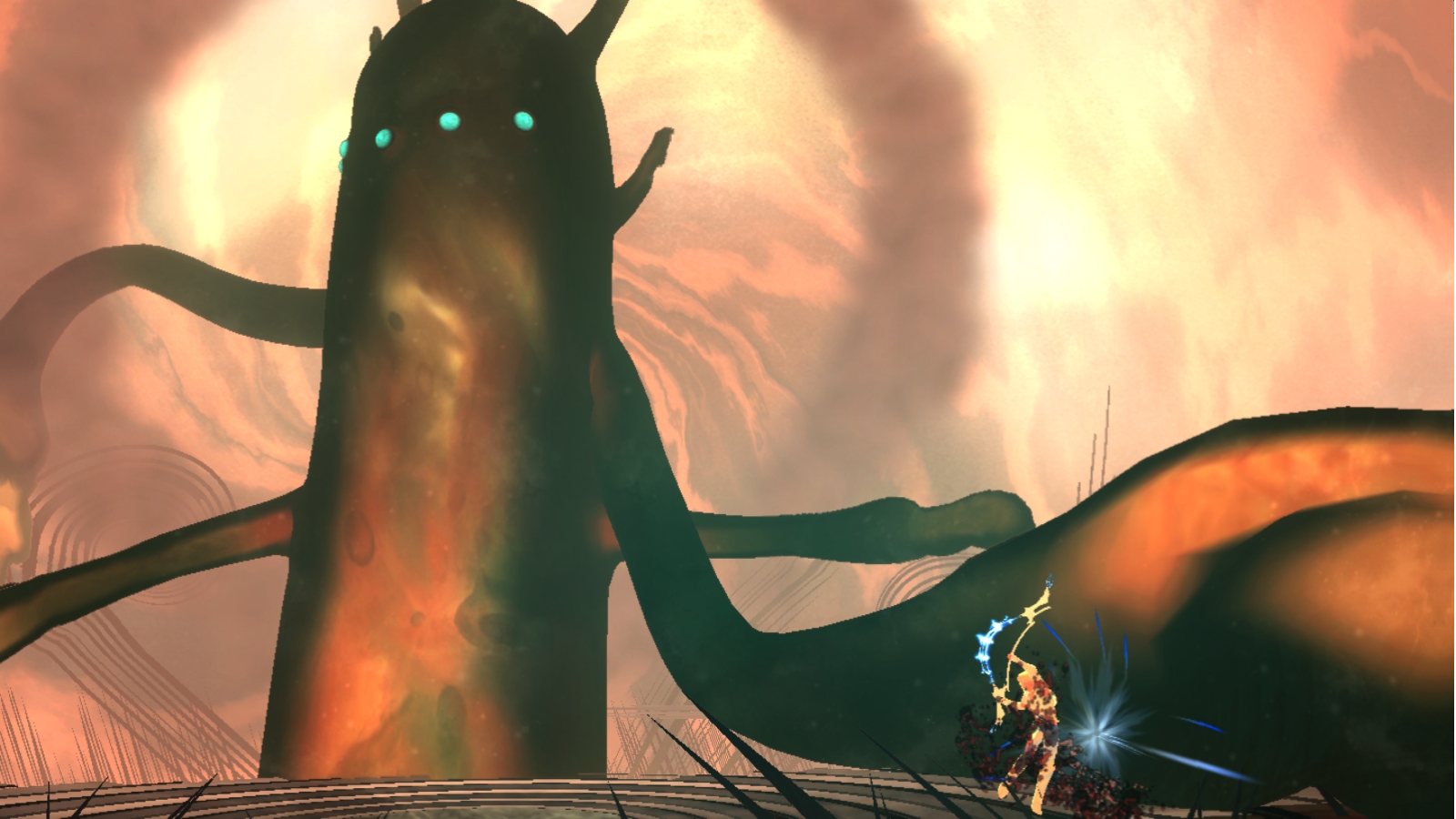 Each level, and sometimes sub level within the game is a unique experience all unto itself, hell even the opening title sequence is awe inspiring in terms of optical stimulation. The game manages to completely change the look and feel of a level on the fly, yet never make it seem jarring. Late in the game as I was wandering through a blood red background, hunting down dayglo shards of minerals to shatter the scene seamlessly transitioned to a soft black and white, and I didn't even notice it was happening. Even the more obvious changes, from water color inspired platforming sections to the high speed race through a high tech city seem to make sense within the context of the game. I reached a point in the game where I thought things couldn't get any more insane (in a good way), and I surely had seen enough – but then a specific boss battle arrived. I don't want to spoil any part of this particular scene, but holy hell – the way things transpired on screen reached a climax that pretty much had me squeal with glee. The method in which the fourth wall was shattered in this battle was such a surprise that I haven't grinned that hard playing a videogame since the first time I encountered Psycho Mantis when playing Metal Gear Solid. It was that impressive.
Lucifel, acts as a constant throughout the game – appearing in designer clothing and always on a cell phone, and conveniently as a save location. He also quite accurately tells you, both as Enoch and the gamer playing, "If you're good, you can do this is seven hours", and as things have it that's a pretty accurate representation of the duration of the title. Of course, playing on different difficulty levels will expand or contract this length, and each mode unlocks trophies (or achievements) specific to that challenge. Once you complete the title, a score attack mode opens up which lets you select any already completed level to earn the best ranking. It's a nice fit as each level is unique enough that you can quickly pick up and play your favorite level, or fire it up to show off the glorious style to anyone willing to hear you out (apologies to my wife for doing just this).
While not a perfect game, the only real nitpick I have is the platforming sometimes became a little difficult due to the art style and camera angles, it's definitely an experience that shouldn't be missed. Oh, and just because it's a 'biblical' title – it is nothing like the days on the NES when your mom decided to rent Bible Adventures for you, because this game can and should be played by any gamer, regardless of creed
9/10
Platform reviewed: PlayStation 3
[nggallery id=58]