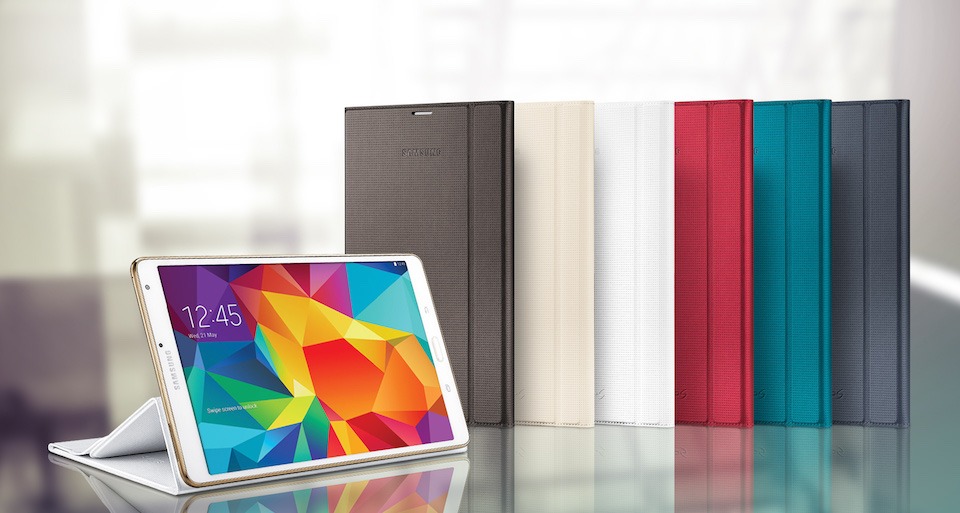 No wonder why Samsung is among the top three tablet seller globally. The electronics giant is dedicated to making tablets with great style and powerful performance and it shows. More so, the Tab S has taken the game to a completely new level. The latest Samsung Galaxy Tab S 8.4″ SM-T700 pushes both the performance and style profiles Samsung tablets are known for, delivering a range of stunning features at a good price point.
Samsung Galaxy Tab S 8.4″ SM-T700 is arguably one of the coolest looking tablets to come from the stable of the South Korean electronics major. Though it has a lineup of diverse tablets, this one looks different in that it has inherited its looks from the Galaxy S5 smartphone, features some brilliant specs, and also has a good number of extras to keep all sticklers contented.
There is a lot of grunt under the hood.
Powered by a couple of Quad-Core processors, which Samsung has labeled as Exynos™ 5 Octa, Samsung Galaxy Tab S 8.4″ SM-T700comes loaded with Android 4.4 Kitkat, and runs Android apps like a breeze. This new model packs a punch with two powerful processors, and is a lovely pick if you are seriously looking for an alternative to the iPad tablets out there. The 8.4 inches tablet has a 3 GB RAM, and a storage of 16 GB or 32 GB (expandable storage via a microSD card), making it one of the tablets well equipped to handle the awesome software that Google Android is. Having said that, the tablet is found a bit wanting especially when triggering transitions on the UX skin. Sometimes, the home screen gets a bit unresponsive, making that patient wait a little frustrating. And, a few apps might crash more than you think they would, and a few animations have a stuttering effect.
A detail-oriented display means eye-catching visuals accentuated by dark shadows, vibrant colors, and spectacular contrast. Speaking of colors, you get a color-saturated and bright 2560×1600 SuperAMOLED panel which gives this tablet a new dimension altogether. Most certainly, the panel is one of the real standout features of this Samsung Galaxy Tab S 8.4″ SM-T700. As it would appear, Samsung has made some fine adjustments to its touch screen technology and the results are here to show. As for sound, the output could have been better with the speakers positioned on the side. Makes those quieter conversations hard to follow, you know? The battery is another aspect of this tablet that needs some work. The charge depletes itself way too faster than expected, and the tablet chews up nearly 35% to 40% of its power even when it's mostly idle.
To be honest, Samsung Galaxy Tab S 8.4″ SM-T700 may not be the latest or the most advanced tablet available on the market, yet it more than foots the bill if you are looking for casual web browsing, playing some games, in addition to running those apps that any average android user would like to enjoy.
Get yours now from Amazon!