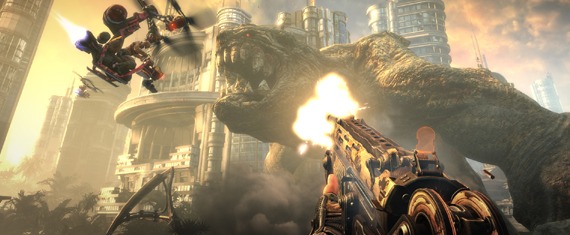 First impressions of a game have a tendency to stick around, and they're sometimes dead-on with a final impression even months later. After spending the past week with Bulletstorm, the latest shooter from People Can Fly and Epic Games, I'm not that far from what I initially thought of the game. When it was first shown to the adoring public, my thoughts leaned towards a Borderlands knock off that came with a very pedestrian and frat boy mentality.
Admittedly, the Borderlands comparison was way off and was there solely based on the fact that numbers were displayed above enemies heads as you wiped them off the face of the planet – and it wasn't fair to Borderlands to lump this sophomoric title into a realm where it existed. The Frat Boy thought however was spot on, as this game seems to have been written by a couple of Bros. who decided that the way to make gratuitous swearing tolerable, and downright hilarious is to add, or substitute the word 'dick' for any number of words. Towards the end of the single player campaign I was actually starting to wonder if there was some mandate in the creation of this title that required 'dick' in some form or another to be muttered at least once for every ten minutes of gameplay, bonuses paid out if the average moves beyond that rate for an extended period of time.
Yes, there's a story to Bulletstorm and it starts out fairly strongly with a tale of mercenaries revolting against their leader – but again towards the end of the title it quickly degrades into a standard revenge caper gone wrong with the requisite twists that we've all seen before and can see coming a mile away. But the real meat of the game is in the gameplay. Very early in the first act you find a leash accessory which attaches to your wrist, bonds with you DNA and allows you to grab and pull enemies towards you. Soon after that the leash starts to grade you on your ability to kill with style, and oddly it's not until much later we learn that this scoring mechanism was a way to entice the owners of the leash to shoot to kill, as doing so ensured that you could buy more ammunition at the next drop box you run into. Not scoring means no restocking, and sure death on this mutated planet.
After my first few hours with the game I was having a good time, in spite of the dialog who's target demographic is lost on this 30-something gamer. Even after shutting the game down for the night I was thinking of how to get the most points with each kill. Should I slide into the bad guy, shoot him in the head then kick him into a pile of re-bar? Or should I wrap a flail grenade around his legs, then blow his torso off with a shotgun before the grenade explodes? It was a lot of fun initially, but the novelty wore off, even with the deliberate pacing of unlocking new weapons that People Can Fly put into the game. The fun that the game comes from the well implemented controls, as a gamer who is generally not big into FPS, I found diving into this game headfirst and targeting specific body parts and swapping weapons on the fly very easy to do. The only nitpick with the controls I would have is the requirement to have to press X (or A) to climb over even the smallest of obstacles, had this been a little more automated the game would've moved a little quicker. But it was around act five where things started to drag for me, and while this isn't a very long game (approx 8-10 hours depending on the level you choose) the last couple of hours start to seem like a chore because you're doing the same thing over and over, with nothing in the story or dialog to warrant the time investment.
So the biggest flaw with the game is the terrible dialog as I've mentioned many times already. Rather than rehash all that is wrong with it, I will point out that you can turn off the mature dialog at the main menu – with no method to change it on the fly, unlike the difficulty level which you can. But bad dialog can't be the only issue right? Nope – this game is extremely buggy, or at least when played on the PS3, as in my experience, it was. On more than one occasion, my controller because partially unresponsive – button presses and weapon changes were greeted with no response. One time, my character's arms became bare, and locked in position; moving the camera around in this mode showed two torso-less limbs. The game screen then went black and the PS3 rebooted itself with zero human interaction. As the game progressed other smaller glaring issues popped up as well, I fell through the floor on a few occasions and during a boss battle slid into a location that I couldn't get out of, forcing a restart to that battle. During the final two acts I ran into many, many occasions where during a guns blazing firefight, the game would stutter and indicate that it was loading something at that time. Talk about intrusive and game flow interrupting, I was less than impressed already when this happened so you can only imagine my thoughts after seeing this happen for the tenth time. The worst part was, something happens after the credits roll in the game – and because of the glitching I had seen for the last few hours I honestly wasn't sure if what happened was supposed to, or if the game glitched and stopped rendering things on the screen. When you're doubting the actual intent of something in the game, you know that there have been issues and the development team should've tested things out a little more.
Outside of the story mode, a mode called Echos exists which lets you play through smaller segments of the game in chunks measured by minutes rather than 1/2 hours. These modes exist to let you run through the level racking up as many skillshot points as you can. Your performance is graded by the global leaderboards, so it's interesting to see how you rank – but also makes you wonder exactly what these guys are doing that can get scores so high. A multiplayer component called Anarchy mode also exists and within it come a slew of new skillshots to recreate and score with. The game is cooperative and not unlike the all to familiar Horde mode, except here the skill points are essential to moving to the next wave, if you don't score enough – you don't advance. This mode has the potential to be a good time but all to often there are gamers who don't quite get the gist of the mode and are content with being a standard FPS gamer and only going for the kill. So given this, playing Anarchy mode with friends who know what they are doing is more apt to make the experience a good one.
For all my nitpicks about glitches and pedestrian dialog (really, this was written by Marvel scribe Rick Remender?) the game does have some redeeming qualities. The Unreal Engine does a good job of making the game look quite nice – whether it be the skeleton of the bad guy you just vaporized or the massive dam off in the distance things look nice and sharp. The sound design is also handled very well, the voice acting does a great job conveying cockiness and immaturity, so at least they got that part of it right.
Not a bad game, but also not a great one that misses the mark on a few levels, most notably the dialog for this gamer. I am sure there's a target market out there who eats this type of language up, and will be mimicking what they hear for a while, but sadly I am not this market.
Score:7.5

Entertaining gameplay at first, but brought down to sub-human levels with some poor dialog and some game crashing bugs.
Platform reviewed: Xbox 360
— Jeff Paramchuk