I seem to be in the gaming minority when it comes to comic books, because I never got into the whole "graphic novel" scene when I was young, and I don't read them as an adult. Still, I have cursory knowledge of many comic-based characters, even if I don't know their backstory. Take Captain America, for example. I know what he looked like, shield and all, when I was in my youth, and I know he was reinvented for this summer's blockbuster Captain America film. Exactly how he was reinvented I couldn't tell you. What I can tell you, though, is that SEGA's Captain America: Super Solider videogame based on the film is awesome, comic-book fan or not.
Captain America is a third-person action game devoid of guns for Cap himself, although his foes wield more than their fair share. This fits perfectly with the superhero vibe, and it's frankly a refreshing change of pace. There are quite a few platforming sections mixed into the non-gun action, almost like Prince of Persia in terms of its acrobatics, but much more forgiving in terms of timing. It's also much easier than Prince of Persia to determine where to go next, because the next object from which Captain America must swing or that he needs to scale glows to point you in the right direction.
The combat in Captain America feels like an evolved Spider-Man, just with different settings and heroic abilities. For instance, there are various melee combos to unlock, quite a bit of grappling and a smattering of timing-based blocking. You can also "snipe" enemies by aiming your shield, so it's not entirely one-dimensional. In fact, the number and type of enemies, as well as the different mini-boss patterns you have to learn, make for an intense, riveting and challenging game. Some of these enemies are downright brutal.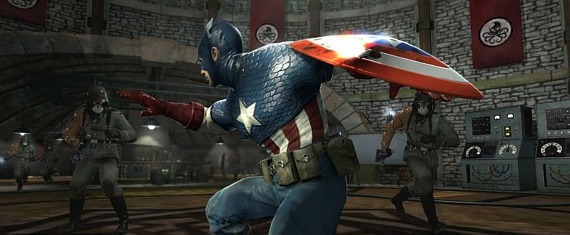 Players gain points by doing melee and special attacks and by gathering items throughout the game world. Points are then used to upgrade abilities, but the upgrade path is completely non-customizable, which is a real downer. In order to select Level 2 of anything, for instance, you first need to upgrade to Level 1 of everything else, and so on down the line. I understand the balancing logic behind this decision, but it really strips the game of a certain level of "ownership" or "customization" that it otherwise would've knocked out of the park.
In addition to the main campaign, there are Challenges that you can unlock by collecting specific items in the Campaign. These Challenges resemble a bit of a Horde mode in which you beat all the enemies in a certain timeframe. Beating all the Challenges earns you more points to upgrade Cap. Which you'll want to do, of course, if you want to customize your way, since you have to upgrade in an all-or-nothing sort of way.
In spite of that shortcoming, though, Captain America better than most movie tie-ins you'll find today. In fact, the graphics, audio, intensity and plot combine to make Captain America better than most other third-person games you'll play this year — licensed or not. The combat's fun, the plot's well executed and the multimedia's solid. If you don't mind a heavy dose of platforming with your non-gun combat, you won't be disappointed by Captain America.
Score: 8.75
Platform reviewed: Xbox 360