I'm going to pull my curmudgeon card out here, so consider yourself warned. I'd venture to guess most of the people reading this review are among our oldest readers, the people who remember Eric Clapton as a guitarist in Cream, not a solo act whose MTV Unplugged single made him a household name for a second generation. If that's a correct assessment, you'll be pleased to learn about a concert on Blu-ray Disc called Cream: Royal Albert Hall London 2005. This disc, comprised from footage from four nights of concerts, celebrates the first time in nearly 40 years that the original members of Cream – Eric Clapton, Jack Bruce and Ginger Baker – played together on stage. That's a long break, but watching them tear it up in this video, you'd swear they'd been playing together for the past 40 years. I guess that's to be expected from real musicians, though.
Cream: Royal Albert Hall London 2005 is a showcase for real music, with artists who are true masters of their craft rather than one-hit wonders or pretty faces whose off-stage producers are the ones with the actual talent. Clapton, Bruce and Baker bring the house down, and for all the right reasons: music, music and music. They're certainly not spring chickens, so their dance routines are essentially non-existent. But with musical talent like this, their audible stage presence is undeniable.
It's important to draw the distinction between visual and audible stage presence, because that's essentially the breakdown of good and disappointing parts of this Blu-ray Disc. The stage that Cream performed on for those four days takes the all-time award for minimalist design: there's a platform, an red-carpeted area for the drums, and a four-foot-tall videowall that occasionally flashes a tie-dyed pattern as a backdrop. The men, too, aren't exactly providing any eye candy (no offense, guys). So, since the video crew didn't have much to work with for their two-hour-long video, the cuts/edits between vantage points are fast and furious, and the number and style of camera pans are completely overkill. I'm sure they did this just to inject some "life" into the presentation, but it really detracts from the overall experience.
The audio, on the other hand, does a nice job capturing the vocals and music and presenting them cleanly to home viewers. In fact, they may even be presented a bit too cleanly. In some respects the audio transfer of Cream: Royal Albert Hall London 2005 sounds a bit like a CD: high fidelity, very clear and not missing a single note, but at times sounding a bit "whitewashed." It's not that the audio is sterile, but it definitely feels like it went through the post-production ringer at least once to iron out imperfections. The result is a great soundtrack – remember the less-than-impressive video presentation and you'll appreciate the importance of that reference – but from a strictly concert-based standpoint it's more refined than I would've expected.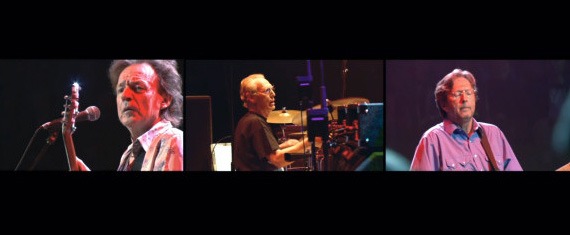 All told, the concert includes 19 songs, plus three bonus tracks in the form of alternate versions of "Sleepy Time Time," "We're Going Wrong" and "Sunshine of Your Love." The core 19 tracks are:
I'm So Glad
Spoonful
Outside Woman Blues
Pressed Rat and Warthog
Sleepy Time Time
N.S.U.
Badge
Politician
Sweet Wine
Rollin' and Timblin'
Sotmry Monday
Deserted Cities of the Heart
Born Under a Bad Sign
We're Going Wrong
Crossroads
Sitting on Top of the World
White Room
Toad
Sunshine of Your Love
These performances are clearly the highlight, both because the songs rock and because Cream was always known for its live concerts. When the music's done, though, there's a special treat in the Bonus Features section for fans of Cream: a block of interviews with all three men. In terms of content, the interviews feel like a "director's commentary" track that you'd normally have in the background of a feature film, but they're videotaped interviews rather than simple recordings. Topics covered include why they reunited for the concerts, how they felt about it all, why they think Cream endures, and a sporadic sprinkling of "thank God we're still young enough to perform this way."
Amen, brother. None of us is getting any younger, but those of us who remember Cream's three-year run in the late 1960s will be absolutely thrilled by this Blu-ray Disc concert. The visuals may not wow today's teeny-boppers, but fans of real music will relish the fact that they can close their eyes and feel the music course through their veins. That's what Cream seems to do on stage, and it's only appropriate that we do it with them. With Cream: Royal Albert Hall London 2005 on Blu-ray, now you can.
Buy Cream: Royal Albert Hall London 2005 on Blu-ray from Amazon.com using this link: Cream: Live at the Royal Albert Hall 2005 [Blu-ray Disc]
.
Score: 8 — The great audio would normally elevate the score, but inexplicably fast edits for at least two-thirds of the concert detract from the overall experience. If you don't mind closing your eyes and losing yourself in the audio, this set's a 10.