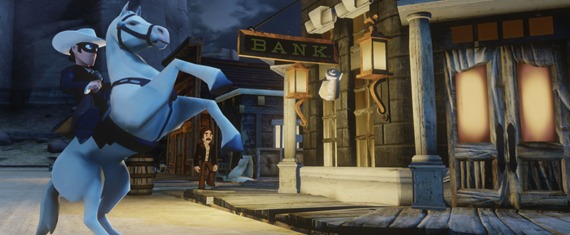 Having thoroughly enjoyed the Skylanders games, I (and millions of other gamers) are eager to see more of Disney Infinity at E3 next week. Disney Interactive obviously knows this, so today they released the first details about the Lone Ranger play set for Disney Infinity, which is set to release in August.
Disney Infinity is a new toy- and game-based franchise starring characters from Walt Disney and Pixar Studios' most popular movies. Players can place real-world toy versions of their favorite Disney characters onto a device called the "Infinity Base," thus transporting the toys into virtual game worlds of Monsters University, The Incredibles, Cars, Pirates of the Caribbean and the Lone Ranger. There's also a giant arena-like Toy Box.
The new Disney Infinity Lone Ranger play set, announced today, will be available when Disney Infinity launches on August 18. Within the Lone Ranger play set, players can take on the role of the Lone Ranger or Tonto as they set out to bring Butch Cavendish and his gang of outlaws to justice.
The outlaws in the Lone Ranger play set have good AI to the point that they'll hide behind cover or ambush the player. A unique "ricochet mechanic," though, lets both the Lone Ranger and Tonto hit enemies indirectly and around corners by lining up shots that bounce off of pots, pans, bells, posts, or other metal objects.
Players can also build and customize their own train, from the trim on the wheels to the painting on the cars, and build-up the train to get the right resources to the right locations. You won't just be traveling by train, though, as players will be able to traverse the areas surrounding the in-game town of Colby via the Lone Ranger's and Tonto's horses, Silver and Scout. There are other mountable horses throughout the play set as well, but the two iconic ones are bound to attract the most attention.
Disney Infinity looks to be shaping up as a must-have family title this summer, and it certainly has the franchise heft to keep people playing for quite some time. We'll have more on Disney Infinity next week from E3. In the meantime, here are some photos of the new play set characters.