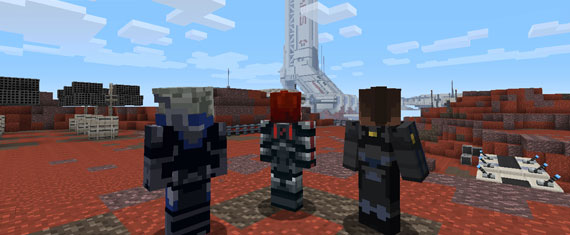 Never doubt the power of cross-marketing popular franchises. Electronic Arts and Microsoft today announced a partnership with Mojang to merge the worlds of Mass Effect and Minecraft into something completely new and unique. The first-ever Mash-up pack add-on for Minecraft: Xbox 360 Edition. Why is EA involved, you ask? Because the DLC will be none other than a Mass Effect Minecraft amalgam.
In the Mass Effect Minecraft Xbox 360 Edition mash-up pack, the world from EA's hugely popular franchise will be fused into Minecraft's iconic pixelated form. The mash-up pack will be available on Xbox 360 starting Sept. 4 for 320 Microsoft Points ($3.99).
This first Mash-up pack — yes, more are planned — will allow fans to play in a re-creation of the Mars Facility from Mass Effect 3. Owners of the Mass Effect Minecraft pack will also be able to create their own worlds with special Mass Effect textures and craft-able items.
The Mash-up also includes themed menus and user interface, 36 pixel-perfect Mass Effect character skins and 22 music tracks from the Mass Effect 3 soundtrack.