As the Xbox Kinect evolves from a peripheral of promise to one that actually delivers, fewer buzz terms are getting thrown around describing the experience. So when THQ used "augmented reality" to describe the gameplay of Fantastic Pets for Xbox Kinect, I was both intrigued and skeptical. On one hand, using a buzz term is often a gimmick to hide other shortcomings, but in some instances it's the only way to communicate a new mechanic. In the case of Fantastic Pets, it's actually a little bit of both.
Fantastic Pets relies on gestures and video capture to let Xbox Kinect owners interact with the pets they create. The pets come in four basic varieties — cat, dog, horse and lizard — each of which can be customized with different colors, shapes, personalities, horns and wings. Yes, your tiger-looking cat can have wings. After choosing a single pet, you embark on a series of activities like fetch, bubble popping and a game of "sit" that's more akin to running around and skidding into the finish line. Completing these (and nine other) activities earns you Gems that you use to purchase new animal varieties and tricks, which in turn makes you a better trainer/owner and unlocks the ability to adopt/customize up to three more pets.
Unlocked activities and toys can be accessed via a free play "Neutral" mode inside your digital home, but the meat of Fantastic Pets' gameplay and gem-earning takes place in Talent Shows. These multi-activity Shows are similar to rallycross races, where two second-place finishes and a first-place may still net you the overall victory if your opponents' cumulative point totals aren't as high. Aside from earning Achievements, the big draws here are the ability to participate in activities you haven't yet unlocked in Neutral mode and accumulating gems. Just participating in one of the events won't make it available for free play, though; you'll still have to purchase each one using the gems you accumulate.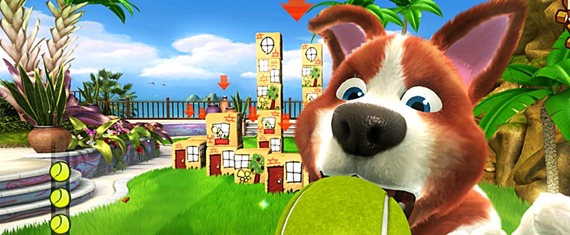 The whole "augmented reality" bit comes into play when interacting with your pets. When I first played with Sony's Eye Toy, I was impressed that the camera could put my likeness on the TV screen and translate my wild flailings into interactive game controls. That was years ago, of course, but even the much-more-recent Kinectimals uses a ghost image of a hand to approximate pet interactions. With Fantastic Pets, the free play mode actually shows you on the TV screen while your animal interacts with you and your gestures. Give it the "come" sign by patting your thighs, or flap your arms to tell it to fly, and the animal will respond accordingly. Likewise, when you move your hands over the animal's on-screen body, it will purr, roll over or have another appropriate response based on your input.
On the surface this feels like a simple touch, but it's actually pretty impressive. Bubbles responding to a faux collision is one thing; a user-created animal recognizing gesture-based commands and acting accordingly is a whole new level of AI. It's not all gesture based, either, as the pets all respond to simple voice commands a la Tom Clancy's Rainbow Six. But this is an Xbox Kinect game, after all, so gestures are really the way to go.
While the technology is impressive, the game itself is a little less so, if for no other reason than the repetition of the activities and the inexplicably long tutorial before getting into the game proper. The 12 activities range from playing fetch and washing your pet to whacking piñatas and aiming for targets with a ball. Although one dozen sounds like a decent number of minigames, when you account for the free play and Talent Show modes combined, you really breeze through the games quickly and find yourself wanting more. DLC, anyone? This feeling is only exacerbated by a mandatory tutorial period that even my son thought was far too long: it took about 90 minutes until he could finally play the game on his terms.
Even then, though, his favorite activities weren't the ones that involved actually interacting with pets, but the running in place that he had to do in order to get his cat to run around a track. In that sense, the technology behind Fantastic Pets is spot-on, and the "augmented reality," although still a bit buzz-ish, is really quite cool. However, when it comes to actually deciding whether this game is worth a long-term purchase vs. a weekend rental, I'd definitely recommend the latter. There's just not quite enough variety to hold my (or my son's) interest, and the occasional collision/gesture detection snafu doesn't help matters either.
Click here to buy Fantastic Pets
from Amazon.com: Fantastic Pets for Xbox Kinect
.
Score: 7
Platform reviewed: Xbox 360