The original Halo: Combat Evolved gets plenty of accolades for rejuvenating the console FPS scene, but it's the narrative and multiplayer that have kept the franchise running strong for a decade. November 15 marks the tenth anniversary of Halo's launch with the original Xbox, a milestone met head-on by Halo: Combat Evolved Anniversary, a remastered version of the game that started it all, complete with Xbox Live multiplayer and Kinect voice recognition. The updated graphics and online functionality are great, and the novelty of reloading by saying the word "reload" is cool, but somehow it's still the story elements — including some new twists — that justify the purchase.
I don't likely need to go into detail about the overall plot or level design, because most Xbox 360 owners have probably already played the first Halo, and those aspects are essentially unchanged. But just to be safe, here's the Cliff's Notes version with some major spoilers: a super soldier known as Master Chief wakes up from his cryogenic nap to find his transport under attack by the Covenant alien race. The battle continues on a ring-shaped world called Halo, where Chief and his less-than-super Marine friends discover that Halo is not only a religious relic for the Covenant, but a containment world for (and a weapon to destroy) a parasitic species called the Flood. All Hell breaks loose as the three species duke it out, with Master Chief ultimately destroying the Halo to save the universe from being obliterated by Halo's weaponized aspects. Cue the sequel.
Amid all that juicy narrative lie some additional plot points created exclusively for Halo: Combat Evolved Anniversary
that will make series veterans want to re-purchase a game they've already played. The core story is identical, no newness there, but throughout the game are a series of Terminals. When activated these Terminals each show a lengthy illustrated short story that goes into things like the backstory of the Monitor's arrival at Halo and a few things that Microsoft says will be explored in Halo 4. I bemoaned Master Chief's last outing, saying the series hadn't done anything fresh outside of multiplayer for a while, but these Terminals had me cranking up the volume so I wouldn't miss a syllable of each mini-narrative. Believe me, even if you've played the original Halo ad nauseum, you'll find yourself methodically exploring every remastered nook and cranny to see if there's a Terminal hiding in the corner. The additions to the Halo lore are just that cool.
A slew of in-game items called "skulls," which activate combat modifiers, are another new addition to the Halo: CE experience. Skulls have appeared in Halo titles since the original game released, but they hadn't been part of the Combat Evolved gameplay until now. Although they don't have a material impact on the story, they definitely increase the intrigue of the gameplay because you can activate multiple skulls on any given level. Once you find them, of course; all but one is hidden. The only skull that's not hidden comes in the form of a redemption code included with Halo: Combat Evolved Anniversary and makes Grunts explode like plasma grenades upon their death. This is fun from a "watch them pop" standpoint, but it also adds a layer of strategy when facing multiple enemies and causes you to really think through your combat positioning to make sure you're not nearby when a Grunt's corpse explodes. All the other skulls you'll have to find for yourself.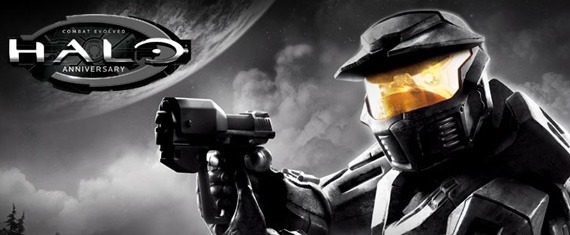 Original Xbox owners will recall playing Halo multiplayer late into the night via LAN and System Link games, or maybe even playing online via the Xbox Connect tunnel software. I did all of the above and loved every minute of it. Now that Xbox Live is fully operational (the original Halo pre-dated that service), the multiplayer components from the original Halo have officially come online for both cooperative and competitive play. The competitive mode in Halo: Combat Evolved Anniversary
appears to have been developed separately from the cooperative campaign mode, because it uses a completely separate menu, loads separately and just "feels" a bit different. No matter; it's still everything you've come to expect from a Halo multiplayer experience, including full Forge and Theater functionality and Firefight mode.
Likely the biggest draw is the inclusion of classic Halo multiplayer maps, visually remastered and with some tweaks to keep things interesting for a multiplayer gamer whose palette has been refined during the past decade. Things like jetpacks, shields and all the other new powerups Halo players have grown accustomed to are all present in Halo: Combat Evolved Anniversary. I'd be remiss if I didn't mention the "Anniversary Magnum" here too; oh happy day. Interestingly, there isn't a single Achievement associated with competitive multiplayer, although there are plenty for co-op. I guess Microsoft figured it would put its eggs in the narrative basket rather than the competitive one, considering the now-larger online-shooter landscape and the like-timed release of Call of Duty: Modern Warfare 3.
The last two major additions to Halo: Combat Evolved Anniversary are intertwined to a certain degree, and to be honest they provide some of the best "geek" moments in the game. The first addition is the game's appearance, which has been completely remastered. And by "remastered," I mean "every damn thing has been redrawn, re-rendered, re-animated and placed in a game world we all know and love." The only thing that's identical from a decade ago is the architecture/structure. This isn't just a new layer of paint, it's a new primer and base coat. Halo: Combat Evolved Anniversary really does look great, although it is a bit weird to see the graphical upgrades. It's kind of like seeing the visual upgrades in Star Trek: The Original Series when it was updated for Blu-ray Disc: cool and sensible but a bit surreal, like seeing a friend's kid who's suddenly all grown up.
The major characters don't look as upgraded as the environments, the vehicles or Master Chief — especially Sgt. Johnson and Capt. Keyes, who both look somewhat disfigured — but the Marines and alien races have gotten a serious overhaul. The framerate also seems drastically improved from the original, with much faster response times, and the lighting has definitely benefitted from a decade of refinement. With all that said, Halo: Combat Evolved Anniversary isn't quite on par with games like Uncharted 3, Battlefield 3 or Modern Warfare 3, but it still holds its own. It also supports full 3D, a feature we'll review in a stand-alone article at a later date.
Rounding-out the upgrades is the audio, but not in the way you might think. Yes, the surround-sound mix is outstanding, and several times I jumped out of my seat due to a rear-channel effect even though I knew what was coming. 343 Industries clearly put some time into the environmental audio and "battle chatter," even introducing some phrases from later Halo games. But the real audio upgrade comes not from the game, but from the players themselves: voice recognition via Xbox Kinect.
Kinect voice recognition is a badass touch, and there's simply no other way to say it. You can turn your flashlight on and off just by saying "flashlight" out loud. You can reload a weapon just by saying "reload." You can even pause and unpause by issuing verbal commands. But best of all — and why I mentioned the "geek" moment above — you can switch the game at any time from modern "remastered" graphics to "classic" graphics, and then switch it back again. The graphical switching occurs in real-time and on the fly, and nothing says "it's been a decade since this game first released" like seeing the geometry, lighting and other graphical upgrades change before your eyes. The first Halo: Combat Evolved looked incredible when it launched, but flipping between those old graphics and the modern-day ones really makes you understand how spoiled we are by today's game engines. Younger gamers will wonder why we were so enamored with Halo's appearance in 2001; the rest of us will just smile knowingly and flip between visual settings. I spent one entire level switching between modes every 15 seconds or so just to marvel at the upgrades. It really is cool.
Now, is the visual switching cool enough to justify a purchase? On its own, probably not. But that's just one part of an overall package that — surprisingly to me — is incredibly well done. I expected Halo: Combat Evolved Anniversary to be little more than a cheap way for Microsoft to cash-in on a milestone and milk another $39.99 out of gamers' pockets. The game itself is one we've all played before, and the multiplayer elements aren't expanded from the most current Halo games other than the inclusion of classic maps. But the whole of Halo: Combat Evolved Anniversary is greater than the sum of its parts. The Terminals offer a nice new level of narrative intrigue, the Kinect integration is really well done, online co-op is as fun as you'd expect, and the core plot is still top notch. Sure, the Library — and even a few other sections — feel even more linear and dated than you'd care to admit, but the game's still fun. And it's only $40. That's a pretty good deal, especially if you're a fan of the Halo series.
Click here to buy the game from Amazon.com: Halo: Combat Evolved Anniversary
.
Score: 8.8 — The game includes more updates and upgrades than I expected, and it's nice to have Master Chief back again even if it is in a game we've technically all played before. Certain sections seem more linear and artificially extended than I recall, which is disappointing, but when you account for the game's reduced price, it's still a good value.
Platform reviewed: Xbox 360