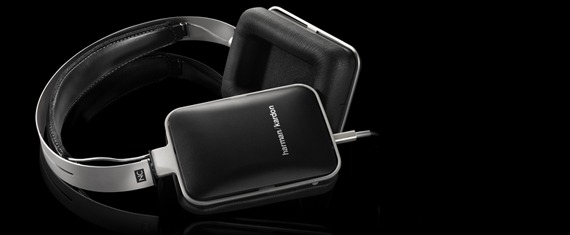 Harman Kardon is one of the most prestigious names in audio you've probably never heard of. The company creates speakers for high-end automobiles and manufactures high-end A/V equipment, so its venture into noise-canceling (NC) headphones will be many mainstream consumers' first exposure to the brand. What a first impression it is. The Harman Kardon NC Headphones live up to the company's elite pedigree, with unmatched industrial design and some of the most luxurious creature comforts around.
At $299, the Harman Kardon NC headphones
aren't out of line with the pricing of other more-publicized headphones, so if you're deciding which headphones are best for you, you're not likely to suffer from sticker shock. At the end of the day, it all comes down to your priorities. Name brand vs. elite brand. Audio quality vs. noise-canceling. Form factor vs. fit. In many of these cases, the Harman Kardon NC Headphones don't force you to compromise, although they do have their cons as well as their pros.
When you first open the box, you can tell these headphones are designed with a different demographic in mind. Rather than a hard protective case, they come with a collapsible leather case. If you're looking to stand out on carrying cases alone, this is bound to achieve that goal. On the surface the leather carrying case seems luxurious, but practically speaking it's a bit of a risk, particularly for frequent airplane travelers who often jam headphones in a carry-on bag between tablets, laptops and books. I didn't personally experience any headphone crushing during four trips in which I stowed them "beneath the seat in front of" me, but the risk is worth pointing out. The carrying case also isn't quite large enough if you remove the Harman Kardon NC headphones' default headband and replace it for the larger one.
Included in the box are two separate headbands, one for normal-sized heads that comes attached to the headphones, and a larger one for cranium commandos like me, apparently. I was skeptical about swapping hardware on such a high-end piece of equipment, but it's actually quite simple. By twisting the over-ear cups in a specific direction, you can remove them completely from the default headset, connect them to the larger headband and re-twist them back into a secure connection. Just like that, you've got what for all intents and purposes is a custom-fit pair of NC headphones that doesn't require the sometimes cheap-looking adjustable headband that's the norm in 99% of headphones these days.
The swappable headband is just one of three ingenious industrial design decisions made with the Harman Kardon NC headphones. The second is the over-ear cups themselves, whose distinguished rectangular shape better accommodates different ear sizes and whose plush leather memory foam has the softest, most gentle feel you've ever experienced. Putting these over your ears like putting on the most comfortable slippers you've ever owned. The third brilliant design decision was forgoing batteries entirely, instead opting for a rechargeable system to power the active noise-canceling aspects. In most other NC headphones, having replaceable AA or AAA batteries adds both long-term cost to the device and forces them to have a larger form factor. In the Harman Kardon NC headphones, however, the slim battery unit is built right into the over-ear cups and can be recharged via USB connection. It sounds silly, but I appreciated this aspect almost as much as the headphones themselves. Make sure you hold onto the USB cable that comes with the headphones, though; they can't be recharged using a standard cable, so although you'll still be able to listen to music without having power, you'll never be able to charge them again.
As far as noise-cancellation goes, the Harman Kardon NC headphones performed considerably better than the higher-priced Able Planet NC1050 headphones we reviewed, which actually amplified some background noises rather than drown them out. With zero interference, the Harman Kardon NC headphones make even the loudest jet engines sound like a low din, and workplace white noise fades almost entirely away. Another nice plus is that turning on the noise cancellation didn't result in an audible hiss, as is the case in many NC headphones. In fact, of the models we've tested, only these and the Able Planet set avoided the overt hissing noise, which will be welcome news to audiophiles.
If you fall into that audiophile category, though, you'll want to seriously ponder how rich you like your audio, because richness isn't this system's strength. The Harman Kardon NC headphones do have better sound than the popular Bose QuietComfort 15, but they still sound flat compared to the Able Planet set I reviewed and the Audio-Technica QuietPoint set I'll review next. Turning on the NC button often activates a sort of amplifier effect, either making the audio louder or causing it to seem deeper. The Harman Kardon NC headphones don't have that; after a half-second muting when you turn them on, the audio doesn't sound any different than it did before. And that's a shame, because the audio by default doesn't present a rich distinction between highs and lows or instruments and vocals. There isn't as much depth to the audio, which on a plane isn't the end of the world, but may be an issue to terrestrial listeners.
In sum, the carrying case is a bit undersized and runs the risk of damage, the audio isn't as rich as I might like, and the proprietary USB will cause headaches if you lose it. But all things considered, I'm quite comfortable recommending the Harman Kardon NC headphones if you're most concerned about active noise cancellation, comfort and outstanding industrial design. As with any purchase, it all comes down to prioritization. If those three aspects are at the top of your list, you'll want to check these out. Harman Kardon may not be a household name to many people, but the Harman Kardon NC headphones will provide an outstanding first impression. And a lasting one, too.
You can purchase the Harman Kardon NC headphones at Amazon
.
— Jonas Allen