Disney has embraced the Xbox 360 Kinect hardware like few other third parties, and the connection makes total sense. Since its founding, the company has been focused on the "experiences" it creates, and the Kinect hardware offers nothing if not an immersive gameplay experience. Disney's first outing, Kinect Disneyland Adventures, did an outstanding job re-creating the in-Park experience, with only a few minor miscues along the way. Its most-recent game, Kinect Rush: A Disney Pixar Adventure, focuses not on a Park experience but around the experience of the "cast members" from several iconic Disney/Pixar franchises. The gameplay fixes some of the world-navigation miscues from the Disneyland title, and multiple levels introduce some nice new uses for motion controls, but the overall Kinect Rush experience isn't quite as memorable or enduring.
Kinect Rush: A Disney Pixar Adventure takes place in a theme park of sorts, but it's an all-new Pixar Park with five themed lands, one for each of Pixar's biggest franchises: Cars, The Incredibles, Toy Story, Ratatouille and Up. Each land is comprised of three unique missions, each of which has slightly different gameplay mechanics and narrative threads, and each of which can be tackled via vertical split-screen co-op.
The gameplay mechanics change out of necessity from land to land; when you're playing as a Car, for instance, you'll find yourself doing lots of steering, while your robot avatar in the Toy Story levels will swing, throw and hold onto zip lines, offering you very different experiences. Yet even within each land, the gameplay changes based on small narrative twists, such as a new sliding mechanic in The Incredibles to get you through an area where you need to "surf" down pipes to escape the island. Kinect Rush: A Disney Pixar Adventure is designed for a younger crowd, but the mechanics mix-up can be appreciated by any age group, as can the thought that went into each mission.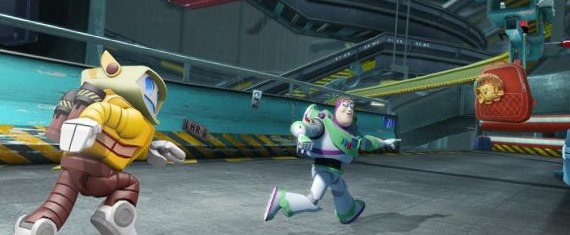 One particularly nice feature for the younger set is that you can literally never fail. This isn't due to overly simplistic level design, but rather to the inclusion of a "do you want to skip this and go to the next area?" option. The game proactively asks this question via a dialogue box after about five minutes, when it's pretty clear you could use a hand if you've not yet solved the puzzle in that part of the map. Taking advantage of this offer won't earn you any points, which in most cases means you'll need to replay the level rather than advance to the next one, but at least your kids are never hit with a message of failure.
The graphics are also worth pointing out for the younger crowd, if for no other reason than they do an outstanding job not only re-creating the iconic characters from these films, but also re-creating their world in a semi-interactive space. No game to date has captured the Pixar characters this fully or well, and the fact that they're executed so well here, in a game that requires very deliberate character interactions, is a fantastic reality.
The flip side of that, unfortunately, is that you don't get quite enough time to interact with those characters, because the game only contains 15 episodes. Once the missions are complete you do have the option to go back and replay them with new perks and abilities, but three missions per franchise/land is still a bit brief. Downloadable content could be an option, I suppose, but the amount of data required to pull it off properly might be a bit bandwidth prohibitive.
Only one other issue surfaced during our time with the game: it struggled to handle drop-in/drop-out co-op. The functionality is there, but for some reason once the second player dropped out, the game kept insisting that the player was there, even though it was (gasp) a chair well behind our play space. I've not encountered this with any other game before — either the struggle with co-op or the misperception that a chair was a potential player — so it was rather troubling to encounter it here. It also interfered quite a bit with the gameplay, because there was no way to eliminate the "Move Right" dialogue box from the top of the screen where the game was trying to tell the would-be second player that his/her positioning was wrong. Amazingly, even a full power cycle of the Xbox 360 didn't solve the problem.
Still, that may have been an odd happenstance specific to our play space, so I won't downgrade the game because of it. Kinect Rush: A Disney Pixar Adventure is a fun, albeit brief, trip down Pixar memory lane, and it makes nice use of Kinect motion controls. Its brevity was noted even by the two under-six kids in my household, so it's not like I (as a parent) just had high expectations. The content that's there, though, is executed well, and there's definitely a foundation here for a sequel or a truckload of DLC.
Score: 7.5
Platform reviewed: Xbox 360 (Kinect exclusive)