I am apparently old and fat. Kinect Sports Season 2 throws another six motion-controlled sports at Xbox 360 owners, asking them to once again use their body as the controller. Either my controller needs new batteries, or I play everything from tennis to darts entirely incorrectly. I scoffed at the notion of Kinect Sports Season 2 tracking calories during each play session and each sport mini-game, but after feeling every motion-controlled move for 36 hours afterward, I think the calorie counter was a way to point out how a little activity can go a long way. Toward making me feel old, not necessarily getting in shape.
For months after its launch, the Nintendo Wii was viewed as nothing more than a Wii Sports adapter for the world's televisions, much like the original Xbox was viewed as a Halo adapter for your TV. When the Xbox Kinect hardware launched, the original Kinect Sports didn't suffer the same "only thing worth playing" fate as Wii Sports, but it did lead people to feel as though they'd played it before. That's to be expected to a certain degree with motion-controlled games, but Kinect Sports Season 2 freshens things up a bit.
To be fair, there's still nothing revolutionary here. The game's six sports — football, baseball, darts, skiing, tennis and golf — have all been played in one form or another not just in the motion sports genre, but on Xbox Kinect specifically. The multiplayer elements aren't revolutionary, but they're entertaining and provide some variety, particularly where Challenges are concerned (more on that in a bit). The sport-specific gameplay varies wildly, with some sports being fun and others tedious, but taken as a whole they make for an enjoyable game. Groundbreaking or innovative, no, but fun and a nice change from burning calories in ad-nauseum waves of "official" fitness games.
Kinect Sports Season 2 lets gamers participate in its six sports via single-player mode, an in-room multiplayer mode that varies by sport, and Xbox Live multiplayer that includes real-time play and sending time- or score-based challenges to people on your friends list. There's also a Quick Play mode that's akin a game show in which you can compete against another player or the AI in a semi-randomly chosen sport. I say "semi" because although the game tries to choose a sport for you, you can use your hands to "spin the wheel" until you land on the sport you want. The execution of this mode is stilted and artificial, and there's not a whole lot "quick" about it. If you've only got a few minutes, it's really best to enter the main mode and choose a sport manually. You'll get all the same gameplay choices, but you'll get them presented to you in a much more efficient manner.
So, what are those sports you'll be selecting from, and how do they shape up? In no particular order, they are:
Football: This is the NFL version, not soccer, but it's boiled down to a form so basic that it's recognizable as the American sport mostly because of its uniforms and field. Gamers can choose from six plays, all of which are passes, and they only actively play offense. The deep-threat game is required, though, because you have to score a touchdown in four downs; there are no first downs. This puts incredible pressure on yards after the catch, but the running in that regard is ridiculously slow, and the AI defense suffers from some nasty (and cheap) bouts of speed bursts. Juking and stiff-arming is also marginal at best, so the game basically turns into four quarters of Hail Mary's (in this game, "All Streaks"). Still, it's easy to rack up tons of points, just as long as you toss the ball when the receivers' overhead icons turn green. When you score (or punt or kick a field goal, both of which are only options on fourth down) the spectator sport of defense allows you to watch a drive summary of the opponent's offensive plays as the yardage animates on the screen. In spite of its shortcomings, of all the sports included on the Kinect Sports Season Two game disc, this is probably the most enjoyable.
Baseball: Batting in this game is essentially a timing exercise, not one of aim, and it's kind of a crapshoot at that. The reason is because you can't see your batter's body, and the depth perception of the ball heading toward the plate is hard to determine. The Kinect hardware also seems to have difficulty picking up certain batting stances and swing styles, which makes the on-screen reaction less than ideal. As a result, you just end up swinging at some point and hoping for the best. Base running is where you burn the calories, although I don't really think the speed at which you run in place or the size of the steps you take have any impact on the on-screen speed of the baseball player. Fielding is equally simple, as you simply extend your arm to make your glove line up with a green icon that shows where the ball will be. Pitching is probably the best part of the game, although it's equally simple. When pitching, you read the on-screen prompts about what types of pitch the current batter doesn't like, then toss the ball accordingly. Fast motions, slow motions, slicing motions to inspire a curveball … it's all perfectly picked-up by the Kinect hardware. A separate Home Run Hero mode isn't as fun as it should've been, unfortunately, because such modes are normally comprised of easily hittable fastballs, yet here they're throwing curves, fastballs, slow knuckleballs, etc., so you're hard pressed to have much success. It could've been a lot more fun than it actually is.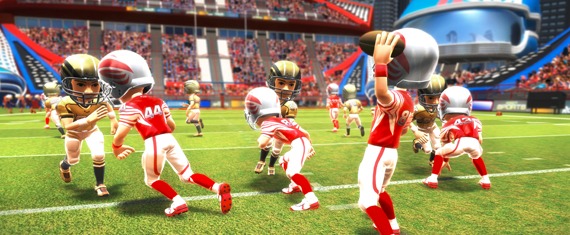 Darts: In this straightforward mode, you toss the dart at the board, trying to work your way down from 501 points to zero. You must end by hitting a double, and you can't go below zero points to win. You aim with your hands in mid-air, as if you're holding a real dart, pull back to "steady" the aim, and then toss it forward. The release angle does matter, and it's hard to really gauge how on-target you're going to be, but on the whole it seems to pick up nuances pretty well. There's also a Pop Darts mode in which you try to pop balloons that are stuck on a moving pinwheel. It's not exactly like the carnival-style dart games, but it's certainly unique — and it doesn't feel rigged. The time requirements are really strict, though.
Golf: This sport isn't for the super-refined country club crowd, but it's totally fine for anyone who's either new to the links or just wants to smack something around. You can choose to play a single-, three- or nine-hole match, and throughout the game the computer defaults for you to a selected club. Golf die-hards can say the words "change club" to select a club themselves, but 97% of the time the game chooses the proper club. As in real life, the distance you hit the ball is based on how hard and fast you swing your body, although the slice/cut nuances aren't really relevant until you start playing the Ocean Driver mini-game. The aiming angle comes into play predominantly in the putting game, when you can move your body left and right to adjust the ball's trajectory. There, a white line gets more or less opaque depending on whether you're more or less likely to hit the ball into the cup at that angle. Of course, success still depends on the strength of your swing. Now, as for the Ocean Driver mode, it puts players on a yacht hitting at floating targets, but its accuracy and challenge are pretty poor. It may be a good drinking game with a few friends, though, when accuracy isn't exactly the first thing on your mind.
Skiing: Choosing from three courses, each of which has slightly different turns and environmental elements, players race downhill through gates in a slalom-style match to the finish. Depending on your real-world foot position and stance, you'll turn faster or slower and adjust your speed, and although it seems simple at first, you can definitely miss gates if your not careful, which incurs a four-second penalty each time. Players lean to left or right to "steer" into a gate, and jumping at the proper time can send you sailing over the few jumps that exist on each course. For all practical purposes, this is the most technical sport on the disc. The Downhill Dodge mode, though, is surprisingly hard, and it's easily the most challenging mini-game included. You get three "chances" to go down the hill as you dodge away from, jump over or duck under obstacles. You lose a "chance" each time you collide with one of the barriers, and when your chances are gone, they're gone. It sounds simple, but it's challenging to the point of being almost unenjoyable. It's a rude awakening of sorts, considering the rest of the game's focus on enjoyment and ease, and kids definitely won't dig this mode.
Tennis: The final game included in Kinect Sports Season 2 involves the main game and a Smash Alley mode. In the main game, you serve and return with pretty basic results, and it doesn't really require much skill. In the Smash Alley mode, Kinect owners simply swing the tennis racket with reckless abandon as they hit a tennis ball toward a series of mascots peeking-out from behind some obstacles. Think of it as whack-a-mole across the tennis court. There isn't any aiming involved, really, and it's pretty boring.
Yet even when a single sport is boring or tedious, the body of work that is Kinect Sports Season 2 is entertaining. Its diverse gameplay, upbeat soundtrack and post-game videos that automatically compile your best and (worst) real-world moves are bound to inspire some memorable moments. Clearly the secondary games are where the most challenge is to be had, but the game's overall presentation is still solid and is bound to keep gamers moving. You may even "feel it" the next day.
Score: 7 — Entertaining at times and overly basic at others, this sophomore outing is 'average' on the whole. Whether that speaks to the game itself or the expanding library of Kinect options is still up in the air, but the result is the same.
Platform reviewed: Xbox 360 (system exclusive)