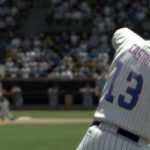 2K Sports has always held a special place in my sports-gaming heart, if for no other reason than the fond memories they gave me via their outstanding NFL 2K series. The sports landscape has changed since then, of course, but you'd love to think that 2K could uphold the same tradition of excellence regardless of the year or sport. You'd love to think that, but it wouldn't be true. Major League Baseball 2K11, in spite of its perfectly timed release and series pedigree, falters to a degree that I never saw coming. In fact, the game may have even taken a step back in time, both in terms of its visuals and gameplay.
Part of my issue with Major League Baseball 2K11 may simply be that I played Sony's MLB 11: The Show before popping-in 2K's annual entry. Sony implemented a host of upgrades this year — most notably analog fielding, hitting and pitching — but 2K Sports doesn't appear to have had that same sense of urgency to improve their 2011 game. It's always better to start at the bottom and work your way up, but in this case I started at the top and worked my way down, which was definitely a disappointment. But, it definitely provided me some context I wouldn't have otherwise had.
Without putting my finger exactly on it, the biggest problem I have with Major League Baseball 2K11 is that i's simply boring. In the game's defense, baseball has never been my favorite sport, and I've told many a friend that the length of baseball games is the sole reason they created ESPN. However, I've had that same mindset for years, and it was obviously intact when I played Sony's MLB 11: The Show, and I never had the "must nap now" feeling that I got with Major League Baseball 2K11. Where the PS3-exclusive game was dynamic, engaging and allowed varying levels of complexity, Major League Baseball 2K11 just seems to go through the motions and plays on a much more "basic" level than the competition.
And this year, in light of the upgrades Sony made to its game, going through the motions and being basic are veritable kisses of death.
Analog hitting and pitching have been in the 2K series for a while, and 2K Sports definitely fixed some nagging issues from past outings. For instance, in Major League Baseball 2K11, pitchers aren't quite as able to manipulate an often-loose strike zone, while batters still use the analog hitting mechanism to determine whether it's a power, contact or "defensive" hit but need to put more emphasis on timing to really get a solid hit.
2K Sports also added analog fielding this year. On the surface this seems cool, and they implemented a Gears-of-War-like mechanic whereby the throw's strength and accuracy are based on the player's ability to time the toss with an oscillating red/green meter akin to Gears of War's Active Reload. The problem is, the green section on the bar is so small, and the outfielders all have such diverse "reload" speeds, that you're more likely to toss the ball into the stands or into the dirt than you are into your teammate's glove. Plus, this active-reload throwing mechanic does anything but immerse you in the game, which (let's face it) is the whole point of sports games. We aren't pro athletes, but we can all play one on TV. This mechanic, though, makes your TV athlete look like he belongs far out in right field. Like, "drinking in the stands" far.
At least the AI performs the same way, making you feel less inept. Oh wait, that's a bad thing. Fielders running off in odd directions or literally watching a ball drop 15 feet in front of them aren't entirely uncommon experiences, and even the managers in Franchise mode get in on the action by making completely head-scratching decisions.
I can't imagine these hiccups are the fault of the designers spending too much time on player models rather than gameplay QA, because the graphics and stadiums are incredibly bland. It sure isn't the fault of animation resources either, because 2K seems to have only used about five core animations for most of the game's motions. And I certainly can't chalk it up to a new developer or new franchise just getting its feet wet, because the Major League Baseball 2K series isn't exactly fresh to the scene. So what's the problem? I honestly don't know. All I know is it's definitely got problems.
Major League Baseball 2K11 has the fortunate (for 2K) distinction of being the only Xbox 360 baseball game, and one of just two on the PS3. However, it has the dubious distinction (for gamers) of being the one sports game this year that fans should absolutely avoid. If that means taking a year off of baseball, I definitely advise taking that vacation. You'll save yourself $60, plus all that time you would've otherwise spent searching for enjoyment that just isn't there.
Score: 6
Platform reviewed: Xbox 360