Sports, dancing and fitness games seem to be the de facto "must release" genres for motion-controlled systems, a trend for which we have Nintendo to thank. It makes sense, since those are the activities than involve the most intuitive motions, but time and again it seems like those are the only titles that release. Ubisoft tried to change things up a bit with Motion Sports: Adrenaline, an Xbox Kinect-exclusive game that focuses not on football, golf or baseball but on the edgier "extreme sports." It's an interesting angle for the motion-controlled genre, and if scoring was based on original ideas, Ubisoft would win out. But it's not. Motion Sports: Adrenaline takes what could've been an engaging experience and completely derails it with horrid controls. That's really saying something, too, since it's an on-rails game.
Motion Sports: Adrenaline contains six sports: Kit Surfing, Mountain Biking, Wingsuit/Gliding, Climbing/Bouldering, Extreme Skiing and Kayaking. Ubisoft was obviously trying to do to motion-controlled sports what SSX did to snowboarding. The presentation, soundtrack and character skins are all extreme, and the tracks are built for crazy speed and crazier tricks. But SSX gave a sense of freedom. It made you feel larger than life. It was a downright blast. Motion Sports: Adrenaline delivers none of the above.
Each of the six sports provides the same basic on-rails experience with a different vehicle, props and appearance. Mountain Climbing is the lone exception, but even then you're given pre-determined places for your on-screen avatar to move his or her arms. I realize the current limitations of the motion-controlled genre are going to keep gamers from exploring a massive world, but for a game that bills itself as extreme, shouldn't you at least feel like you're doing something risky or unique? Staying on the path isn't bold at all.
At select points in each course, your performance is subject to becoming a "Challenge" based on grinding, airtime, point collection and whatnot. If you "own" a certain part of the track, your performance will become the Challenge for other Xbox Live gamers to try to defeat. Likewise, if you encounter someone else's Challenge, you can try to beat their record. All of these happen automatically and without interfering with the game, but other than the associated Achievement Points, they don't add much intrigue. It's an interesting concept, but their seemingly random nature renders them pointless.
Whether you're in one of those Challenges or just playing the course, the motion-based controls are almost universally unresponsive. That's inexcusable when the whole premise of the motion genre is to control the avatar with your body. I know darn well I'm not about to hop from a helicopter wearing a wingsuit in real life, and there's no way I'm about to climb a vertical rock face with waterfalls and vines. But if I were to try any of those things, my 30-something body would probably respond with more accuracy than the 20-something avatar I repeatedly struggled to control in Motion Sports: Adrenaline. For specifics — and to get a taste of my growing distaste with the game as time went on — here's a running dialogue of my notes for each sport.
Kite Surfing: You grab a kite with both hands and steer through the course, pushing forward with both hands to gain speed, and jumping and posing to do tricks and gain points while gathering coins. The primary Trickstyle mode (basically the same core mode in each sport) is geared toward a mix of speed and stunts, while the other two modes are merely derivative: a two-player competitive Trickstyle and a two-player cooperative "Trickstyle Relay." The courses are spread across multiple locations around the world, each unlockable based on the type of medal you achieve on the preceding course. Controlling your avatar is tricky, but probably because you're used to controlling rail grinds and whatnot via a thumbstick, not moves of your body. Steering is the biggest obstacle, as it doesn't react as "arcade-like" as one might expect from an extreme game.
Mountain Biking: This one also has a Trickstyle mode for both single- and multiplayer matches, and there are single- and multiplayer "Speed Freak" modes in which you cross the finish line as fast as you can. Steering, jumping and activating a speed boost are the same as in Kite Surfing, and you can reach out from the handlebars to grab coins. Moving your hands left and right to steer is incredibly awkward, and steering at the right point in each turn to get a boost seems like a crapshoot in terms of the game detecting whether you actually moved in time. There's a lot going on environmentally to distract you from the task at hand, and it actually makes it hard to see what you're supposed to do. Depth perception is hard as well, and once again steering seems inaccurate. Maybe it's not just a matter of the thumbsticks not being there.
Wingsuiting: Think of a flying squirrel, and you get the drift. You jump out of a helicopter and steer through the air by leaning your body left and right to steer into coins and avoid obstacles. You can gain speed by putting your arms down at your sides, and you move up and down on the screen by making a wing-flapping motion. Every now and then you can do a trick by striking a pose, whether you're in Coin Grab or Speed Freak mode. It feels a lot like flying the plane through hoops in the original PilotWings on SNES, but with much less of a sense of speed. Isn't that the point of this game, though: extreme speed and danger?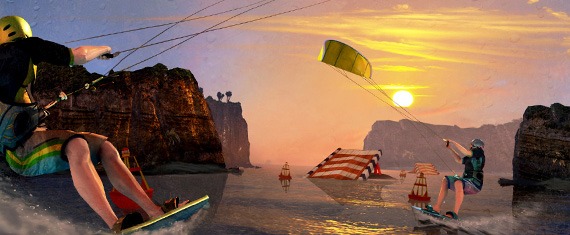 Climbing: This game has a one- and two-player Speed Freak mode as you boulder to the top of a cliff, as well as a co-op Coin Grab mode. Climbing is not intuitive whatsoever. You have to hold your hands in a casket/cadaver-like position (how appropriate — my interest in this game is dying), then reach out in the appropriate direction to grab handholds. When your on-screen avatar reaches out, you have to pull your arm back to your body or he'll just sit there with his armpits exposed to the elements. I wish it would've said that in the tutorial, because it's trial and error until you learn this. It's still a challenge, though, because the game fails to pick up fast hand movements, which are required if you want to set record times.
On second thought, maybe being able to pick up hand motions at all is flawed. The overall recognition of overhead grabs is poor beyond belief; half the time your avatar just sits there doing Y-M-C-A while a boulder smashes his head. This is all compounded by random earthquakes that cause your character to drop down a ledge or two — completely out of your control — and inexplicably slipping at random times and slowing you down. It's like the Climbing equivalent of a cheap shot or AI catch up, since this is a timed event.
Skiing: Trickstyle, two-player Trickstyle and Trickstyle Relay return for this downhill slalom in which you lean left and right to turn, jump up to get air and make a pole-pulling motion with your hands to get speed. As you come off a jump you have to crouch to land smoothly; that's a nice touch. But I'm sorry to say, leaning to steer flat-out sucks. The game doesn't register a single movement I'm making, it responds slowly on those rare occasions when it does recognize motion, and it isn't nearly as fast-paced as a so-called extreme game should be. For a sport so reliant upon tricks and speed combined, this "Motion Sport" misses the whole "speed" part. The poling mechanic works really well, but everything else here stinks.
Kayaking: This time you have to paddle to steer the boat, but once again it completely fails to register movement. Steering with paddles is somehow even worse than leaning, and ducking down to roll your kayak apparently requires breaking your kneecaps to generate a response. Rowing above your waist is only recognized about two-thirds of the time, and for the love of God, why is there such a delay between my real-world movement and the on-screen re-creation of it? This sport also suffers from some serious interface confusion for the first three or four games, as it's not immediately clear which obstacles can be rammed for coins and which are blinking because they're dangerous. As a result, you'll lose time trying to ram obstacles that you should be rolling underneath, causing your player to stall. GUI confusion and poor controls — not exactly a winning combination.
With all six of these sports, Ubisoft tries really hard to be alternative and extreme, but nothing in its gameplay really captures "extreme" it at all. There may be adrenaline involved in these real-world sports, and there obviously is Adrenaline in the game's title, but there isn't a single ounce of it in the gameplay. Motion Sports Adrenaline It's pretty to look at — in fact it's by far the most realistic-looking game on Xbox Kinect — but it's not exciting. Heck, it's not even as exerting as Kinect Sports: Season 2. But most important, Motion Sports Adrenaline simply is not fun, and you don't feel like you're doing the sports. Multiplayer modes and Challenges, no matter how many of them Ubisoft included, can't compensate for a poor gameplay experience. And that's unfortunately all Motion Sports Adrenaline provides.
Score: 4.5
Platform reviewed: Xbox 360 Kinect (platform exclusive)