There was once a day when basketball fans had their choice of video games, choosing between arcadey titles and simulations. That landscape has since dwindled to the point that there are now only two options, one of which (NBA Ballers) is as much gimmick as it is serious contender. As a result, NBA 2K13 has a lot riding on its virtual shoulders, and although it bears that load well, it's far from a one-size-fits-all game. In fact, NBA 2K13 reaches a new level of simulation that leaves anyone looking for a pick-up-and-play experience high and dry. From a presentation and depth standpoint, NBA 2K13 gets a massive thumbs up. From a control and complexity standpoint, it'll make you feel like you've got nothing but thumbs.
NBA 2K13 theoretically offers everything you'd possibly want in a basketball video game. You can play as today's best (or worst) teams, seeing what tried-and-true veterans and untested rookies alike will offer this coming season. You can customize every aspect of your own player a la a Role-Playing Game by spending Virtual Currency to define his appearance, attributes and Signature Skills. You can manage your player off the court to help him progress (or fail) in the My Career mode. You can even take control of the 1992 Dream Team, the 2012 Men's National Team and several other classic NBA rosters to see how they handle. And let's not forget the flawless play-by-play commentary and music by Jay-Z.
Everything's coming up roses, right? So far, yes. But that's without digging into the gameplay mechanics, which is where NBA 2K13 should be called for a Flagrant 2.
I've long been a believer that just because you can do something doesn't mean you should do it. NBA 2K13's controls fall squarely into this belief. Visual Concepts has revolutionized movement and dribbling mechanics for the past few years, assigning specific motions to the thumbsticks along with shooting. This has added some complexity, but it's given the game a more free-flowing feel for those capable of operating both sides of their brain at once. This year, though, Visual Concepts went a bit too far, turning the controls into a mess by over-complicating what was already an intricate control scheme.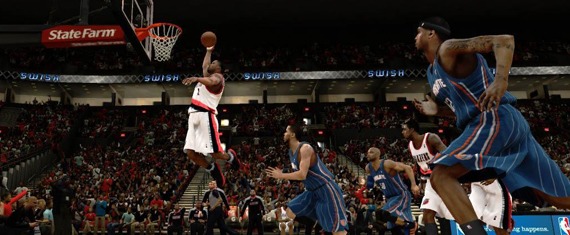 The right analog stick controls dribbling, the left stick controls body movement, and shooting is accomplished by holding down the left trigger while moving the right thumbstick. Think you're about to do a crossover? Accidentally touch the trigger, and you'll instead be firing from halfcourt. Think you're about to pull-up at the elbow? You may actually be on the verge of getting called for charging. And that's before accounting for all the Signature Skills and other moves custom to each player and/or position, none of which is explained in any sort of tutorial or walkthrough. Being tested by fire is one thing; forcing players to learn to do things as simple as dribbling by trial and error is something else entirely.
It wouldn't be so bad if the off-the-court activities in My Career were a tad more enjoyable, but they're really just a sad window dressing standing in the way of the great hardwood presentation. So, after bypassing all the "other" stuff to get back to the actual basketball gameplay, you're reminded that the controls get in the way of enjoying that element of the game as much as possible. After sinking a lot of time into NBA 2K13, you'll eventually feel comfortable with the controls and be OK. The challenge, of course, is to see how many people will actually devote that time before getting so frustrated with unintended moves and shots that they hang up their virtual shoes altogether.
Visual Concepts does introduce a few other elements into this year's entry, including limited voice support via the Xbox Kinect and an online-only My Team mode, but it seems like the developer was trying to cram as much "stuff" onto the disc as possible. Much like the control-scheme changes, just because Visual Concepts could implement those things doesn't mean they should have. The hours spent adding a few voice commands and the online mode would've been better spent finding a smoother way to improve player control or developing a series of walkthroughs about how exactly do pull-off hundreds of moves.
I'll be the first to give 2K Sports a high five for trying new things and adding new features. It just feels like they're trying to do too much at a time when — due to lack of competition — they really didn't need to. It may be fashionable to bash sports developers for making only incremental improvements, but Visual Concepts should've aimed for increments this year rather than the moon. The content is there, the presentation is there, the depth is there and so is the pedigree. The controls and unabashed complexity, however, are also there. And the experience (and final score) suffers because of it.
Score: 8
Platform Reviewed: Xbox 360
— Martin Ray