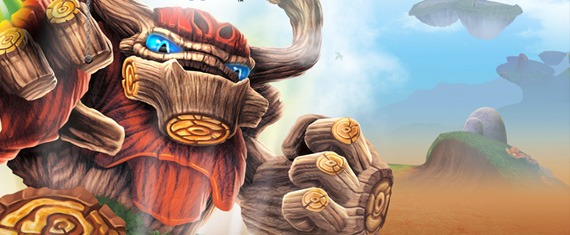 The Wii U may be shipping next month, but Nintendo's Wii still has signs of life, as indicated by a few new bundles coming on Nov. 4. Chief among the bundles, at least for the new-release crowd, is a Skylanders Giants Wii bundle, although a Just Dance 4 Wii bundle is also in the cards. The two bundles, which retail for $149.99 and $129.99, respectively, aren't yet available to pre-order, but you should keep your eyes on Amazon using these links, because they're sure to sell out fast: Skylanders Giants Wii bundle
and Just Dance 4 Wii bundle
.
The Skylanders Giants Wii bundle includes Activision's Skylanders Giants, a blue Wii console with matching Wii Remote Plus and Nunchuk controllers, one Portal of Power, two Skylanders characters and one exclusive Giant Skylander. The $149.99 bundle will only be available while supplies last, so again, bookmark that Amazon page.
The other new bundle will include Ubisoft's Just Dance 4 and a white Wii console with matching Wii Remote Plus and Nunchuk controllers, offered while supplies last for $129.99.
The Skylanders combination of gaming and physical toys took the world by storm in 2011. The new Skylanders Giants game introduces Giant Skylanders characters with powers to match. When the action figures are placed on the Portal of Power, they come to life in the game. Players must unleash their strength in the battle to save Skylands. Honestly, it's one of the best new franchises to hit the console world in years.
Meanwhile, the Just Dance franchise has sold more than 13 million on the Wii console alone, making it the top third-party Wii franchise of all time and one of the top-selling franchises of this entire console generation. The new Just Dance 4 adds new features, game modes, songs and dance moves. Dancers can rock out to more than 40 tracks across a wide range of musical genres, including pop, hip-hop, rock, country, funk and more. Each song can be played by up to four players, and the new Battle mode lets players challenge their friends in six rounds of dance-offs.