The demand for 3DTVs hasn't gained steam as quickly as the manufacturers would've liked, though recent studies suggest that potential 3DTV buyers are not only prepared to spend more, but plan to buy a 3DTV in the not-too-distant future. One of the barriers to entry has traditionally been the expensive active-shutter glasses used by most sets, a pain point made even more unbearable by most active-shutter glasses being tied to a specific manufacturer. For instance, if you buy a Sony Bravia 3DTV, its glasses won't work on a Panasonic or Samsung 3DTV. Unless you're made of money and plan to purchase a ton of 3DTVs, that's not really going to be an issue, but it's still upsetting to plenty of people.
A company called NextGen has removed that pain point, releasing a set of universal active-shutter 3D glasses that work with any manufacturer's set, cost a bit less than the name-brand glasses, and are the first active-shutter 3D glasses that are fully rechargeable via the included mini USB cable. During the past nine months we've used using a set of Sony-brand active-shutter glasses on a 52-inch Bravia 3DTV and only had to change the battery once. Still, having the rechargeable option (50 hours on a three-hour charge) is yet another expense NextGen is knocking off of the list.
During our tests with 3D-enabled games and several Blu-ray 3D movies, the NextGen rechargeable universal active 3D glasses worked incredibly well with our Sony Bravia 3DTV. Never was there a sacrifice in color temperature or depth perception, and the flickering and loss of signal that we noted last year on the XPAND universal 3D glasses was absolutely non-existent with NextGen's pair.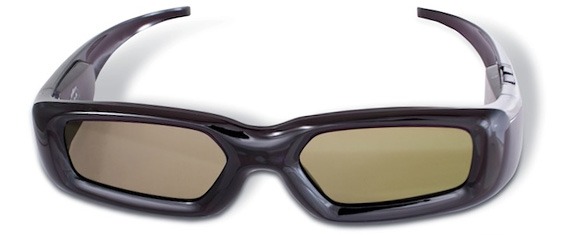 One particularly nice feature with the NextGen rechargeable active 3D glasses compared to the Sony ones we normally use is that when you wear the NextGen glasses you can tilt your head and not see any discoloration or ghosting. With the manufacturer's active-shutter glasses, you have to keep your head pretty level or you run the risk of having some image ghosting and discoloration. With NextGen's universal glasses, you can move your head all around and not suffer any degradation in image. Not that you'd be bobbing your head during a movie or anything, but you could if you really wanted to.
The glasses do have a couple of small shortcomings, the most notable of which is hard to explain. When watching 3D content on our Bravia, the center of the picture looked perfectly fine, but there appeared to be some softness around the outer edges, almost as if there was blur or crosstalk in the foreground and background. This makes no sense whatsoever, because it's not like NextGen can really program glasses for a specific zone of the TV screen, but the effect was consistent in its subtly and location. I don't understand how or why this happened, but after watching multiple scenes back to back with the NextGen glasses and Sony glasses, it was clear that the manufacturer's pair showed much more clarity and screen-wide consistency.
Still, the NextGen glasses were quite a step above the XPAND ones we reviewed last year. With the NextGen rechargeable universal 3D glasses, there is absolutely no flicker or loss of signal, two faults we experienced time and again with the XPAND set. This may be a testament to how far the universal-glasses technology has come during the past eight months, but our money's on NextGen just putting additional resources to make sure its glasses are dialed-in to the various manufacturers' sets.
NextGen also did a solid job in its industrial design, with glasses that are much lighter than the Sony pair we normally use, and the inclusion of swappable nose pieces that make the glasses seem "universal" for the user as well as the 3DTVs. My only issue with the design is that the glasses don't fit as snugly around the ears, so halfway through a movie you might have to make some adjustments after they slip down your nose. If the fit were a little bit more snug, they'd likely stay on better.
Still, if you're in the market for some additional active-shutter glasses for your 3DTV, or if you're about to switch brands for some reason, the NextGen rechargeable universal active-shutter glasses do the trick. It's hard to argue with their $80 price point, too. But if money's no object, I'd ultimately recommend going with the manufacturer's pair to avoid the softness we experienced.
Score: 7.7 — They generally performed very well in our tests, but the odd perimeter softness was bizarre, and after a while it got a bit frustrating. The price is hard to beat, though.