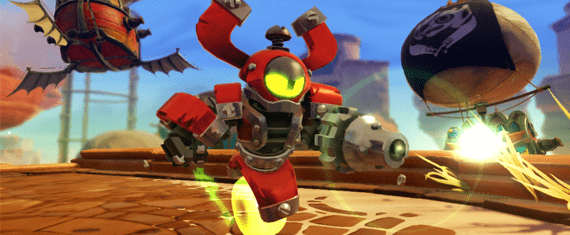 On the eve of Gamescom, I had the opportunity to get hands-on with an updated build of Skylanders: Swap Force to see (and dynamically swap) some new characters. The approachability of the overall game is in line with the franchise's young-gamer roots, but the new ability to swap the top and bottom halves of real-life toys to create new on-screen characters adds a level of gameplay depth the franchise hasn't yet seen. In some respects, Skylanders Swap Force is growing up alongside the young gamers who made it a hit. But fret not: it hasn't lost its kid-friendly magic, as we saw with the six new Skylanders Swap Force toys we got hands-on with recently.
There's a ton to cover, including new Swap Zones, Swap Zone Challenges and the new concept of Portal Master Rank. I'll cover those in future articles. In this article we'll focus on the new Skylanders Swap Force toys, characters and enemy types we saw, since that's what most readers probably want to hear about first.
The first new character we saw was an Undead class character named Rattle Shake. Rattle Shake is probably one of the coolest-looking and best-modeled toys we've seen so far, and he's pretty sweet in-game too. As you might gather from his name, Rattle Shake is a yellow gun-slinging rattlesnake who uses a smaller snake for a gun. Yes, it shoots venom. I was most taken by his ability to deploy venom-spitting turrets called "Deputy Snake." Deputy Snake can be positioned in an arena or anywhere Rattle Shake wishes to help him battle enemies. Deploying the turrets can also be helpful in setting up traps, since Rattle Shake is a bounce character and moves really fast. It's pretty sweet to setup a turret, slither around quickly and defeat the enemy before it even knew what hit him.
Speaking of enemy, we got to see two new Skylanders Swap Force enemy types going into Gamescom. Both of them surfaced as we entered an epic snowball battle between frost elves and trolls. The Frost Elves, thank goodness, were fighting alongside the Skylanders. The first new enemy was a Twist Pick Cyclops. This baddie dual-wields pickaxes and spins around like a tornado in hopes of getting his pickaxes to tear you apart. After letting him spin around for a while, he eventually gets dizzy, giving you an opening to attack. If there's more than one, you can also entice them to spin into one another to do damage. The second new enemy was a Cyclops Sleet Thrower, who uses a snow shovel to toss massive snowballs at you like a projectile. No special attack was required to defeat this one.
Another new Skylanders Swap Force toy and character was Boom Jet, an Air class Swap Force Skylander who surfs on an airplane turbine to get around. Rattle Shake was fast, but using this turbine surfboard made Boom Jet the fastest Skylander I've seen in any of the three games. Boom Jet can charge into enemies to knock them down, and he can also use the turbine to spit out propeller projectiles. Better yet, he can manifest bombs to toss at enemies, and he can even call in an airstrike from his hands.
On their own, Rattle Shake and Boom Jet are pretty sweet, but this wouldn't be a Skylanders Swap Force preview if it didn't talk about "dynamic swapability," the ability to literally split the toys into top and bottom halves and combine them with one another. During our hands-on demo, we got to make "Rattle Jet" by combing Rattle Shake and Boom Jet. This swapped-out Skylander has the ability to dash around on the turbine, yet he has the snake's rapid rate of fire. He can also still deploy Deputy Snake turrets, making this a great character combination.
The next new Skylander we saw, Zoo Lou is a new Core Skylander of the Life variety. Zoo Lou has a projectile attack that sends spirit birds to attack enemies. He can also summon a wolf familiar, who can be used both to attack enemies and, if there aren't any enemies nearby, to dig for food to help replenish Zoo Lou's energy. Zoo Lou can also summon (and ride) a bucking boar, which speeds him up and also allows him to charge into enemies.
Activision also shared another new Life Swap Force character, Grilla Drilla, a sweet-looking monkey who flings coconuts rather than poo. Grilla Drilla can unleash a single punch or, if you keep the button pressed, keep his fists grinding speedbag-style to do continuous damage. He can also drill into the ground to leave a "cluster bomb" flower that explodes into smaller flowers that do damage. Think of it like a splash grenade. As mentioned above, Grilla Drilla can also bring in a coconut shooter, and he can summon monkey minions to do his bidding. Frankly, this dude's awesome.
A robotic new character named Magna Charge was powered by big magnets and moved around the level via a "speed wheel" rather than feet. Magna Charge was a heavily armed bruiser, with a magnet gun that works like a laser gun and a Force-like ability to levitate enemies and toss them into other enemies (or the ground, or off the edge of the world). You can imagine the destruction that unfolded when we combined him with Grilla Drilla to make "Grilla Charge." Yes, mayhem ensued — and it was awesome.
We got to swap him with Boom Jet, too, creating the character Boom Charge. This character has the speed wheel magnet bottom and the bomb-tossing top of Boom Jet. He was cool all right, but I personally preferred Grilla Charge.
Again, this is where Skylanders Swap Force will open up the gameplay like no previous Skylanders game. Not only can players create character combinations that support their play styles, but they can also create any number of combinations to access different areas of the SKylands game world. Worth noting for swapping junkies: the first name for all dynamically swapped character name corresponds to the top half of the toy. The second name corresponds to the bottom half of the toy.
All of the new Skylanders Swap Force toys and characters I've described so far have had swappable halves. However, the game is also introducing some new Core characters. One, Slobber Tooth, is an Earth Core character and resembles an alligator or dinosaur. Slobber Tooth is a bit of a street fighter, as he can bite, chew, chomp and unload a sweeping headbutt. However, like another famous videogame dinosaur (Yoshi), if you use the Circle button on PS4, you can actually swallow enemies and, if you tap the button again, shoot him out at other foes. Or, if you just swallow the bad guy and leave him inside, Slobber Tooth will eat the enemy and get a health boost.
During our demo we discovered a Soul Gem video of a new character named Countdown. Countdown is a Tech Core Skylander and has a big bomb for a head. The head can roll off, be tossed and eventually explode like the bomb it is. We didn't get hands-on with him, but he looked like a fun addition to the Core Skylander roster.
Back to the swappable characters, we saw a new character named Hoot Loop. Unfortunately we didn't see him in action, but we did see the Skylanders Swap Force toy. We also heard that he makes a killer combination with Free Ranger, either becoming Hoot Ranger or Free Loop, depending on which character you use for the top half of the toy.
It's that sort of swapping freedom that's going to make kids (and parents) really experiment with Skylanders Swap Force. The upper and lower halves of each Swap Force character each have their own upgrade paths, so you can create a souped-up bottom half and novice top half, or an uber character with both halves maxed-out. And, unlike previous Skylanders games, Swap Force includes mid-level upgrade pods, so you don't have to go back to the hub to upgrade your characters.
You should also be able to use these upgrade pods to swap-out your hats. Every hat you've gathered from the first two Skylanders games can be carried into Swap Force as long as the hat was equipped on a character. Not only that, but there are 180 new hats in Swap Force.
Skylanders Swap Force is shaping up nicely, and its combination of kid- and parent-friendly gameplay never ceases to amaze. If you thought Skylanders was a great family game before, Swap Force will bowl you over.