For all the R&D Sony and Nintendo have thrown into the PlayStation Vita and 3DS, respectively, you'd think the mobile-gaming scene was incapable of enjoyment on anything other than a standalone device. Nevermind how the iPhone gave a NOS-like injection to the mobile-gaming landscape. Or how Angry Birds blasted the category to the next level. Or how much marketing has been put into the first PlayStation-certified phone with thumbsticks. Mobile gaming is growing exponentially, and not just because we want to play on the go. Cell phones are starting to redefine what's feasible. Just look at the T-Mobile G2x as Exhibit Number One.
Powered by Android 2.2 (Froyo), the T-Mobile G2x has a gorgeous four-inch touchscreen that eats up everything that NVIDIA's Tegra 2 processor — T-Mobile's first dual-core processor — throws at it, then begs for more. Apple may tout the iPhone's Retina display, which is definitely pretty, but the G2x has the best overall display I've personally seen on a cell phone. It also has an HDMI jack on top so you can enjoy all the content on your HDTV as well — including the 1080p videos you can shoot via the 8MP still-shot camera. In other words, this phone's jacked beyond belief with multimedia capabilities.
And that translates great to gaming.
The first game I fired-up was NOVA (Near Orbit Vanguard Alliance), a sci-fi FPS that's visually similar to the first Halo and uses a few lighting tricks from Halo 2. Those may be older games by console standards, but that's a nice comparison when it comes to mobile games. Controlling the main character was a breeze with the four-inch screen, although the game hiccupped a few times if I started my movements mid-screen rather than from the outer edges. Its overall responsiveness was outstanding, though, and it was surprisingly easy to maneuver through the fully 3D world.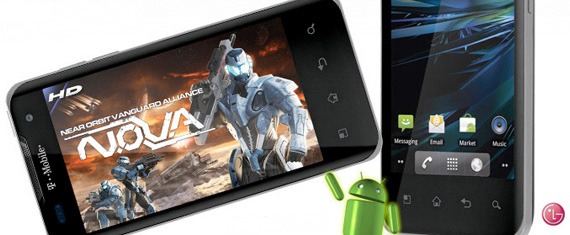 Next up was Need for Speed: SHIFT, which has decidedly different geometry and processing needs. Whereas NOVA needs to render multiple enemies and gunshots, Need for Speed: SHIFT has to process oncoming traffic and an ever-changing array of buildings as they pass by the camera. On the whole the game doesn't show the same level of detail, but that's a necessary tradeoff to get its volume and quality of on-screen movement. The framerate never dips mid-race, a testament to the G2x's dual processors, and you can circle the camera around any of the cars you purchase without fear of chunking up the display. Pole Position this is not, and a lesser phone would've likely crumbled under the pressure of SHIFT-ing. My only disparaging remark about Need for Speed: SHIFT is needing to tilt the G2x to steer, which is embarrassing if you're one of those folks whose heads moves with your hands. It was undoubtedly the best control solution, but it still makes you look funny.
Accessing games on the Android Marketplace is always intuitive, but the G2x makes it even easier through the NVIDIA Tegra Zone, an app that finds games that have been optimized for the G2x's Tegra mobile processor. Some of the games are better than others, of course, but in terms of graphics and technical specs they almost all shine.
I was a bit skeptical that I'd be able to enjoy a "hardcore" game on a cell phone, but the G2x made me a believer. The battery provides seven hours of talk time, so you can't play intense games for more than 2.5 hours before starting to worry about the juice. But, if you want to play that long during any given stretch you should be looking at the PSP, PlayStation Vita or 3DS anyway. For a gaming device that happens to be a phone first and foremost, T-Mobile's G2x is awesome. I didn't want to return it to T-Mobile, and that's not something I expected to feel. Considering it's currently out of stock at T-Mobile, I know I'm not alone.
Score: 9
– Jonas Allen