I am a child of the '80s. Memories of my childhood include The A-Team, Battlestar Galactica (the original), Buck Rogers in the 21st Century and The Smurfs — and that was just Saturday's TV lineup. Hearing that The Smurfs were making a theatrical comeback with Doogie Howser, er, Neil Patrick Harris, in a lead role stirred-up mixed emotions. On one hand, watching The Smurfs could be a great trip down memory lane, and Hank Azaria as Gargamel could inject a nice dose of slapstick. On the other hand, mixing live-action and animation often flounders, with no film knocking it out of the park since Who Framed Roger Rabbit. Tasking The Smurfs to fill those big shoes while delivering a good 3D presentation seemed too big for a cast of villagers three apples tall. Thankfully, reviewing The Smurfs on Blu-ray 3D proved to be a treat.
The plotline is a bit trite, but the 3D effects make up for it. The story sees Harris as an up-and-coming ad executive whose wife wants more of his time so they can start a family. Suddenly a half-dozen Smurfs magically teleport into Manhattan with Gargamel on their heels, forcing Harris to find balance for his own priorities while helping the Smurfs fend-off Gargamel and return safely to Smurf Village. Oh, and somehow develop his company's largest creative campaign to boot. Unrealistic scenarios unfold in toy stores, on the tops of taxis and in the office, each of which makes the Smurfs look inexplicably aloof. Ultimately everything turns out just fine, but the journey from opening to closing credits is a bit of a stretch.
Then again, doesn't anything predicated on blue creatures three apples tall require a bit of a stretch?
Where the scenes lack realism, though, they more than make up for it in 3D effects. By placing the Smurfs in distinct settings, the filmmakers present some intriguing angles, environmental props and visual gags that all accentuate the impact of Blu-ray 3D. Whether it's a Smurf hanging from a sink faucet, dangling from an airborne prop or racing through a toy store, the difference in depth between foreground and background is really driven home. The film has its fair share of "gotcha" effects as well, but taken in the context of this being a movie based on a 1980s kids cartoon, the hijinks can be forgiven.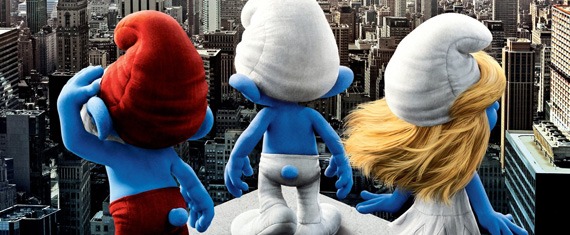 Ironically, some of the film's best 3D moments come in the opening and closing scenes, which seem on the surface to be the most devoid of 3D props. Perhaps it's that subtlety or "natural" feeling that makes them so impactful, though. For instance, when viewers first see Smurf Village, every mushroom home looks perfectly real, both in its CG clarity and its perceived depth/roundness. As the camera pans between and inside some of the homes, the depth of field and foreground/background mix present an impressive array of 3D scenery. Meanwhile, the climactic scene in The Smurfs Blu-ray 3D has rockets, projectiles, fireworks, lightning, an army of Smurfs and some camera angles that can only be described as A-Team-worthy "ant cam" shots. Each of these elements seems tailored to deliver exceptional 3D effects, which they all do.
Outside of the 3D effects, the Blu-ray 3D version of The Smurfs includes a smattering of unique bonus features, most notably Smurf-O-Vision. Dubbed a "second screen experience," Smurf-O-Vision capitalizes on the pervasiveness of tablets on the sofa by letting people use their iPad, iPhone or iPod Touch for various Smurfy things such as playing games and watching the little blue dudes dance across the screen. In one instance, a Smurf may sing and dance across your iPad screen, while in another you can chose to play some "mini-games" like popping bubbles and zapping Gargamel. None of the activities is particularly consequential, but they're nice quick diversions for those moments when the movie drags. The only challenge? Trying to interact with your iOS device while wearing 3D glasses. This feature, while interesting, is best left for the times when you're watching the standard 2D version of the film instead.
The mini-games aren't just relegated to companion devices, though, as The Smurfs Blu-ray 3D also includes an on-disc game called "The Smurfs Fantastic Adventure Game." This side-scroller sees players controlling Clumsy as he jumps through the village or Central Park trying to avoid Gargamel. The screen moves automatically at a predetermined rate, and the obstacles he has to jump over are pretty basic in nature. In reality there's not much "adventure" to be had, and in fact, there's not much "fantastic" here either, because the single-button-press controls are incredibly unresponsive and lead to multiple deaths that feel completely unfair.
Still, the meat of any Blu-ray 3D set is the feature film itself and the 3D effects, and The Smurfs succeeds in both regards. The 3D effects are definitely the highlight, with zero crosstalk and nice depth variances, but the film is pleasant insofar as it remains entertaining even for a hardcore Smurfs fan and child of the '80s. The mix of animation and live action is well done too, probably combining the two media better than any film since Who Framed Roger Rabbit. The Smurfs may not win any Academy Awards, but for sheer family entertainment value, it's worth checking out in 3D.
Score: 8.7