When I first heard the Tomb Raider Trilogy
was coming to PS3 with HD graphics, I thought it would be a great opportunity to finally catch up with the rest of the gaming world and experience a franchise I'd somehow missed out on. The funny thing as I played through it, though, was hearing from friends that I wasn't the only one who'd missed Lara Croft's escapades. For all the embarrassment I originally had for not having played a Tomb Raider game, I found solace after about a week knowing I was anything but alone.
Now, let's make one thing perfectly clear: these are old games. The Tomb Raider Trilogy
for PS3 is a compilation of three Lara Croft titles: Tomb Raider Legend, Tomb Raider Anniversary and Tomb Raider Underworld. So catching up on the series, as nice as it may be, is also an exercise in understanding how far the game industry has come. Yes, the Tomb Raider Trilogy has been updated with full HD graphics, but for Tomb Raider Legend, that just means you see pixels in 1080p. Tomb Raider Anniversary is better in the graphics department, while Tomb Raider Underworld (which was originally designed for the current-generation consoles) by far looks the best. "Older" gamers like me will be reminded of the incredible graphical ground the series covered in the years between these games' original release dates, while younger gamers will (I hope) come to appreciate just how good they have it now in the A/V department.
The gameplay shows much the same rapid evolution, which is a polite way of saying "how on Earth did anyone ever play Legend in the first place?" The camera has historically been the bane of third-person games' existence, but in Tomb Raider Legend it gets in the way far more than it ever should have. The clunky manner in which it handles targeting and enemy lock-ons is just as frustrating, and those are things that the high-definition updates simply can't fix. Things improve in Anniversary, and by the time you play Underworld, the camera issues are largely fixed and the gunplay is solid. The thing is, I'd be impressed if you played more than three hours of Legend or Anniversary because they give you the feeling of stepping back in time — and not in a reminiscent sense.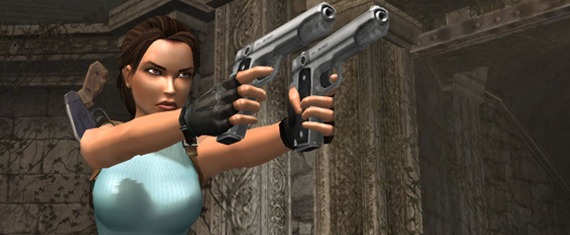 Fortunately, you don't have to play through the games in order, as the Tomb Raider Trilogy
lets players hop into one game, tackle a few levels, then hop into another game to play without fear of losing progress or overwriting data. Again, though, going back and forth like that reinforces just how far the series has come, so once you've played some Underworld or Anniversary, the chances of going back to Legend and actually enjoying your time are slim.
In Crystal Dynamic's defense, their job as developers was never to improve upon the Tomb Raider games for this trilogy. Instead, they were tasked with creating an HD archive that brings gamers up to speed in the Lara Croft saga before Square unleashes the next Tomb Raider game. If Ken Burns had made a Tomb Raider compilation, this would be it. The Tomb Raider Trilogy
presents the "facts," shows "archival footage" in full 1080p, and showcases the series — warts and all — for the public to draw its own conclusions. I, for one, was surprised to see just how much the Tomb Raider series focused on puzzles and platforming rather than action, but it's probably because I thought Lara Croft was essentially a female Indiana Jones, whose adventures are all fast-paced. I was also surprised, pleasantly so, to see a narrative thread carried from game to game rather than have Lara just bouncing around from locale to locale.
I would never have played a Tomb Raider game had this trilogy not released for PS3. Now I've played three. I never would have stopped to appreciate how far the industry has come in the past decade, both in graphics and gameplay, had I not played these titles back to back to back. Now I've stopped to really look at the latest games, and I can't wait to see what's next.
At its $39.99 price point, it's hard to say you'll find more pound-for-pound content than what's contained in the Tomb Raider Trilogy. If you're looking for a good deal, not to mention an inadvertent game-industry history lesson, you should take a look at Lara Croft's trilogy for PS3. I'll be the first to admit the first two games had me cursing at times, but for someone who'd never played a Tomb Raider game before, the PS3 trilogy was a great way to catch up to speed.
Click this link to get a discount on the game at Amazon.com: Tomb Raider Trilogy
.
Score: 7.7 — From a compilation or "archival" standpoint, this set is great at showing how much the series has evolved and grown. From a pure enjoyment standpoint, the first two games drag down the overall experience, not through any fault of the developer, but by simply not having benefited from the additional years of gameplay updates that current titles enjoy.
Platform reviewed: PlayStation 3