As we await Nintendo's big E3 press conference announcements, we've had time to reflect on yesterday's proceedings with Microsoft, EA, Ubisoft and Sony. By and large we knew what was coming; most games had already been announced, as had the strategic partnerships. But there were still a few surprises during the first day of E3 press conferences, some good, some bad — and some not related to the games or publishers at all. Below is our list of the top 10 surprises from the first day of E3 press conferences. Surely Nintendo will have a few as well, but those will have to be saved for a future article.
Tomb Raider Looking so Damn Good. The Tomb Raider Trilogy released not too long ago on PS3, serving as a not-so-gentle reminder about how far the series had come — but also how tired it had become to a certain degree. During the course of its seven-minute demo, Crystal Dynamics absolutely blew the lid off every perception you've had about the Tomb Raider series, delivering one of the most intense, gripping and dark demos we've seen. From the immersive audio and powerful quick-action sequences to the crisp HD graphics, Tomb Raider looks phenomenal. I can't wait to get our behind-closed-doors demo later this week.
PS Vita Tapping into AT&T — and the Crowd Booing and Laughing at the Decision. Did Sony learn nothing from people jettisoning AT&T for Verizon when the latter got the iPhone? Were there no consumer polls about the fastest 3G network, or did Sony just base the decision off TV ads and positioning statements? The fact that Sony chose AT&T for its exclusive PS Vita 3G provider in the United States was surprising to say the least, and the ice-cold and semi-mocking reception that the announcement received was surprising to me, so I can only imagine Kaz Hirai's internal mutterings when he heard the audience react.
Fable: The Journey Turning into Time Crisis. Mixing spells and pulling at the horse's reins is cool, but Molyneux just succeeded in removing every ounce of character ownership and epic scale that the first three Fables worked so hard to build. Since when was Fable a "casual game"? Weren't players supposed to control their hero's path through Albion, not watch the camera move through the game world for them? Color me puzzled at this gameplay decision.
Tim Schafer Doing a Sesame Street Game. I'm glad the man responsible for Psychonauts and Brutal Legend liked Sesame Street growing up. I commend him for wanting to create a game for his three-year-old daughter. But what on Elmo's red hiney was Schafer smoking when agreeing to create Sesame Street: Once Upon a Monster for Xbox Kinect? Kids waving their hands in the air to mimic a monster or reaching out to gather fireflies isn't exactly the stuff of gameplay legend. Is this his mid-life-crisis game? Please, Tim, get this out of your system fast and go back to making more "mature" titles.
Kinect Fun Labs Letting Players Digitize their Privates. I tweeted about this from the Xbox press conference yesterday, but does Microsoft really understand the can of worms it's just opened by allowing players to visually scan and digitize themselves and inanimate objects into the Xbox Avatar interface? The technology is definitely cool, and it should take the Mii/Avatar concept to the next level, but it's only a matter of milliseconds before a teenager's Kinect scans him nude. And we don't really want that, do we, Microsoft? Just because you can do something, that doesn't mean you should.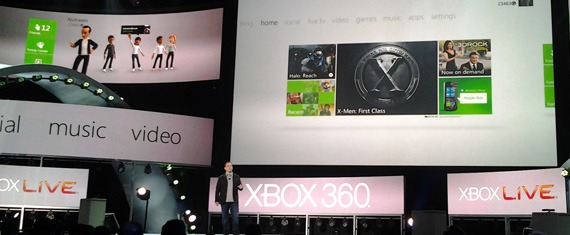 Halo 4 — as the Start of Another Trilogy. It wasn't particularly surprising to see a new Halo game unveiled at Microsoft's E3 press conference, but hearing the brief mention of "the start of a new trilogy" caused my internal record to scratch. Microsoft didn't belabor the point, but that small reference alone — particularly considering it picks up where Master Chief's story left off — was definitely newsworthy. Yes, Bungie left plenty of things up for discussion and/or interpretation, but did they really leave three games worth of narrative? I sure hope they don't just drag it all out and tarnish the series.
The PS Vita Retailing for just $249.99. Sony's never been one to shy away from high prices. I recall with sadistic fondness the crickets-and-tumbleweeds reception when Kaz Hirai first announced the price of the PS3. So to hear that the PS Vita will retail for the same price as the Nintendo 3DS was a direct shot across Nintendo's bow, a sign that Sony's taken off the gloves and is punching straight for the top of the handheld heap. Is $250 still a lot to play for a device that doesn't have phone capabilities? Absolutely. But is the PS Vita a better value at $250 than the 3DS at $250? Hell yes.
The PlayStation 3D Display Bundle — and its $500 Price. We've got a 52-inch 3D Bravia on which to review games, but we're definitely in the minority when it comes to gamers who own a 3D TV. Sony wants to change all that, so this fall it will release a 3D Display bundle consisting of a 24-inch PlayStation-branded 3D TV, an HDMI cable, 3D glasses and a copy of Resistance 3 for PS3 — all for the price of $499.99 USD. That's an absolutely screaming deal. Even more impressive and surprising, though, is our next point below.
The PlayStation 3D Display Lets Two Players Watch the Same Screen but See Two Different Images. I don't know if it's a matter of displaying images at different frequencies, using lenticular-like technology or just some funky voodoo magic, but Sony's on to something incredible here with its ability to let two gamers play on the same screen by see two different images, thus removing the need for split-screen play. I haven't had a chance to check this out in person yet, but if Sony can pull it off, this could revolutionize the way same-console co-op is played. Of course, you'd have to play that way on Sony's TV, thus paying them bookoo bucks, but hey, at least you'd be part of the revolution.
A PS3-Exclusive Shooter, Dust 514, Sharing the Same Universe as EVE Online. This is not only a big surprise, but probably the closest I've been to "scared" since covering the game industry. EVE Online already operates like a second life to many people, as they have their normal jobs during the day and their ship-trading and mining night jobs in EVE Online. People already take EVE too seriously, but now CCP is going to add a shooter component whereby individuals can engage in fast-paced action combat in the same persistent universe as EVE, with each party impacting the goings-on in the other game's respective world. If we look back at some point in the future and wonder why we never see the light of day anymore, or why we've stopped being able to distinguish real-world responsibilities with fake videogame ones, Dust 514 could very well be the genesis of those problems. Technologically this is a sweet development, but to be honest, the social ramifications of its scope and magnitude frighten me to the core.
So there you have it, my top 10 surprises so far from Monday's E3 press conferences. What were your biggest surprises? Leave a note in the comments and let us know what you think.