For a little over a week now, I've spent my free time blowing up, crushing, drowning and tossing oversized inanimate objects to explode worms — and I had a ball doing so. Don't be quick to judge me as a narcissistic lunatic just yet! I did all this through the latest Team 17 release "Worms Revolution," which is currently available for PC, Xbox 360 (via Xbox Live Arcade) and PS3 (via PlayStation Nework). Anyone who hasn't given a Worms title a chance is missing out on some thrilling and addicting gameplay, and Worms Revolution is no different.
This was my first dive into a Worms title, and it was a rather nice entry game that made me enjoy the series. Worms is a strategic game where you select a team of worms and try to defeat another team of worms. Throughout each level, you move your worms around the map until you find a sweet spot from which to take out your targets. Like other Worms titles, Worms Revolution is filled with a wacky arsenal that consists of bazookas, missiles, mines — even a super-powered sheep. Bring on the super sheep!
As with any war game, you keep fighting until your worm can't squirm or you manage to destroy the opposing team. Worms Revolution is played mostly in a 2D style and feel, but has 3D aspects via a constantly moving and interactive background — something new for the Worms series. One of the biggest changes in Worms Revolution is the addition of water. Water is both your friend and foe. You'll have to manage to pass water obstacles, but water can be beneficial as well. Blow up some of the land to cause a waterfall, and you'll wash away some worms, trap the worms in a puddle of water to drown them, or use watery elements in your arsenal such as water balloons and squirt guns to bring the enemy worms to their demise.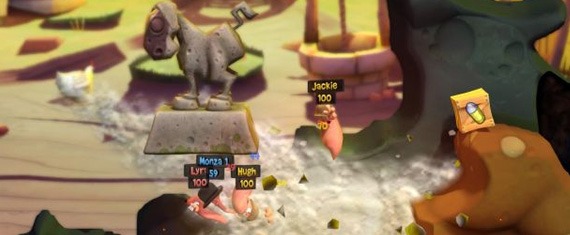 Another new element is classes. You have a choice of the solider, an average ability type worm; the scientist, which has the power to heal your team; the scout, who's more agile but packs less HP than the bunch; and the heavy, a slower-moving worm that really packs some damage. Adding these classes changes the gameplay by making you think more about where to place the worms and how you execute your strategic battle.
In spite of all these changes, my favorite new element in Worms Revolution is the narrator. Matt Berry, whom you may remember from shows like "The IT Crowd" and "The Mighty Boosh," takes on the role as Don Keystone, a hysterical wildlife expert documenting your worms' war story. His comments and outlook of the battles are a pure joy to listen to, leaving you cracking up at some of his cheesy and grim outlooks of the opposing threat of worms.
With the campaign, you are looking at over 32 levels of maps that progressively becomes harder and harder. Take a break from the game, and you might want to take a gander at the puzzle play through, where again you'll find yourself flinging your controller up in the air trying to navigate your worm through the outrageously difficult puzzles towards the end.
Lastly, the multiplayer mode matches you up with another sly dog who wants nothing more than to destroy your worms. Not only do you get the joy of playing with friend or another player from around the world online, you can choose a ton of specifics. Decide what map you want, the weapons that can be played, ammo, dangerous structures on the map like water, mines and more. There are countless possibilities of how your custom game will play out.
Needless to say, Worms Revolution is a great game. From users who have enjoyed the game series since its launch back in 1995 to the completely new users, you will no doubt enjoy this game. The multiplayer alone brings in a ton of content that will result in a new and crazy battle each and every game. If you're still on the edge of whether or not you should purchase the game, you can at the very least try the demo out and get a feel of the game yourself.
Score: 8
Platform reviewed: Xbox 360 (Xbox Live Arcade)
– Dennis Patrick