Back when DVDs were still new, an entire generation of would-be actors and actresses popped-in their favorite movies and performed classic scenes as if they were the ones in front of the camera. Meanwhile, Scene It! board-game fans tested their Hollywood mettle by recalling lines, actors and actresses from the silver screen. Fast-forward to 2011, though, and DVDs and board games have been overshadowed by the Xbox Kinect, which when combined with Yoostar 2 represents a creative outlet for an entirely new generation of would-be stars.
The premise of Yoostar 2 is simple: choose from one of 80+ movie scenes, decide which actor you want to portray, and act out the scene with both dialogue and gestures. Once the Xbox Kinect records your performance, the game grades your delivery and enthusiasm, then lets you upload the video so all your Facebook and Xbox Live friends can see it for themselves. Like all party games, though, Yoostar 2 is best enjoyed with a bunch of people.
Out of the box, the game includes a variety of classic scenes — from Animal House and 300 to Forrest Gump and The Terminator — but only one or two of them is any good if done alone. Like a karaoke bar, Yoostar 2 has a floating bubble that highlights each word of dialogue as you're supposed to say it, but it's the ad-lib stuff and two-person scenes that really makes the game shine. In that sense, it's akin to two people doing a duet having infinitely more fun on a karaoke stage than some lonely drunk sap bustin' out Michael Bolton while everyone in the bar stares in horror. Take those clips online, or better yet, watch and vote on the uploaded clips from some creative Xbox Live members, and the hilarity gets even better.
(In fact, please allow me to take the liberty briefly to congratulate the Xbox Live community for its wit and comedic prowess. Some of those uploaded clips — especially one featuring a guy pretending to be Batman chatting on his cell phone — will make your sides hurt.)
A complementary Facebook app called Yoostar Playground takes this social aspect even further, as it lets any Facebook member rate, share and comment on videos of player performances. The built-in Xbox Live functionality is similar and works well, but the Facebook connection really opens the game up to a level of social interaction that the XBL community alone just can't deliver. Of course, it also means your co-workers may see you act out the "wax on, wax off" scene as Mr. Miyagi, so make sure you know what you're getting into before you upload your performance to the Yoostar Playground. Not everyone may "understand" your magnificence.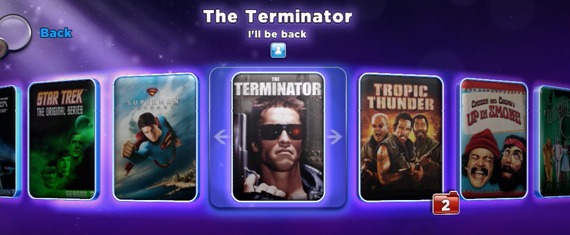 These online interactions are all part of the game's Social mode, but Yoostar 2 has two additional modes from which to choose if you want to brush-up on scenes before taking them to the jeering cheering masses. The first mode is Quick Play, which gives you immediate access to the 80+ scenes included in the box and lets you perform them in any order. You can choose to either follow the script or give an ad lib performance, each of which presents a varying degree of difficulty, but the scripted performances really do seem the best until you get comfortable in your own on-screen skin. The second mode, Challenge, includes all the same clips as Quick Play mode, but it requires that you do them in a particular order. Once you complete a certain number of challenges, a new area of the Yoostar "city" opens up, which in turn opens up new challenges and new backgrounds and sets for ad-lib performances.
The downfall here, which is frankly the game's biggest miss, is that while 80+ scenes sounds like a lot, when you're burning through them in the Quick Play and Challenge modes, you find yourself repeating a few of them more than you'd like. Conveniently, Yoostar 2 does include a "Yoostore" where you can microtransact yourself to death buying additional scenes, but it would've been nice to have even more content included in the game without having to pay the additional, albeit nominal, fee.
Then again, when you go to a karaoke bar with friends, nine times out of 10 your buddy will pick that same, tired Bon Jovi song over and over, so depending on your social circle, not having more than 80 brief scenes to act out may not be an issue. In addition, half of the entertainment value in Yoostar 2 is watching/rating all the uploaded scenes from other online-enabled Yoostar 2 owners. In that sense, Yoostar 2 succeeds by providing one simple vibe that few other games can: the entire Xbox Live community feels like your buddies just out there acting a fool. Set your inhibitions aside, and there's fun to be had. Just be prepared to buy additional scenes within a few days, because you can only act a fool with those 80 scenes so much.
Score: 7 — The game can be fun, but it's strictly a multiplayer affair, and it needs more meat. As it stands, it feels a bit like the publishers' way to lead owners into a world of endless microtransactions.
Platform reviewed: Xbox 360