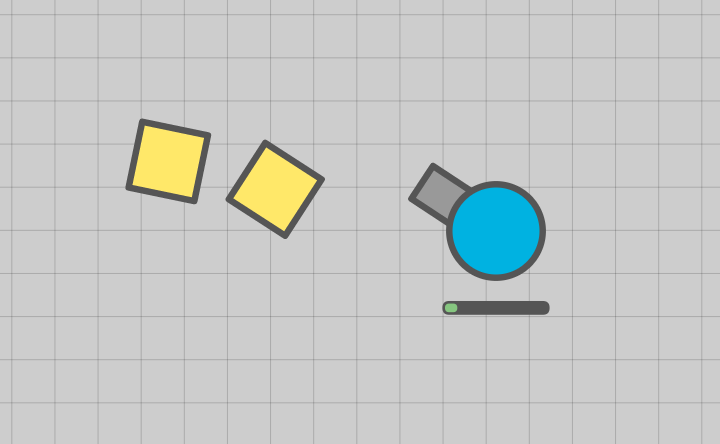 "This is the tale of… [your name here]." That simple sentence is your introduction into the multiplayer blitzkrieg of Diep.io. Tanks chase after you, massive bullets whizz by, and all you want to do is survive. In order to live, all others must die. Put on your war uniform, and let's take a deeper look into in the extremely competitive Diep.io.
If you think the name of the game sounds familiar, that's because it is. Diep.io is a variation of the eat-or-be-eaten multiplayer craze started by Agar.io. Released in 2015, Agar.io puts each player in control of a small, single-celled organism. Players must absorb smaller cells to grow and become harder to beat. It's survival of the fittest, and one quick mistake could result in death. Agar.io is a prime choice for quick, fun multiplayer action. In the time since its initial release, Agar.io's concept has been copied by countless developers. The first worthy variation (and predecessor to Diep.io) is Slither.io.
In Slither.io, players control neon-colored snakes, instead of single cells. Slither.io is a hybrid of Agar.io and Snake, the famous arcade/mobile game from many years ago. Because it is not a direct sequel of either game, Slither.io has many unique features. The graphics are much more detailed and vibrant, and players must trap others to grow quickly. There is also an omnipresent radar that shows players the most dangerous and valuable spots in the arena.
The real showstopper of this gaming class is Diep.io. The perfect successor to Slither.io, Diep.io replaces cells and snakes with customizable tanks. Players begin as a blue circle with a basic turret. The environment is littered with yellow squares, pink triangles, and violet pentagons. These tiny shapes are perfect target-practice fodder, and their destruction helps players level up. In Diep.io, leveling up isn't just about scoring—it's the key to becoming a massive, indestructible force.
After just a few moments in the battlefield, it becomes clear that not all tanks are the same. That's because high-level players can purchase additional turrets and special abilities. There are twin blasters, sniper rifles, and machine-gun options. For defensive competitors, the Flank Guard simultaneously blasts ammo from both sides of a tank. To intimidate all surrounding foes, consider the Destroyer mod. All of these options become available as you reach certain scoring milestones. And that's just the beginning of how each tank varies.
The bottom-left corner of the screen houses an upgrades menu, which reappears as new options become available. Health Regen and Max Health boosts allow tanks to withstand more damage. There are also upgrades for bullet speed, penetration, and damage, all of which give basic tanks a fighting chance at a spot on the scoreboard.
Some players opt to maximize their movement and reload speed, while others seek to simply survive. The beauty of Diep.io is that each player can customize their tank exactly as they wish. With a virtually infinite amount of possibilities, the warfare is exciting and different every time you enter battle.