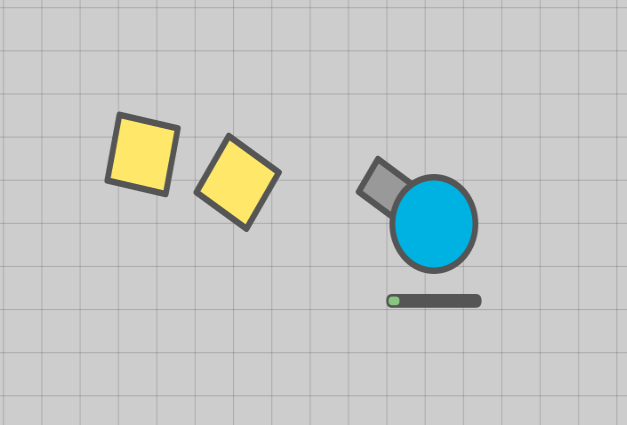 Agar.io, Slither.io, Vanar.io—I've played them all. These eat-or-be-eaten multiplayer games offer fast, casual fun with the potential for severe addiction. Some are better than others, and after extensive playing time with each one, I've found my favorite: Diep.io.
Assuming you haven't heard of Diep.io (maybe you missed the initial ".io game" craze), it's essentially a multiplayer tank war. The graphics are barebones, the animations are smooth, and even with thousands of players in the same arena, there is no lag. All of the aforementioned points are signature aspects of .io games. Instead of focusing on ultra-realistic graphics with highly detailed textures and war-torn battlefields, Diep.io delivers extremely basic visuals with optimal gameplay.
Simple graphics aren't a bad thing. In fact, they make everything very easy to see. Enemies are unable to camouflage their blue tanks against the plain gray background. Bursts of red ammo pop out clearly, allowing you to find a safe spot to hide. Yellow squares, pink triangles, and periwinkle pentagons are highly visible at all times. These shapely targets give you the ability to level up and increase your abilities. Which brings us to the leveling system…
Diep.io isn't just a grow-and-dominate game. Yes, as players level up, they have the potential to become bigger, move faster, and slay all surrounding weaklings. However, Diep.io's upgrade system is all about customization. Defensive players can choose to upgrade their Heath Regen and Max Health stats first. Aggressive players might opt for maximum Body Damage, Bullet Speed, and Bullet Penetration. By making different upgrades at different times, each player's tank operates—you guessed it—differently. Other available upgrades include Bullet Damage, Reload, and Movement Speed. It would be nice to boost every stat, but the cost of doing so is often too high. Players are better off choosing to fully upgrade a few key features and tailor their playing style accordingly.
In addition to stat upgrades, this addictive game boasts four classes of tanks, each with completely unique advantages. When gamers reach certain level milestones, they can instantly upgrade to an immeasurably more lethal tank. The Twin class, upgradeable to Triplet and Pentashot, adds turrets that fire at the same time. The Sniper class, upgradeable to Overseer and Overlord, shoots farther and harder. The Machine Gun class, upgradeable to Destroyer and Mega Destroyer, is all about big blasts. Flank Guard, upgradeable to Twin Flank and Octotank, has turrets on different sides, offering optimal protection and maximum kills.
Diep.io is as easy to play as its .io predecessors, but it also offers a lot more. The ability to fully customize and tweak your tank makes the game more interesting on offense and defense. You can choose to fight as a big, nearly indestructible, slow-moving Destroyer. Or, whiz across the battlefield as a zippy, unavoidable Octotank. It's impossible to predict which tanks you will encounter in the war zone, because they're different every time. Whether or not you've enjoyed playing previous .io titles, you should try Diep.io for its equal accessibility and unmatched gameplay.