How would you like to wield the power of King Kong? Smashy City gives us the opportunity to do exactly that, crushing entire buildings by swinging our massive fists. Available now on Poki, Smashy City is a game about one thing: destruction.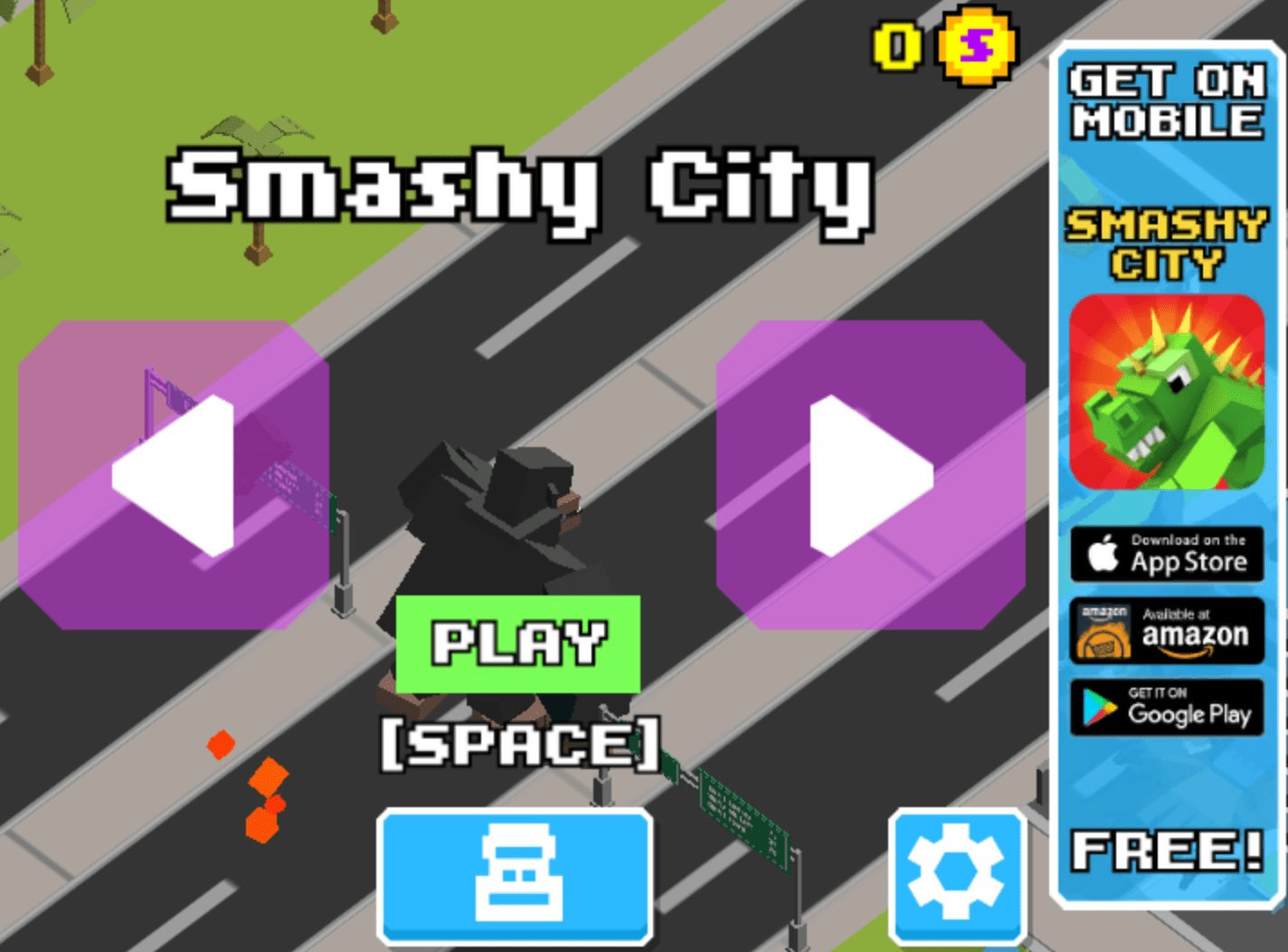 A Heavenly View
Smashy City looks a lot like Crossy Road. In fact, it sounds like Crossy Road, too. That's no coincidence, as Smashy City is heavily inspired by its familiar predecessor. Crossy Road was one of the most popular and successful cross-platform games of 2015, and Smashy City looks to follow in its footsteps. It has nearly identical blocky graphics and arcade gameplay. Both titles put players in the sky, looking down on the hectic action. Gamers can use this vantage point to see their entire surroundings and plan accordingly. It's a godlike viewpoint from which much damage may be done.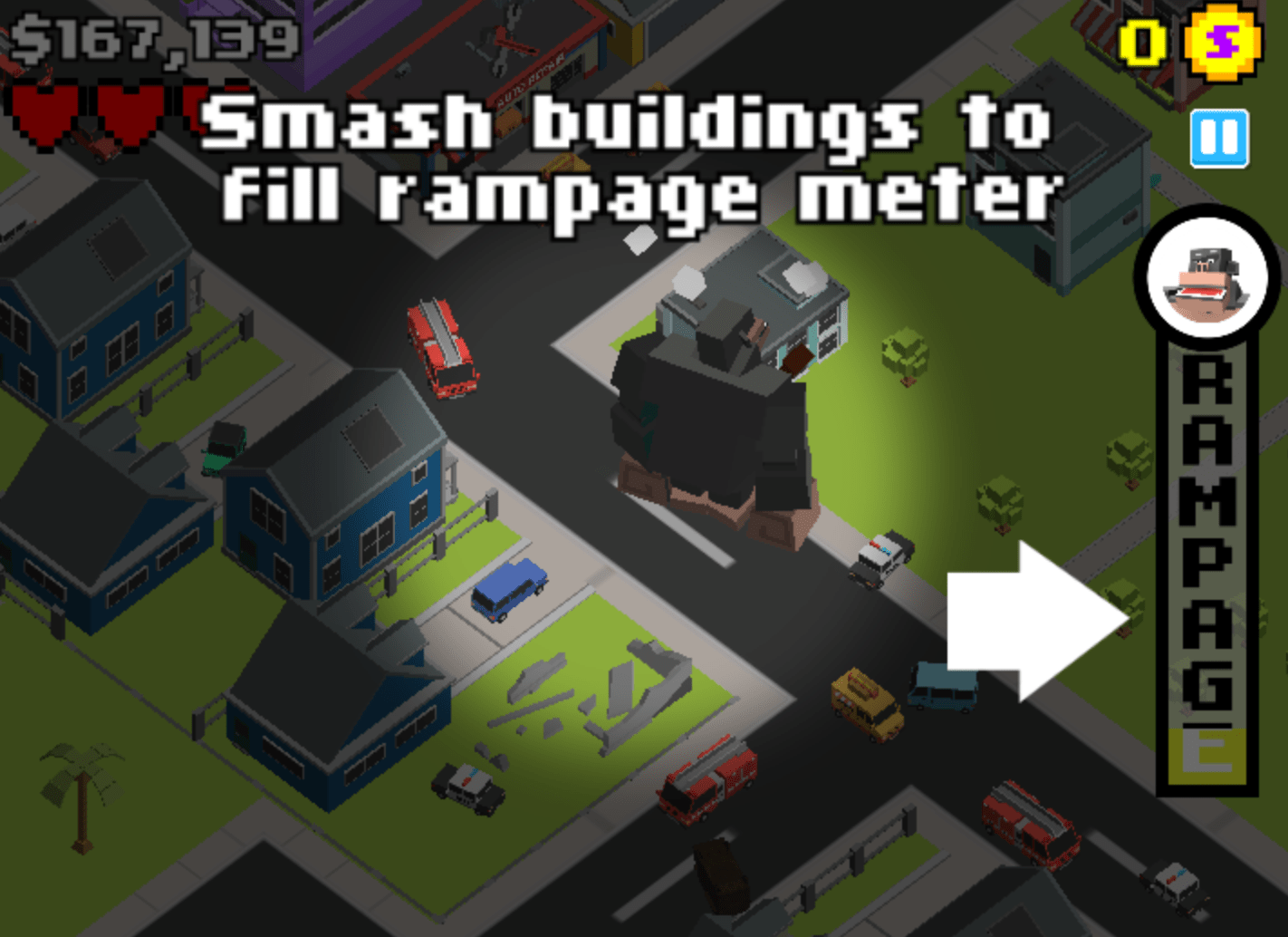 A Slew of Beasts
There are nearly 50 monsters in Smashy City. From gargantuan apes to fictional dinosaurs, each creature looks and behaves differently. Kong is the default character, but you won't be stuck with him for long. After just one round of play, you can spend coins on a new monster. There's Harry the Werewolf, Bob the Block, and Patricia the Penguin. Rare beasts include Polar Claire and Manuel the Wooly Mammoth, each of whom has extra powers. There are also exotic monsters (boasting two special abilities) and epic ones (featuring three to four boosts). Just like in Crossy Road, certain characters also include an environment modifier, such as snow. The core of the game always remains the same, but the type of beast you choose can have a major impact on how you play.
Breaking It All
All of those fancy monsters have one goal, and thankfully, it aligns with ours: break stuff. There are only two controls in Smashy City, and neither of them is a "smash" button. Instead, all we have to do guide the beast left or right. The destructive being will automatically crush anything within reach. Monsters can hammer-fist cars, swing through skyscrapers, and stomp on trees. Buildings are worth the most money, so walking towards a cluster of high-rises is always a good idea. The more stuff you bust, the more you earn.
Eventually, your destructive efforts will fill the Rampage meter. When that occurs, it's time to get really angry. Activate Rampage mode to kick faster, punch harder, and easily break through anything you wish. Rampage mode makes crushing everything even more fun. No one will be able to stop you, until…
The Armed Forces
Local police are the least of your worries. At the beginning of each terrorizing journey, police cars will try to surround you. They're much easier to defeat than what's next. After racking up enough damage, the Army will bring its bravest soldiers. You'll be faced with an onslaught of trucks, tanks, and missile-loaded helicopters. Do you have what it takes to knock out an entire legion of troops? Find out in Smashy City.