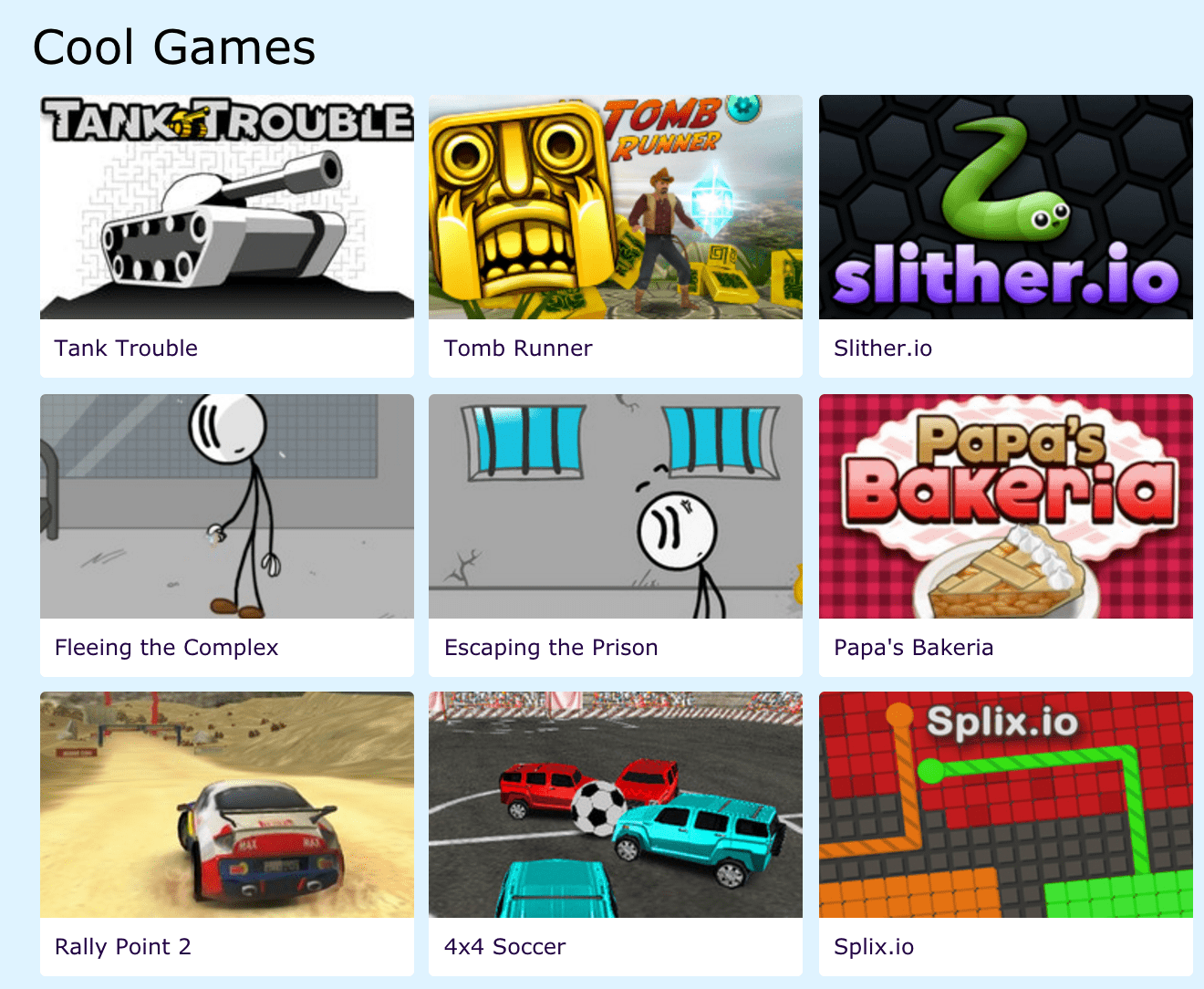 Gaming portal Poki is keeping us in the loop with what's hip. Their new Cool Games collection features the latest trending titles. Below, we take a look at what's great, good, and not so good about this collection.
Greatness
Not only are these games cool, but they're also great. The idea of cool games appears to be twofold: the titles must be "in" right now (i.e. popular), and they must be high-quality. Fans of casual games will be pleased to see many recent hits, including Slither.io and Agar.io. That's right—the cool games on Poki include multiplayer titles. All of the best .io games are here, without any of the unnecessary fluff. Forget about the unworthy .io games that have come and gone, and focus instead on the best ones. They're all in this collection, from the original trendsetters to five-star follow-ups, such as Driftin.io and Curvefever.io.
Other titles of greatness include Papa's Bakeria, Cupcakeria, and Donuteria. All from the same award-winning developer, the Papa's Restaurant series takes business management games to a whole new level. With relatable storylines, countless upgrades, and funny twists, Papa's games are for everyone to enjoy.
Goodness
There's a lot to like about a lot of the games on Poki. In fact, some of the one-dimensional titles are the most fun. The Trollface Quest series offers a "dark comedy" approach to puzzle games. All you need for maximum entertainment is a sense of humor and the ability to point and click. There are several Trollface Quest games in the Cool category, and they all deserve to be there. Remember when we said the latest trending titles are included? That's why there are just a few Trollface Quest games here—not a dozen.
Many of the cool games involve a driving component. From Tunnel Run to Kart On, there's no shortage of racing excellence. Drivers can choose from stock race cars, modified street racers, and high-performance motorcycles. If you want to sit in the cockpit while whizzing through a 3D course, you can. If you prefer to steer from afar, try one of the 2D side-scrolling motocross games.
Concerns
The term "cool" is subjective. Thus, you might not think every game in this collection is awesome. Objectively, this collection showcases games that are currently trending. "Happy Wheels" might not sound cool to you, but it's a very popular game that has a lot to offer. Try it out, and you might be surprised.
Speaking of popularity, public opinion is always changing. Last year's coolest games might not be the coolest anymore. As a more recent example, Pokemon Go has drastically dropped in popularity. Since the Cool Games collection on Poki is constantly updated, today's featured titles might be gone tomorrow. That's both a positive and negative aspect of this collection; you might miss certain games, but you'll also be exposed to new ones. If you're willing to try new titles and enjoy a new world of gaming, try the Cool Games collection today. Then, try it tomorrow and the day after that.