Why did the chicken cross the road? The answer is more complex than you could ever imagine. If you want a game of skill that answers the age-old chicken query, give Crossy Road a chance.
Developed by the creative gaming giants of Hipster Whale, this viral sensation has caused a stir in the world of interweb games. With an original release in 2014, Crossy Road has only grown in the last four years, garnering a huge fanbase of arcade-loving gamers and skill testers across the world. Now you can play the all-web version of Crossy Road on Poki. So, man your keyboard controls and get ready to prove your skills as one curious, hopping chicken. Check it out here.
What is the Objective of Crossy Road?
Crossy Road has a simple objective—get your chicken safely across the road. Sure, it sounds easy, but this fast-paced game of skill throws plenty of obstacles your way. The road is near endless, and your character is a plucky, clucky chicken that can, unfortunately, blend in with the white and red of passing trains and vehicles. Keep your eyes peeled, your fingers tensed, and your mind sharp to clear the fast-moving challenges on an open road.
As you progress from one road to the next, the obstacles move faster, with more strength to mow down your eager chick. With every forward motion, you earn a single point, but you can collect additional points by snagging scatter roadside coins. You might also encounter hungry bald eagles and rushing rivers with unstable logs. How far can you make it before your chicken becomes a casualty of high speeds and harsh landscapes?
On a side note, the environment moves forward at a steady pace too, so you HAVE to jump at some point. You have mere seconds to calculate your best moves before the landscape swallows you up.
More Crossy Road Coins Equals More Chances to Win BIG
As aforementioned, each move forward gets you a point, as do the collected coins that are golden with a red C at the center. When you collect 100 points, or die, you have the option of receiving a free gift. These gifts are usually additional points or coins that can go towards the purchase of playable characters, like a super-fast snail or a short-armed dinosaur, from a special Prize Machine. The longer you survive, the more coins and points you collect, the better your prizes will be.
You can keep track of your points and coins at the top right of the screen. To change your characters, click the chicken icon at the bottom left of your screen. There you can see some of the characters that have yet to be unlocked, such as Mallard Duck, Rusty Robot, and Lucky Cat.
The Simple Controls of Crossy Road
The whole allure of Crossy Road is the simplicity of the gaming experience. When you first play, you get an instant feeling of confidence and accomplishment because the concept is SO easy-peasy. However, you quickly discover that the game is a little more challenging than previously anticipated.
The controls for Crossy Road are simple and basic. Use the arrow keys on your keyboard. The UP arrow moves your chicken forward with a hop, the BACK arrow moves your chicken backwards, and the RIGHT and LEFT arrows move your chicken from side to side. For prize machine rolls, press the SPACEBAR, or use your mouse to click on the game's spacebar symbol.
Is This Game a Good Stress Reliever?
Life can become a little too hectic, especially when you throw a strenuous 9 to 5 job, or challenging school classes, into the mix. We get it. You want something that will help you unwind and relax at the end of a long day. Crossy Road is the kind of game that puts your mind at attention but puts your nerves at ease. We would say it's an excellent stress reliever. You can play for as long as you want, strive to perfect your high score, and zone out from the real world for a little while.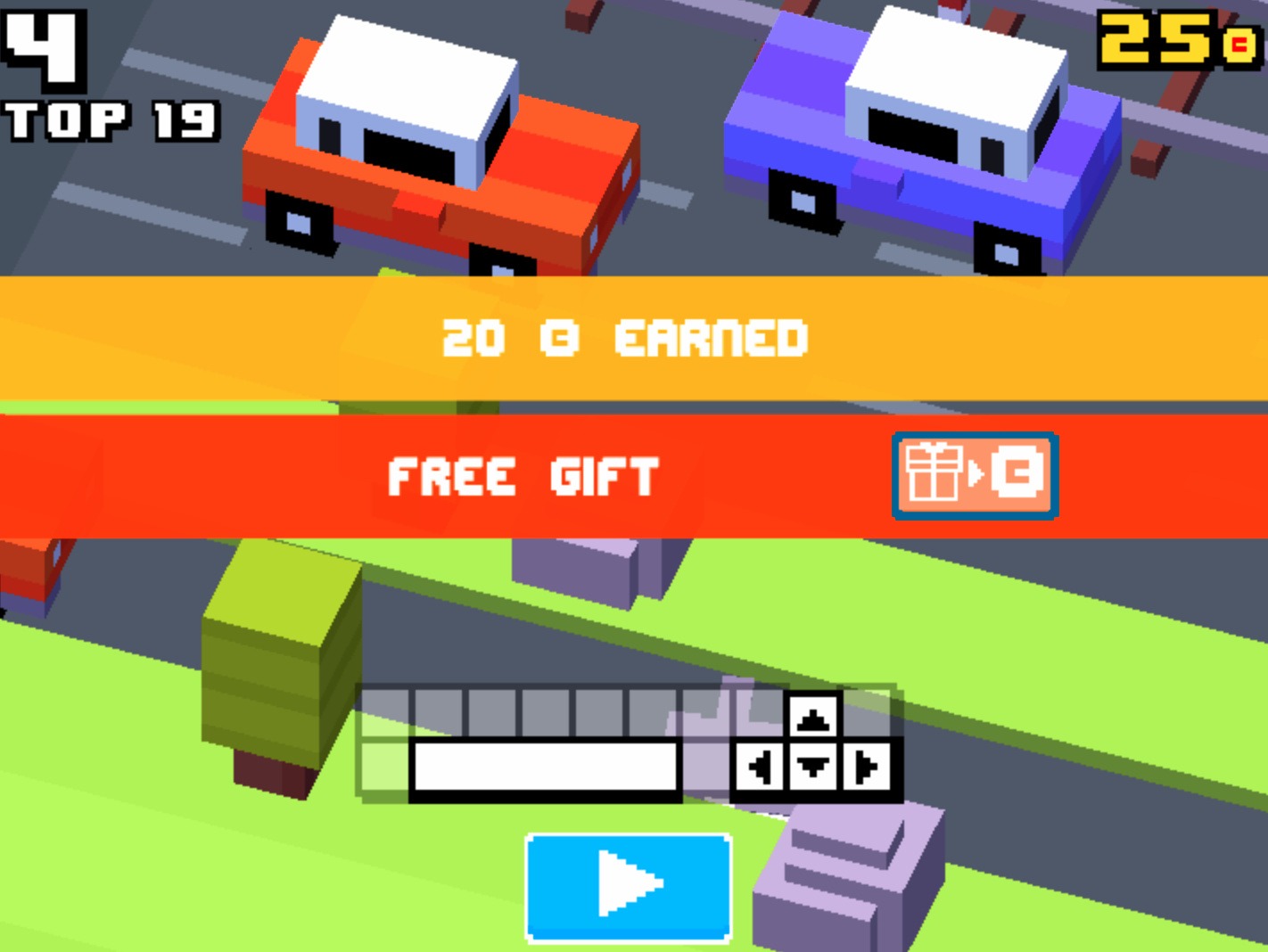 The good thing about Crossy Road is that it's a game of skill—and skills can be honed and improved. Therefore, as you play through levels of the game, it will become easier, making it more of a stress reliever because you get those feelings of accomplishment. Sure, there are some challenges headed your way when you come to new environments, but you know you can overcome and conquer those too. Plus, this game is great for all ages.
Where Can You Play Crossy Road?
While Crossy Road was an original mobile app in 2014, technological advancements have allowed us to snag an all-inclusive, super-cool web version. Poki is an exclusive publisher of Crossy Road on the interwebs, with a safe, secure platform that provides you with a smooth, enjoyable gameplay experience.