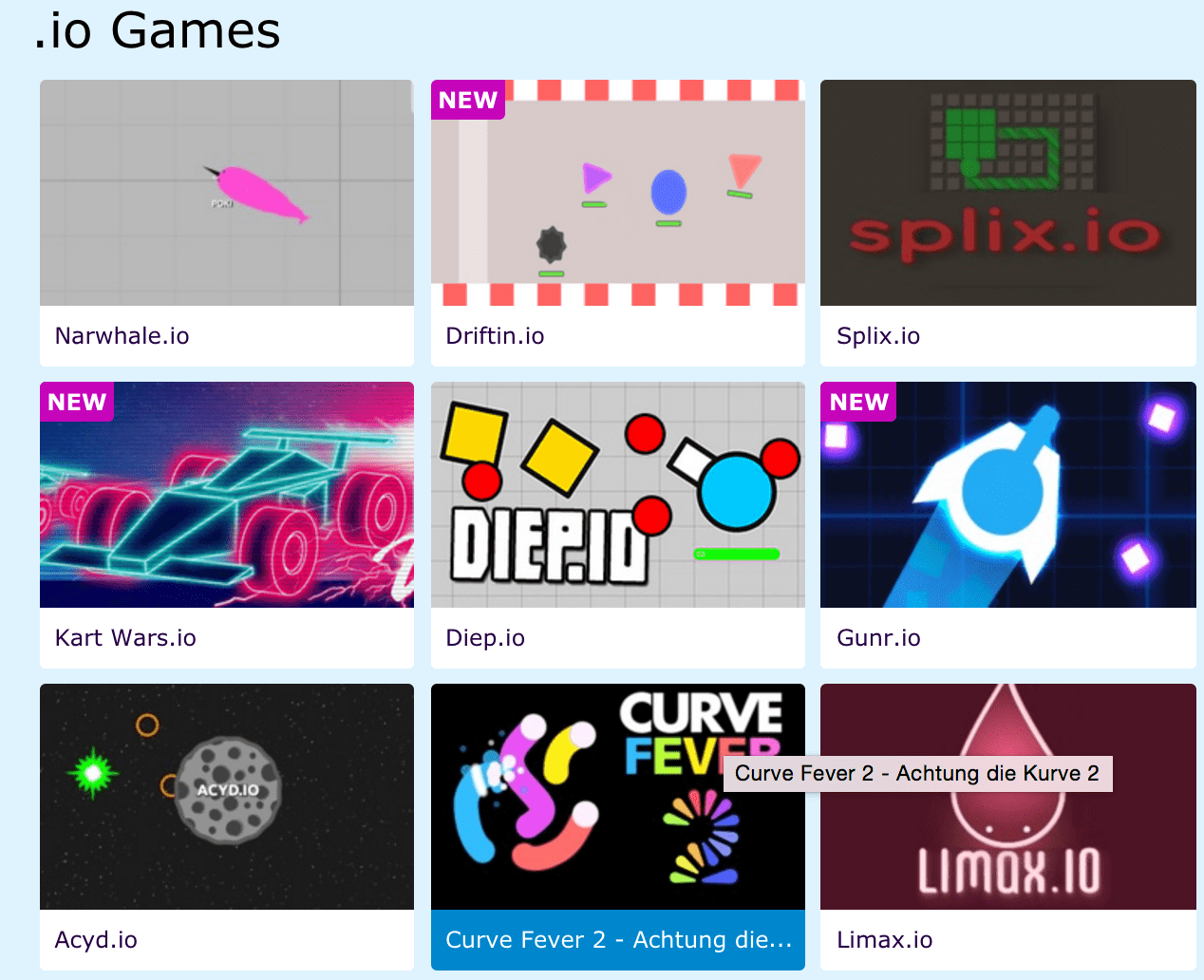 Keeping up with the latest .io games isn't easy to do. Back in 2015, there was only one: Agar.io. Now, there are countless .io titles, with new ones being released every single day. Some are incredibly fun, and others are a bit dull. We've taken the time to find the best .io games, and they're all available this collection from Poki.
If you're active in the free, online multiplayer gaming universe, then you're familiar with the big names: Agar.io and Slither.io. Both games are pillars of the .io craze, featuring similar eat-or-be-eaten action. Although Agar.io and Slither.io were two of the first highly successful .io games, they continue to evolve with additional tweaks, such as skins and extra gameplay modes. Many unofficial spinoffs (e.g. Agario 3D, Limax.io) have tried to capture the essence of the originators, but none have been quite as successful.
One particularly interesting subcategory of .io games is what I call "basic." These titles have very simple, 2D graphics, often choosing to omit detailed textures, shadows, and reflections. Basic .io games are great because they don't require massive CPU/GPU power. As a result, they tend to be free of the lag issues seen in more graphically advanced games. Whether you have an old PC and/or want to experience ultra-smooth gameplay, check out basic titles like Driftin.io, Vanar.io, and Entro.space.
Puzzle-based .io games also keep things pretty simple. In these less-explosive titles, players compete against each other while solving some sort of puzzle. Tiles.io is essentially a multiplayer version of 2048; in this 3D game, everyone tries to combine their tiles and outnumber one another. With randomly generated levels and a large user base, Tiles.io always provides mentally challenging fun. Another puzzle game worth playing is Massivematch.io, which has a bunch of different team-based modes for Bejeweled-style competitions.
Let's face it: the most popular multiplayer games involve warfare. Although there are inherently no FPS games in the .io realm, there's an ample supply of war-based .io tiles. Games like Diep.io, Tankwars.io, and Tanx pit players against one another in heavily-armed tanks. Each game has its own array of vehicle upgrades and special weaponry. Other war titles, such as Boattle.io, Gunr.io, and Wings.io, send bloodthirsty generals into other war vehicles (e.g. boats, fighter jets) for explosive entertainment.
The future of .io games appears to be somewhere in outer space. Many of the latest titles involve some sort of intergalactic battle. In addition to Entro.space, there's Acyd.io, Superorbit.io, and the aptly titled War in Space. While all of these games have certain similar elements, there are enough differentiating features to attract attention from a wide audience. Each title feels unique, with distinctive physics and scoring systems.
There are other worthy .io games we haven't mentioned here. The best way to discover them is by simply playing every title you can. Poki has more than two dozen, and we think they're all worth trying. From the basic gameplay of Agar.io to the over-the-top intensity of War in Space, there's definitely a perfect .io game for you.