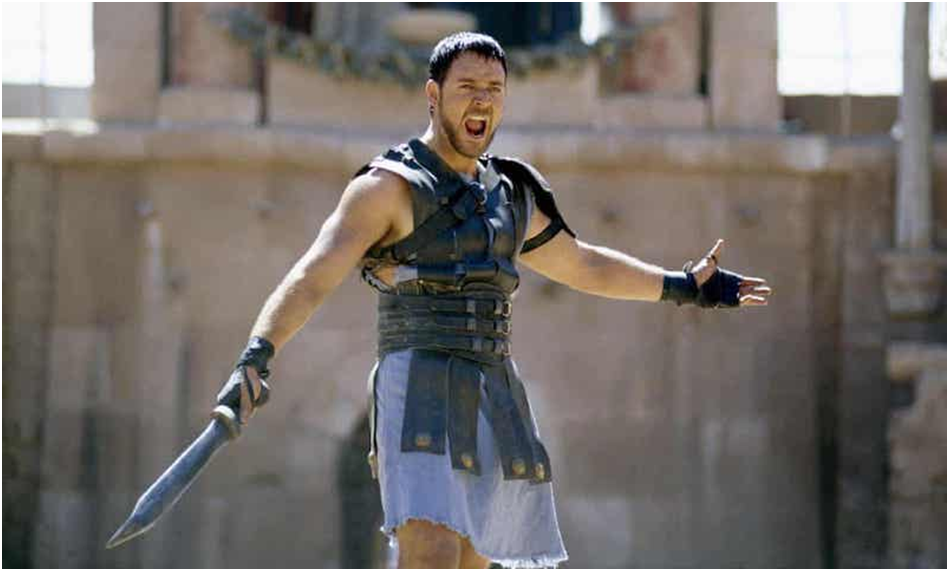 From Bible stories to Roman and Greek tales, ancient times are an endless source of inspiration for the movie industry. The 1960s ushered in a golden era for the genre before big-budget productions reignited the flame in the 2000s.
Fast-forward to twenty years later, and a string of disappointing pictures all but killed the hype for founding myths and glorious heroes of Antiquity.
Still, when historical epics tick all the right boxes, they result in thrilling and awe-inspiring movie experiences. So, we give you some of the best ancient historical epics to discover or revisit.
Gladiator
Over twenty years after its release, Ridley Scott's bigger-than-life Roman tale has not aged one bit. Heralding the revival of the ancient epic in the 2000s, Gladiator depicts the destiny of a Roman general turned slave, then gladiator.
Opening with a monumental battle, the movie instantly sets the tone. But as Maximus Decimus wins the day through sheer strategicthinking and leadership, his military prowess proves to be his downfall. After Marcus Aurelius picks him as his successor, Maximus is betrayed by the emperor's son, Commodus. And his fall from grace will lead him from the gladiatorial camps of North Africa to the very Colosseum.
Driven by some memorable acting, courtesy of Russel Crowe and Joaquin Phoenix, this Academy Award-winning film might well be the definitive ancient epic out there. If you're a sucker for the Scott-Phoenix duo, you can look forward to another exciting historical projectas a Napoleon biopic is hitting movie theatres in 2023. A sequel to Gladiator is also slated for 2024.
Ben-Hur
Ben-Hur holds a special place in the annals of ancient historical epics. This large-scale cinematic effort was the very first motion picture to earn 11 Oscars.
Adapting the eponymous novel by Lewis Wallace, William Wyler's movie follows the adventures of Jewish prince and merchant Ben-Hur. Three years after he portrayed Moses in The Ten Commandments, Charlton Heston dropped another class act for the ages.
And while this 1959 film clearly shows its age, it belongs on your watchlist, if only for its legendary scenes. The 11-minute-long chariot race is still peak cinematography, while the crucifixion of Jesus remains one of the most memorable sequences in cinema history.
Troy
Did you know the Iliad made no mention of the Trojan horse? Be that as it may, the fall of Troy is one exhilarating climax for Wolfgang Petersen's on-screen adaptation of the infamous Homer epic. While Troy strays from its source material in more ways than one, this Hollywood blockbuster still captivates for its intense action scenes against the backdrop of splendid settings.
From Achilles leading the Myrmidons to the duel to the death between the mighty son of Peleus and Hector, spectacular sequences more than deliver on their promises.
A star-studded cast featuring prominent actors, such as Brad Pitt, Orlando Bloom, and Sean Bean only elevates this movie to cult status. And hardcore Troy fans can watch an even lengthier Director's Cut on streaming platforms like Amazon Prime Video
300
300 depicts the legendary battle of Thermopylae, led by King Leonidas and his 300 Spartan warriors fending off the Persian invader.
Based on the graphic novel of the same name by Frank Miller, the film is a visual spectacle as much as an action fest. Zack Snyder certainly didn't shy off from slow-motion galore and gory visual effects. But the result is a winner if you're a fan of stylish ancient epics.
And the image of the Spartan hero resonates beyond cinema, with video games like Spartan Total Warrior and God of War. Even the iGaming industry has drawn inspiration from Spartan legends. Online casinos like VegasSlotsOnline boast many Spartan-themed pokies. You may relive your favorite 300 scenes with Almighty Sparta or perhaps go a spookier route playing Spartans vs Zombies. Better yet, all the best machine slots are free. Juicy bonuses also await newcomers willing to switch to real money gambling.
From Pompeii and Gods of Egypt to Exodus: Gods and Kings, many recent attempts at rejuvenating the ancient epic genre felt lackluster at best and mediocre at worst. You may turn to epic films from the past, instead. Yet there is a silver lining, as the genre seems to be getting back on track with the forecasted release of Gladiator 2. So, can this sequel conjure up the magic of its predecessor? Let us know if you're excited about this Ridley Scott comeback in the comments.